It's beginning to look a lot like Christmas in the White House. Last week, the Obama girls alongside their mom, FLOTUS Michelle, greeted the carriage and it's guests as it brought the official 2012 White House Christmas tree. After a hard fought presidential election season, I am sure the family is looking forward to spending another Christmas inside their home on Pennsylvania Avenue.
And it wasn't just the girls who were excited about receiving the tree. Looks like their dog Bo, also got a chance to sniff the tree and spend some time getting some love from the photographers.
It's no secret that I am a huge fan of Michelle Obama as well as her daughters, Malia and Sasha. I love how they are dressed in fab Fall fashions that aren't too ostentatious or overdone. Loving the autumn color palettes and the skirts on the girls. And Michelle's boots? I need them in my life!
Check out the photos below of Michelle, Malia, and Sasha (and Bo) receiving their Christmas tree, an official beginning to another White House Christmas: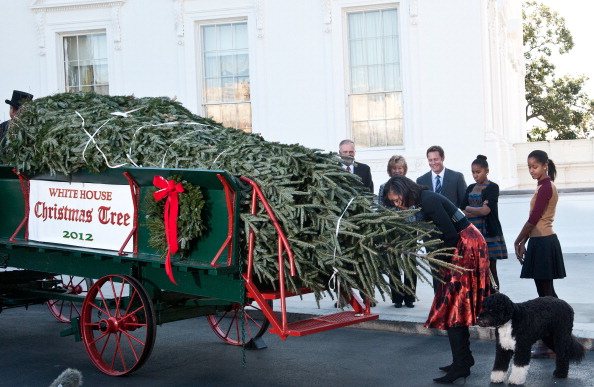 Photo credit: Nicholas Kamm, AP, Getty Images