By Guest Blogger, Kina Gunnels
It's that time of year again! No, not the time to go out and shop to you drop to make sure you get everything on your family's must have list, but time for the Elf on the Shelf to return to your home! If you haven't heard of Elf on the Shelf, you must be hiding under a rock or under a pile of never ending laundry like myself.
The Elf on a Shelf is an awesome Christmas Tradition. The story goes as such: The big guy at the North Pole sends his trusty elves aka scouts out to families to watch the children. While in the home, the children name the elf and he watches the children's every move and at night, he travels back to the North Pole and reports to Santa whether the kids have been naughty or nice. While he is back at the North Pole, he visits with his elf buddies, plays games and eats some of Mrs. Claus' famous cookies! Before the family wakes up in the morning, the elf returns to the home. Does he return to the last spot he was in? Of course not! Elves like to play tricks and love games so who knows where you will find him when you awake. He could be in the refrigerator looking for food or reading an issue of People magazine. This game of Hide and Seek is not only fun for the elf, but for the boys and girls. Remember to let them know that he must not be touched or he will lose his magic.
Now parents, this is where your creativity comes into play. You are the one that moves your elf around your home. You must change his place every night so your kids really think he is going back and forth to the North Pole reporting their behavior. Got barbies? Have your elf hanging out with them when your kids wake up. Have trucks and cars? Have your elf driving one around the house. So far I have done everything from Michael the Elf (that's what my son named him) reading a story to some stuffed animals to him hitting his Gangnam Style! Can't think of your own ideas? Log into Pinterest and search ideas or just google 'Elf on a Shelf' for websites with crazy ideas.
Here's a look at some photos that we took catching our Elf in the Shelf "in the act":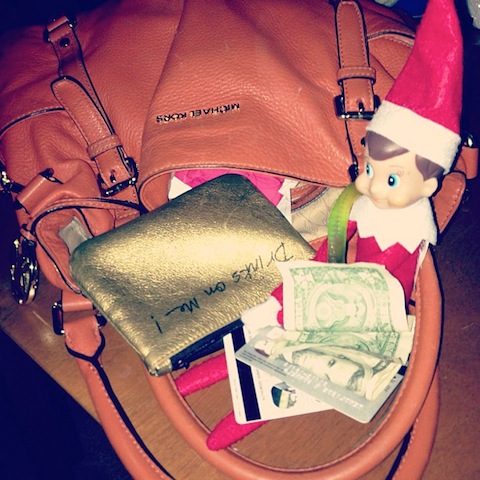 Just remember to use your creativity and make sure your kids continue to believe in this tradition and in Santa Claus. Make sure they know that the elf is watching for Santa and they must behave if they want those Beats by Dre or new LeapPad. You can purchase your Elf on a Shelf at any major retailer. He comes with a book and DVD. Have a Merry Christmas and Happy Holidays!