My eight year old is a technology fiend—just like her parents. Growing up in a household where she sees technology and gadgets being used heavily on a daily basis means that she too, adopts a lot of tech cravings for gifts. With my daughter, we don't give her everything in the world of tech. We want to make sure that is safe, educational, within her age range, and not too pricey. We tend to not purchase fad items or the next hottest thing on the market until we've vetted them properly and did research.
So be rest assured that these 7 items that you see on my 2012 Holiday Gift Guide: Tech Gifts & Gadgets For Kids have met all of the requirements for my daughter. These are items that we have purchased or that I have been given for review (items that are safe, fun, and educational).
Here we go!
Little Pim
I first became acquainted with Little Pim earlier this year during CES in Las Vegas. I met the owner/founder, who told me about the company. Little Pim helps your little one learn different languages including Spanish. French, Chinese, German, Russian, English, and more! Small children learn foreign languages quickly and efficiently with Little Pim, and since we live in a global world, this would be a perfect gift! There's an app and videos that help teach the Little Pim system to your child. Gift packs start at $59.95. Recently seen on The View, Little Pim is a wonderful way for your child to learn foreign languages.
__________________________
Crayola HD Color Studio App & Crayola iMarker
While I was at the Time for Play Holiday Showcase in September, I became acquainted with Crayola's HD Color Studio App and Crayola iMaker. With the app and marker together, kids can create their own drawings, or color pre-drawn pages. They can also print their creations or email them family and friends. The Crayola HD Color Studio iMarker (which I recently purchased at the Apple store for $25.99) is battery operated, and works with the iPad to create fabulous artwork. My 8 year old loves it and it keeps her busy on long car rides. The app is free with the purchase of the iMarker. A must-have for under the tree! $21.99, Amazon.

__________________________
Kindle Fire HD
I bought my daughter the Kindle Fire in January from my friend BrothaTech, and she loves it (although she perfers my iPad because it takes pictures). The new Kindle Fire HD is an upgraded version of the original Kindle Fire and is still within a price point most parents can appreciate. And guess what? It takes pictures! Which is why I am sure my daughter will love her new Kindle Fire HD which she will get for Christmas. $199 for the 16 GB.
__________________________
iPod Touch
If your little one doesn't have an iPad, the iPod Touch is the next best thing. It does everything that the iPhone does (accept for phone capabilities of course), and your kids can download kid safe and parent approved apps, take pictures, and more. $299 for 32 GB, Apple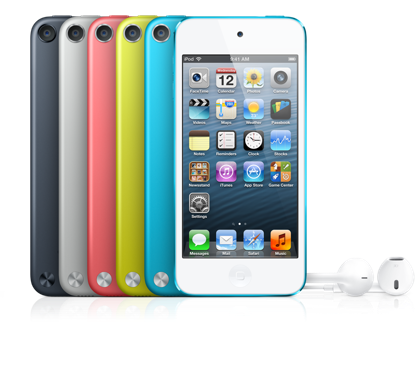 __________________________
Wii U
My son who is now 18 loved his Wii. We had to hunt one down in 2008 when they first came out, and he played it to death. Now fast forward to 2012, and Nintendo and released its successor, the Wii U. The Wii U comes with a console and a gamepad which will allow you to play the games "off of the screen". For instance, my daughter can enjoy playing her game on the Wii U while I am watching television by utilizing the gamepad. Traditional Wii games will play on the Wii U, and there are Wii U games that have been released as well. We originally bought my daughter a Wii, but took it back and got this because we figured she could grow with it as she gets older. The Wii U comes in a black and a white version. Wii U Basic, $299, Best Buy.
__________________________
UDraw Tablet for Wii and Wii U
Does your child like to draw? Mine does. So I try to incorporate as much art into technology that I can. This UDraw Tablet for the Wii and Wii U is perfect for just that. It allows your child to create artwork with the tablet, turning your television into an art studio. Features Art School (interactive tutorials), Art Play (freestyle), and Art Camp (variety of creative activities). It's listed at $49.99 on Amazon, but I got mine at Walmart for $25.95.
__________________________
Cut the Rope 12 Pack Super Squishy Collectibles
Cut the Rope is a fun app that's been out for 2 years. As with the Angry Birds phenomenon, Cut the Rope toys have been added to the toy section. This 12 Pack Collector set ties the application to actual real-time, real life play, which kids need more of these days. Technology is great, but seeing children play with toys is great for their motor skills and social development. This Cut the Rope 12 Pack ties brings the best of both worlds, and your kids can collect them and trade them. Plush toys and other items are available. $2.99 to $14.99 at Walmart. Great stocking stuffers!
I hope you enjoy these gift ideas for the little girls and boys on your Christmas list!
Disclaimer: Some of the items listed in TheCubicleChick.com's 2012 Holiday Gift Guide were sent by the brand or company to us at no charge. This is not a paid nor sponsored post, and all opinions listed within belong to the author and are not indicative or any brands or companies mentioned.