Yes, I am all about keeping it fabulous! And even though I wear contacts to correct my vision, I also have to make sure that I have a pair of eyeglasses around so that I can give my eyes a rest from the contacts. The type of eyeglasses I wear are important—they make a statement about me and my style. Wearing eyeglasses doesn't have to be boring—in fact, it can be a lot of fun since there are tons of designer eyeglasses and frames to choose from.
And style doesn't have to stop at eyeglasses. Sunglasses are just as important, since they shield and protect our eyes from damaging sun rays. Selecting the right eye wear that reflects your style and personality doesn't have to be a chore, especially if you follow these fashionable tips!
Here are 5 Tips for Making a Statement with Fashionable Designer Eye Wear:
1. What's Your Personality?
Picking out eye wear doesn't have to be a daunting task. It can be easy if you utilize your personality to make a decision on what type of eyeglasses or sunglasses you select. For me, I am a woman on the move, but I like to keep it fly. I made sure to do research on the Internet to see what types of eye wear I liked, so when I walked into the office for my appointment, I knew just what I wanted. Make sure that when you select your eye wear, it reflects your personality and who you are. You never know—your eye wear may become your signature!
Betsey Johnson, On The Prowl glasses, $195
2.Multi-functionality Is Key
Many of us can't afford to buy eye wear to match our every outfit and mood. So picking out a pair of eye wear that is functional for everything that you do is key. Find a pair of sunglasses that work in all seasons and cover the gamut in terms of weather. Pick out a pair of eyeglasses that can easily go from the office to a night on the town if you choose to wear them. When buying eye wear for multifunctional use, neutral colors work best.
3. Be Aware of Your Face Shape
Face shape is most important when selecting eye wear. I have a round face and chubby cheeks, so picking out a pair of glasses that are also round just bring more attention to that. To elongate my face and to make it appear slimmer, I always select square or oval shaped glasses, which balances the roundness out. Know your face shape and take that into consideration when choosing your eye wear.
4. Classic Never Goes Out of Style
Some people confuse stylish with being trendy. But as we all know, trends come and go. When selecting eye wear, it's important to take into consideration the longevity of your glasses. Classic styles are fashion forward and visually appealing without succumbing to trends. If you have money to spend on trendy glasses that may go out of a style in a season, then by all means, please do. But if you want to keep style in mind while considering the longevity and durability of your glasses, going classic will always trump.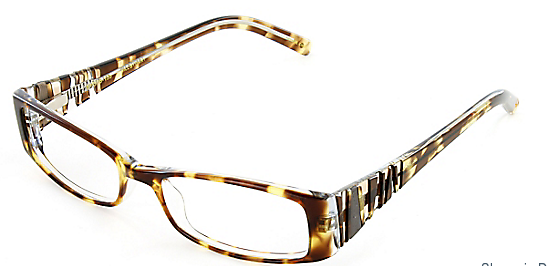 Jill Stuart glasses, $99
5. Frugality Can Still Look Good
A great pair of eye wear doesn't have to be expensive. You may think that with a small budget, you are stuck with the $99 eye wear option at your Optometrist office that look like they are for the 75 and older set, but that isn't correct. You can get a great pair of sunglasses or eyeglasses, designer even, without breaking the bank.  Do your research and look online for competitive prices. Websites like Glasses.com have fab and stylish options and are less expensive than what you will find at your eye doctor. They even offer free in-home try on.
I hope these 5 tips help you pick out a fabulous pair of eye wear that will make heads turn and will make you feel good about yourself. At the end of the day, that's the most important thing!
Disclaimer: TheCubicleChick.com has been compensated for this post. The views and opinions expressed in this article belong to the author, and are not indicative of the brand or company.