New Year's Eve (a.k.a. the best excuse all year to dress up, try something new and get downright creative with your look) is right around the corner! So whether you are gearing up for a girls' night out, a quiet evening in or something in between, these 6 outfit ideas will put an end to the dreaded what-to-wear dilemma on the biggest celebration night of the year.
You Can Never Go Wrong With Sparkles and Sequins
When in outfit-doubt, add something sparkly! I love the way this dress looks when mixed with nude flats or a nude heel. The dress has enough sparkle so you want to let it shine without the shoes competing for attention.
Pair Your Basic New Year's Eve Party Dress With Get-Noticed Tights
Don't want to spend a ton on a new dress? I totally get that! Jazz up your basic black, white, tan or beige tights with a pair of get-noticed tights. Red, green and fuchsia immediately come to mind but do not forget about adding a pattern that will have everyone's hearts racing.
These are three of my picks and you can find more options here:
Opaque Tights in Red, LOVE Tights, Embellished Tights

Wear a Pretty Pale Dress to a Black-Tie Affair
"Black tie" doesn't always mean black dress. If you've got a fancy fete on your New Year's Eve agenda, take a tip from me and opt for a pretty pale dress like this one from SheInside. It will set you apart from the sea of black dresses, getting you noticed in a good way.
Time to Wear That Daring Piece That's Been Hanging in Your Closet
Remember that jumpsuit you bought on major sale but have not worn yet? Tonight is the night to break that bad boy out! I love this lace version and this all over sequin version is hot too! If you are going for something similar, do not forget to cinch your waist! It will break up the look and flatter your shape.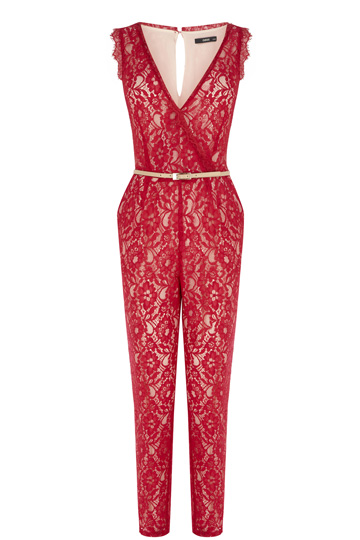 Mix It Up: Play With Proportions
Ringing in 2012 with an intimate gathering at your place? Play with proportion in a short sweater and long skirt, for a cozy yet sophisticated outfit that is festive without looking like you tried too hard. This sweater and this skirt would be great together:
PS- This top looks hot with faux leather pants too!
Brighten Up Your Laid-Back New Year's Eve
No need to kick back in your pajamas when you can wear cute red pants and polka dots. You can be just as comfortable but a million times cuter. Try one of these looks: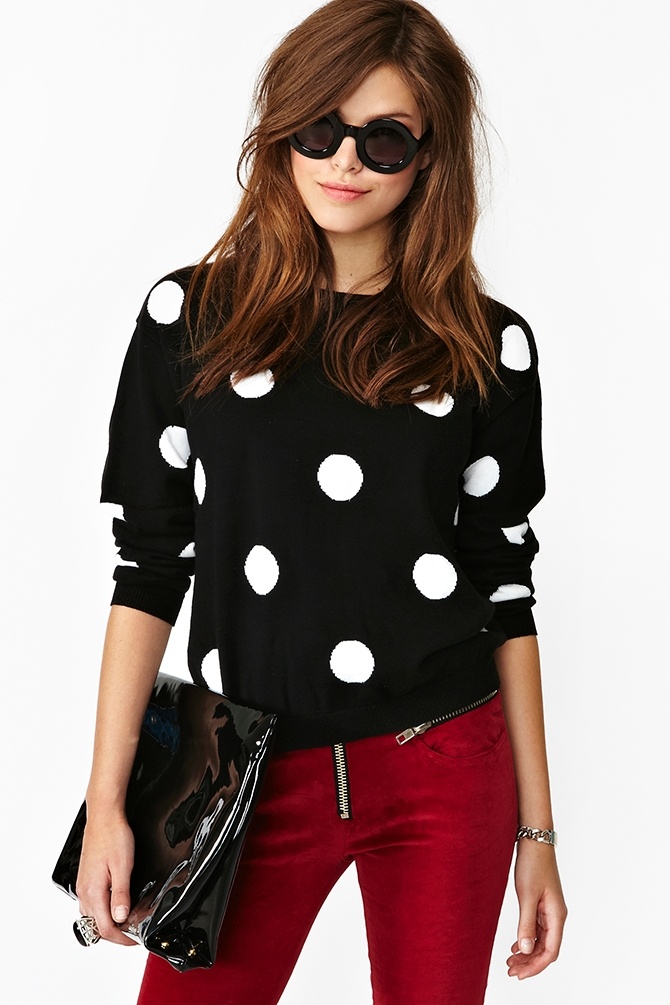 When planning your NYE party outfit, decide if you are in the mood for a dress or separates and go from there. Bold prints are a great choice for a festive night, especially when they have a festive look about them.
Style Tip: A single piece of statement jewelry is all you will need to complete any of these looks.
By Fashion & Style Contributor, Karen Curtis, yourstylistkaren.com