Written By: Style and Fashion Contributor, Coco Michelle
Every year around this time, we marvel that another year has sneaked past us.  In 2012, we saw the highs and the lows of celebrity and politics and we feigned astonishment that the predicted Mayan apocalypse didn't actually happen on 12/21.  In 2012, we also admired our favorite Fashionistas in their finest frocks and sassiest hairdos.
Here are my Top 5 Fashion Icons of 2012:
Rihanna
This Bajan Beauty never fails to excite the masses with her innovative and freewheeling fashion choices.  In 2012, Rih Rih exuded a confident passion and sexuality that made every woman want to rush to the gym and workout!  From her blonde locks and backless, black Giorgio Armani gown at the Grammy awards to her short pixie hairdo at the MTV Video Music Awards, Rihanna proved herself to be a trendsetter. Her performance of her single "Cockiness" at the VMA's was one of the best performances of the year as she flirted with the audience in a sheer red dress, huge cross bib necklace and decorative red head scarf.
Rihanna at the 2012's 54th Annual Grammy Awards
Kerry Washington
Kerry portrays Olivia Pope in the ABC mega-hit Scandal.  Ms. Washington is not new to the Hollywood scene but her confident, chic ensembles on Scandal are certainly inspiring women all over the country.
Kerry Washington in the pages of November 2012's Women's Health magazine
Michelle Obama
Our FLOTUS has been a fashion icon for years but she took it up a notch at the 2012 Democratic National Convention with her gorgeous Tracy Reese dress and pink J. Crew heels.  Even her gray-colored nail polish  (which complimented her dress perfectly) made fashionistas all over America speculate on the exact shade and brand name.
Michelle Obama in Tracy Reese during the 2012 DNC
Kate Middleton
The Duchess of Cambridge may be a British royal from across the pond but in 2012 her style choices resonated with American women. It's not unusual to see Her Royal Highness choose designers and retailers that even us commoners can obtain.  Her style exudes high fashion yet accessible to every day women.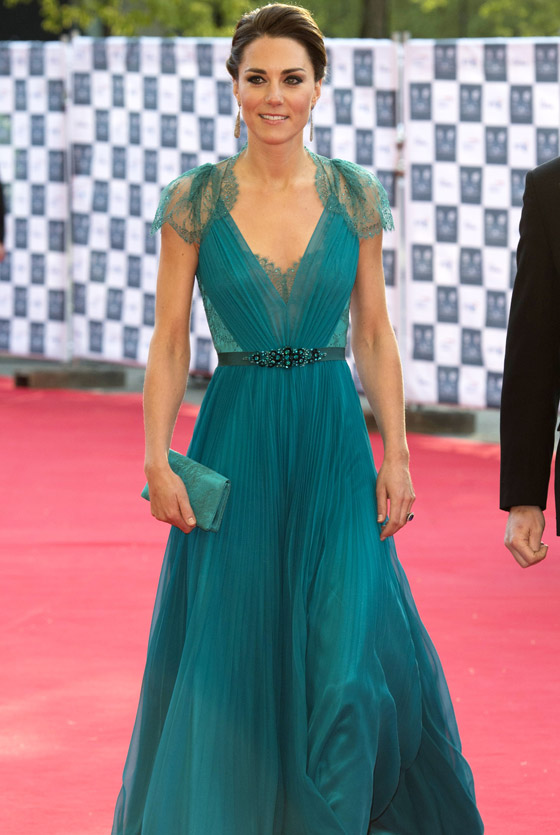 Catherine, The Duchess of Cambridge wearing Jenny Packham
Solange Knowles
Solange has proven herself to be America's black bohemian with her signature natural locks.  In 2012, she drew a clear line of distinction from her famous sister Beyonce.  Her unconventional style choices, especially her hair, have paved the way for many women to take the plunge and do the "big chop" to gain freedom from hair relaxers.
Solange rocking box braids, just one of her signature looks this year
Photo credit: Getty Images, Skyliving, and Starpulse
What were your favorite style icons of 2012?