Valentine's Day is quickly approaching, which means you may be looking for the perfect gift for your girlfriend, fiancee, or wife. Being as how I am a girly girl of epic proportions, I am pretty tuned in to what a girl may want for Valentine's Day. I've compiled a list of 12 Fab and Girlie Valentine's Day Gift Ideas, and I am sure there is something on this list that will make the woman in your life happy.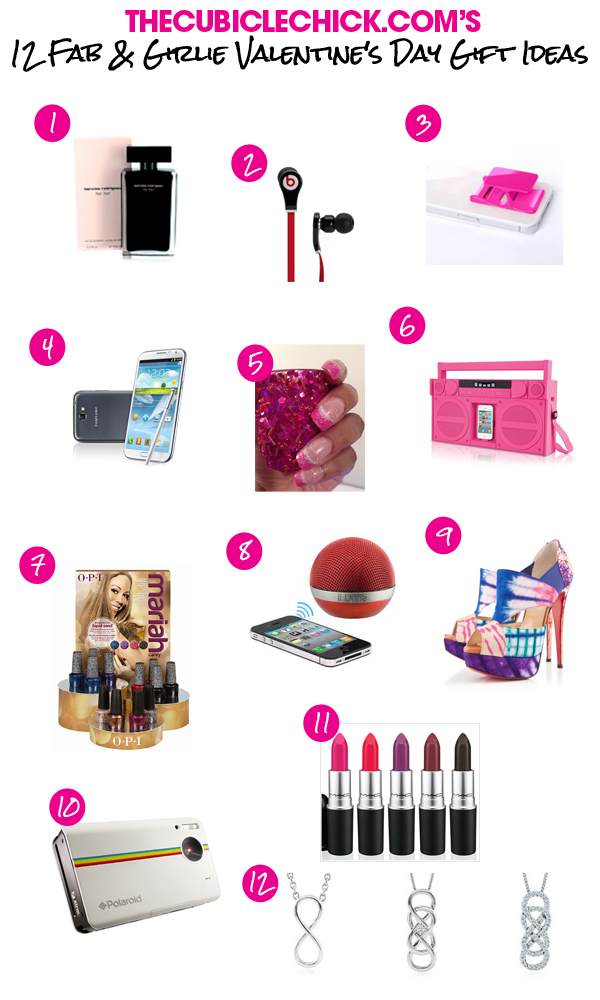 1. Narcisco Rodriguez for Her Perfume (Black Bottle)
I love, love, love this scent. I wear it as my everyday fragrance and I can't tell you how many times I've been asked "what is that scent you are wearing?" Bold, yet feminine, elegant, yet perfect for everyday wear, this fragrance will make your girl a happy and feel fabulously sexy. $52.00, Sephora.com.
2. Dr. Dre's Beats by Dre Earbuds
Huge headphones may not make your girl feel fabulous, but a pair of earbuds that are sleek and offer the same amazing audio quality as the headphones would probably make her smile. $99, Best Buy.
3. Flygrip
If your woman is a girl on the go, she probably uses a smartphone and/or tablet to connect and stay in touch.  The Flygrip enables one-hand usage and secures the device to her fingers so she can type/chat/email/work on the go. The Flygrip is available in many different colors and patterns so she can stay fab! $29.95, Flygrip.com.
4. Samsung Galaxy Note 2
A phone and a tablet in one? The Samsung Galaxy Note 2 offers that with major sleekness. Samsung makes some of the best phones on the market and with this Galaxy Note 2, you will make her happy in more ways than one! Prices vary, contract may be required, Samsung.com.
5. Candy Flavas Green Glam Candles
What girl doesn't enjoy scented candles? How about eco friendly candles made from soy that are also sparkly and very girlie girl? Candy Flavas offer a variety of candles including this Green Glam candle that comes in a variety of colors, $40.00 Candy Flavas.
6. iHome Bluetooth Portable Stereo Boombox
This boombox had me at hello. With its rubberized design, Bluetooth capability, amazing sound quality, and throwback look, it's a must have for having sound in the house or on the go. $199, iHome.com. (available 2nd quarter)
7. Mariah Carey OPI Nail Lacquer
What girl doesn't like nail polish? And these 16 colors from Mariah Carey by OPI are fabulous. With colors like Pink Yet Lavender, A Butterfly Moment, and Can't Let Go, there's a hue for everyone. $109.95 for the whole set of polishes, Trendy Hands.
8. iHome Rechargeable Portable Bluetooth Speaker
Not every woman wants a huge boombox. So why not gift her a small rechargeable Bluetooth speaker that she can use at home, in the office, or while traveling. The speaker comes in both black and red and is only $47.98, B&H.
9. Christian Louboutin, Pitou Heels
These cotton tie dyed shoes from Christian Louboutin's Spring/Summer '13 collections are fab and cute. You can dress them up or down, and what girl doesn't like red bottoms? $995, Christian Louboutin.
10. Polaroid Instant Digital Camera
A digital camera that offers quality photos and the ability to print out photos from the actual device? Polaroid is bringing the old school element to new school technology, and this is a gift a girl would love to have. $199, Amazon.com.
11. MAC, Strength Collection Lip Color
MAC's new Strength Collection has an array of colors for every skintone. And since it's MAC, you can be rest assured it will be a gift your girl will treasure. $15.00 each, MAC Cosmetics.
12. Helzberg Diamonds Infinity X Infinity Collection Inspired by Revenge
Diamonds and jewelry? YES! Helzberg's new Infinity X Infinity collection inspired by the ABC TV show Revenge, offers the right amount of bling with style. And starting at $49, it won't break the bank either! Helzberg Diamonds, $49-$999.
I hope these Valentine's Day Gift Ideas are just what the doctor ordered!
Disclaimer: Some of the items listed in TheCubicleChick.com's 12 Fab and Girlie Valentine's Day Gift Ideas were sent by the brand or company to us at no charge. This is not a paid nor sponsored post, and all opinions listed within belong to the author and are not indicative or any brands or companies mentioned.