Now that President Barack Obama has been officially inaugurated for his 2nd term, all eyes were on First Lady Michelle Obama to see exactly what she would wear to tonight's two official Presidential Inaugural Balls. Everyone has been guessing as to what type of gown Michelle would wear—would she choose black or white, a traditional look or a more avante garde frock? We cannot get enough of Michelle and her style choices.
Michelle chose to wear a crimson velvet halter gown designed by Jason Wu, who also designed her inaugural gown in 2009. Her hair, newly appointed with bangs, was adorned with layered yet straight curls, showing off her amazing bone structure. She also wore a custom designed diamond ring by Kimberly McDonald and shoes by Jimmy Choo.
The President wore the same tuxedo from four years ago. He looked quite dapper!
I love the gown and how it accents her well known shoulders and arms. Many people wonder why she selected Jason Wu again, but it's clear her understands her style, and I think this dress was a great choice for her.
The President's 2nd term surely won't be an easy one, but before all of the party wrangling and infighting ensues, let's take a moment to enjoy the glamour of the Inaugural Ball, filled with hope, promise, and a better tomorrow.
Feast your eyes on the pictures below of Michelle and President Obama dancing to Let's Stay Together sung by Oscar and Grammy winner, Jennifer Hudson: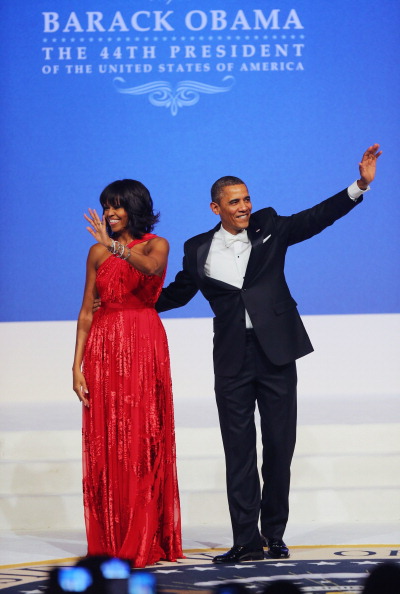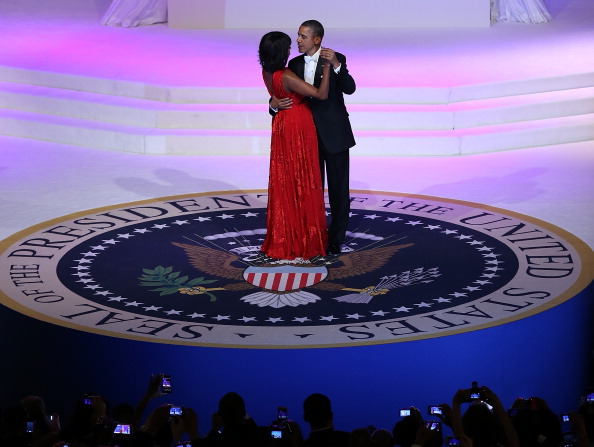 Photo credit: Getty Images