On this Martin Luther King Day, President Barack Obama and Vice President Joe Biden were sworn in again at the official Inauguration ceremony on the West Front of the U.S. Capitol. They were joined by their families, wives Michelle Obama and Jill Biden, and the two first daughters, Malia and Sasha, and Biden's children. Alongside them were Michelle Obama's mother, Marian Robinson.
The event was capped off by renditions of anthems sung by Kelly Clarkson and Beyonce Knowles Carter.
Other celebrities/luminaries included in the event were Bill and Hillary Clinton, James Taylor, Justice Sonia Sotomayor, Katy Perry, John Mayer, Valerie Jarrett, and Eva Longoria.
Check out the photos below and let me know what you think!:
FLOTUS Michelle Obama entering the ceremony wearing a Thom Browne coat and dress, Cathy Waterman necklace, and J. Crew belt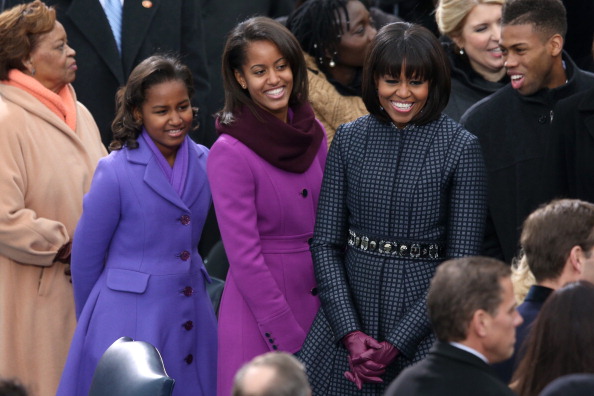 Malia and Sasha, both in J. Crew
       Kelly Clarkson with her fiancee, wearing a oxblood colored peacoat
DNC Re-election co-chair Eva Longoria in another gorgeous coat
Beyonce with husband Jay-Z looking fabulous (in what I hope is a faux fur)
President entering the ceremony
Dr. Jill Biden entering the ceremony. Her coat with draped bow is fabulous!
Vice President Joe Biden being sworn in by Justice Sonia Sotomayor
Kelly Clarkson singing My Country Tis of Thee
Beyonce singing the Star Spangled Banner
Photo credit: Getty Images