My daughter is a huge fan of My Little Pony. When she found out that Build-A-Bear Workshop would be carrying two characters from her favorite pony franchise, she was much excited. For the past three years, I've had the opportunity to review many Build-A-Bear Workshop friends, so of course, I couldn't pass up the opportunity to review Rainbow Dash from the new My Little Pony Collection.
My Little Pony's Rainbow Dash and Pinkie Pie ($24 each) both arrive in Build-A-Bear Workshop stores and online on April 1st. They are the first make-your-own My Little Pony plush toys and are a great compliment to the already impressive and expansive Build-A-Bear Workshop collection of characters.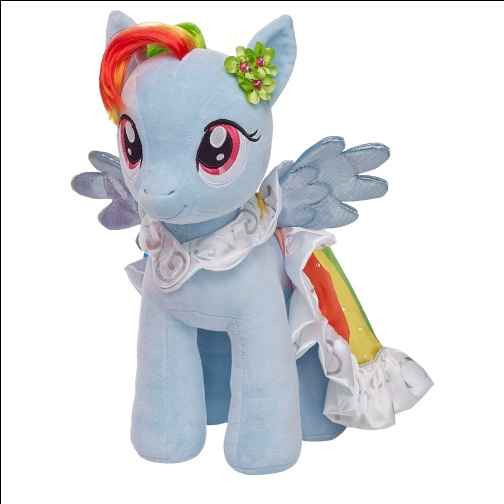 My Little Pony Rainbow Dash
My Little Pony Pinkie Pie
Rainbow Dash comes with a beautiful mane of rainbow colored hair that can be styled and braided and has a removable cape that can be purchased separately for $13.50. For kids who love to enjoy imaginative play, these My Little Pony plush friends from  Build-A-Bear Workshop will be a hit.
In many North American Build-A-Bear Workshop stores, a celebration of the new My Little Pony duo will be commending April 1st through April 7th. Guests are encouraged to dress up in their favorite My Little Pony fashions and can take pony personality quizzes. While making a My Little Pony friend, your child will also recite the "pony promise" and learn how to style their Rainbow Dash or Pinkie Pie's hair with a special hair care brochure.
Other personal touches include:
My Little Pony skirt outfit ($12.50)
Knight costime ($15.00)
My Little Pony Theme song ($6) which can be added to any stuffed friend
Hair extensions ($4.00)
Rainbow skates ($6.00)
My daughter received her Rainbow Dash last week and hasn't stopped playing with it. She also wants Pinkie Pie, which I'm sure will be galloping into her room very soon.
As a Build-A-Bear Workshop friend, I also have the opportunity to offer one of my readers a gift card to the store that they can use to help their favorite little on make a furry buddy of their own. It can be used online or in stores to create a My Little Pony plush, or any other friend they choose!
To enter, please make sure you are a friend of Build-A-Bear Workshop and The Cubicle Chick on Facebook. Afterwards, simply leave a comment below letting us know what you like most about Build-A-Bear Workshop. That's it! One entrant will be selected at random. This giveaway is open to U.S. and Canadian residents only, void where prohibited. The giveaway ends on Sunday, April 14th, 2013 at 7pm CST. The chosen winner will be announced on Facebook and will have 48 hours to claim their prize; if not redeemed, an alternate winner will be selected.
For more information on Build-A-Bear Workshop and the new My Little Pony plush friends, visit Build-A-Bear Workshop's website.
Which My Little Pony plush do you like the most?
 Photo credit: Build-A-Bear Workshop, TheCubicleChick.com