A few weeks ago, I was in New York City for the Time to Play Spring Showcase (more on that in a future post). I brought my Aunt along because she has never been to The Big Apple before. We ended up flying in a day early to take in the sights and sounds of NYC, and made our way to Harlem to visit the Apollo Theater and other must-see places. While there, we walked by the Red Rooster, a restaurant owned by Chef and Food Network staple, Marcus Samuelsson. And what luck! We were able to be seated at a table promptly without a reservation since someone canceled. Talk about luck!
I was first impressed with the look and feel of Red Rooster Harlem. It is quaint and visually pleasing, but also rich in color and textures. A harvest like feel and quality to the aesthetic. The restaurant is rather small, but seats quite a few guests, and you can see the kitchen from the dining room area. Red Rooster also has a bar and a few high-tops for informal seating.
The bar area at the Red Rooster Harlem
A great area to eat in if you don't have a reservation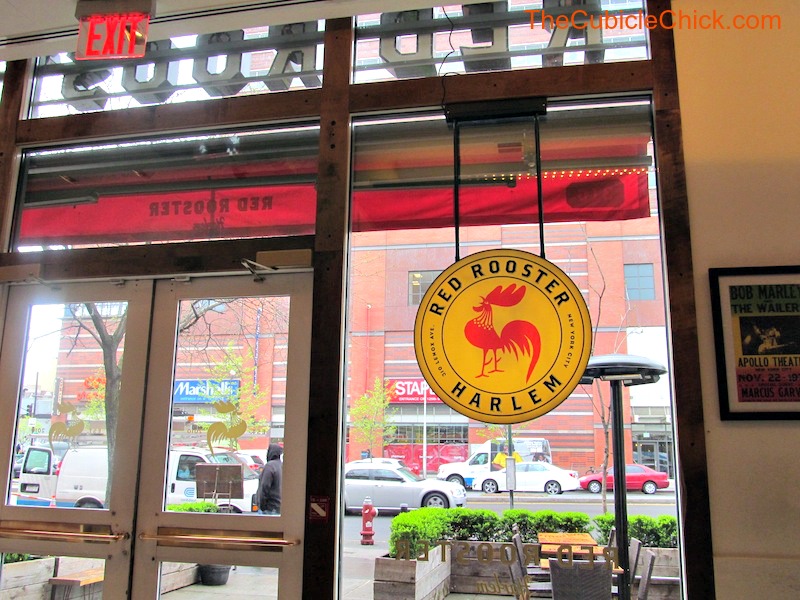 Entry into Red Rooster Harlem
Marcus Samuelsson is known for his international flavor and global inspired dishes. He's a James Beard award winner and author of several cookbooks including The Soul of New Cuisine and Yes, Chef. He was born in Ethiopia, raised in Sweden, and owns three other restaurants other than Red Rooster. Marcus is also a mainstay on the Food Network, including being a judge on Chopped. (and I am a HUGE fan!)
The menu at Red Rooster is part soul food, part remarkable American cuisine. The menu includes favorites like Deviled Eggs, Fried Chicken and Waffles, Fried Green Tomatoes, Mac and Greens, and Fish and Grits. Hearty, well-seasoned, and highly palatable, it was hard to decide what to eat! We decided to a few appetizers and entrees which we could share.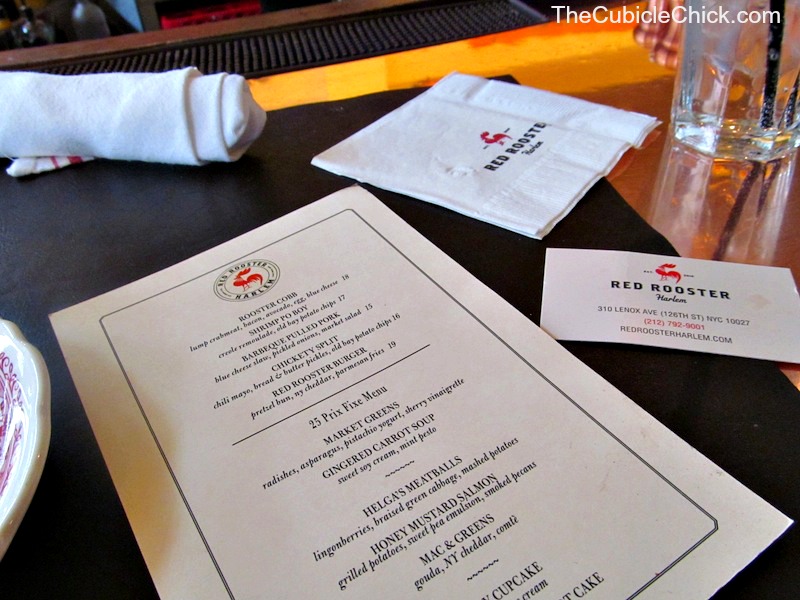 Red Rooster menu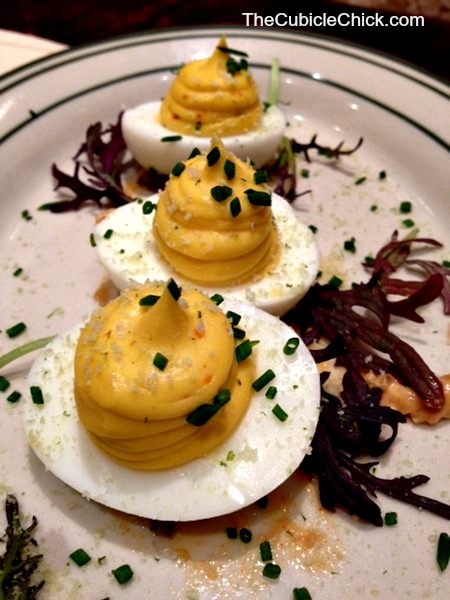 Red Rooster's Deviled Eggs made with Chicken Skin and Mayonnaise
Red Rooster Spicy Wings
While enjoying our appetizers and first course, Marcus Samuelsson sat down at the table right next to us. We didn't want to stare, but hell, the whole restaurant was looking our way at Marcus, who was sitting so close to me, I could've reached out and touched him. After about twenty minutes, Marcus got up and came over to our table and introduced himself to my Aunt and I. I was so overjoyed, I took a picture of the two of them. It was by chance that we were even eating at Red Rooster Harlem, and here he was, Marcus Samuelsson in the flesh!
My Aunt with Red Rooster Harlem owner and James Beard award winning chef Marcus Samuelsson
The Nook area at Red Rooster where you can purchase sweets and pastries
The food at Red Rooster was nothing short of amazing, and was delish! To say we ordered too much is pretty accurate, but it was so much to choose from! And who knows when we will be able to come back for Round 2?
Red Rooster is located 310 Lenox Avenue in the heart of Harlem, NYC. You will love the food, the ambiance, and the staff. It is indeed Harlem at its best.
Click for more information on Red Rooster Harlem, or to make a reservation.
Visit Marcus Samuelsson's official website.
For more Travel and Lifestyle articles, click!