Disclosure: Last week, I was invited to Nordstrom to preview their highly lauded Anniversary Sale during a glam happy hour event, and to share my experience with my readers. 
Nordstrom, how do I love thee? Let me count the ways! I am a huge Nordstrom fan and shopper, and I couldn't pass up the chance to get a sneak peek at the offerings of their Anniversary Sale. As a Careerist and Lifestyle Digital Debutante, it's not only important for me to be in the know on the haute trends of the upcoming season, but also be able to help my readers and followers achieve a great aesthetic and look on budget, without breaking the bank. With the Nordstrom Anniversary Sale, you get the best of both worlds; fabulous style options from the labels you know and love at sale prices. Who can ask for anything more?
Here's the deal—Nordstrom's biggest sale of the year—the Nordstrom Anniversary Sale—is held each July. This event has become legendary among Nordstrom customers nationwide who enjoy outstanding savings on the most exciting new fall merchandise before the season starts.
It's a must-see, must-buy type of thing, so you gotta check it out! The Nordstrom Anniversary Sale is open to Nordstrom cardholders only during July 10th through 18th. It is then open to ALL Nordstrom shoppers July 19th through Aug. 4th.
I fell in love with these textured skater skirts. How adorable!
As I perused the style sections during our tour, I was indeed impressed. Many of the designer and top label pieces and accessories are marked down significantly during the sale. This is a perfect time to stock up on some fall pieces and trends before everyone else.
But if you are like me, seeing is believing. So I am going to visually show you my top five (5) reasons to get fabulous during the Nordstrom Anniversary Sale. Let's go!
Reason #5: This is not your mother's sale.
When most stores say they are having a sale, it is on the items that are no longer in style, on trend, or discontinued. Basically, you are getting the item on sale because the store has to make room for the new stuff. That is where the Nordstrom Anniversary Sale is different. Yup! The items that are on sale are next season's haute-ness. Things like are all on trend for the fall season include Skater Skirts, Animal Print, and Leather, and they are on sale at a lower price during this sale.
Texture, and zippers, and color, oh my!
Reason #4: Because being frugal is in.
Gone are the days when it was popular to buy things at full price. You will be the talk of all of your friend girls when you show them what you got at the Nordstrom Anniversary Sale. And even more so because you didn't pay full price.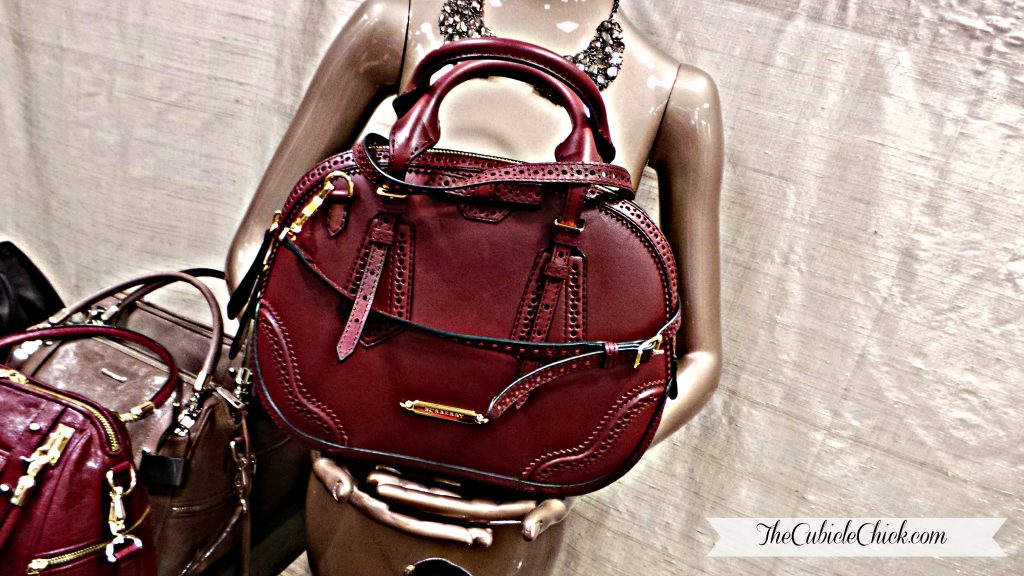 This pecan brown leather Burberry satchel bag? YES, please!
Reason #3: Every department is fair game.
The Nordstrom Anniversary Sale isn't just about the clothes and accessories. You can also find slashed prices in the Beauty and Makeup area, shoes, kids', etc. I scored this amazing Clarisonic Mia 2, almost $50 less than retail price. Now that is what you call a fab deal.
I've been wanting a Clarisonic for years. Now, I finally have one thanks to Nordstrom
Reason #2: The names you love.
I am not a label worshipper, but there are a few favorite designer names that I covet. Nordstrom carries many of these lines, and during the Anniversary Sale, many of these names are available at lower prices. Boom, there it IS!
A little Kate Spade never hurt nobody…
Reason #1: Nordstrom has unparalleled customer service.
If you've ever shopped at Nordstrom, then you know what I mean. The entire staff is well-trained and versed on what's haute and on trend, and are amazingly helpful when you have questions, or need honest feedback about an item you are thinking about purchasing. I love the top notch attention I receive when I shop at Nordstrom, so if I can save a little bit of cash and get fawned over, well that is just a win/win.
St. Louis Galleria Nordstrom STL's Daniel E. is giving us everything with this Hampton's look. And did I mention that he helped me tremendously during my purchase? Love him! (visit the store here or here)
Now that you have 5 huge reasons why you need to shop the Nordstrom Anniversary Sale, it's your move. Visit Nordstrom and see all of this firsthand, and tell them I sent you!
For more tea and lowdown from the Nordstrom Anniversary Sale Blogger Happy Hour and preview, visit fellow STLien Michelle's blog at CreatureType.com here!
What do you think of the Nordstrom Anniversary Sale?
Nordstrom invited me to preview their Anniversary Sale and to share my experience with my readers.