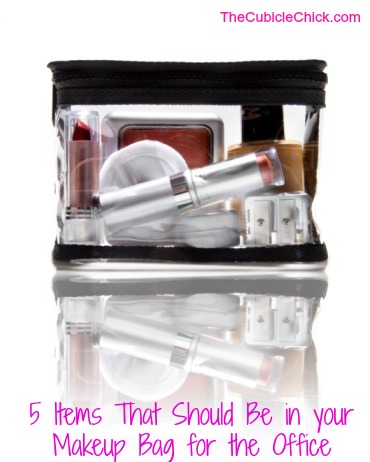 You know what they say–another day, another dollar. Alongside another chance to make a solid impression while at work. When working in an office, being professional is certainly key. Makeup may or may not be a part of your morning routine while getting ready for work, but if it is, there are certainly some essentials that you should have with you in your office makeup bag later for touch-ups and such.
I am a fan of a neutral, yet fabulous face while at the workplace. That means light to medium makeup with subtle hues and perhaps a hint or pop of color on the lips. I do believe that a bold red lip has a place in the office alongside a neutral and natural looking face. Too much color can be the wrong type of look while in a professional work environment.
I also believe in making sure you have the right tools in your arsenal, aka, makeup bag. For long days at the office that include business meetings, luncheons, and other happening, being able to keep your look throughout your day is a must. And in doing so, there are items you must have with you that will help you maintain your fabulosity while getting the job done.
Here are my 5 Items That Should Be in your Office Makeup Bag:
1. Blotting papers
If you have combination or oily skin, by lunchtime, your face may be an oily mess. Remedy this by using oil blotting papers which will absorb the oil and give you a more finished appearance. You also want to use this before you apply any additional face powder to minimize shine.
2. Lip color
Even the best tested lip color may wear after time, especially after a meal or a few drinks of coffee. Make sure to add the lip color of the day to your purse, and reapply when needed. This will keep your look on point throughout the day.
3. Face powder
Applying a little face powder to minimize shine and update your makeup look is a good idea. You should only have to do this one, twice during the workday at the most. This will eliminate shine and give a continued flawless appearance.
4. Compact mirror
Having a compact mirror at your desk will help you make sure your look is complete (i.e., there's no food in your teeth or any smudging).
5. Travel size perfume
Just two sprays of your perfume to update your scent is all you need. A little goes a long way, and can take you from work to a dinner date or get together after.
You don't have a massive makeup arsenal to look your best, but it is nice to have a few key tools to help you stay polished while at work. These are my 5 must-haves while in the office. What are yours?