When you are traveling or on the go, you need something sturdy and stylish to hold all of your tech items. While trekking from city to city, I have come to reply on backpacks and computer bags, but oftentimes they are not fabulous enough for my type. I've always wanted something that was fashionable, yet durable enough to weather even the toughest of conditions. After doing some research online, I found OGIO, which is known for their high quality tech bags and backpacks. They have a women's line complete with totes, backpacks, and other essentials for Digital Debutantes like myself.
After visiting their website, I fell in love with their Hampton's Women's Tote Bag (click here). Since it's a tote, it can be versatile and double as a purse, and it doesn't cause back problems since it is worn on the shoulder and not the back. I placed my order and opted for the "Tide" hue.
Once the bag was arrived, I put it into use, first at BlogHer in Chicago, and then during trips to Miami, Orlando, and Fort Lauderdale. I love the depth and space of the bag and I can fit all of my tech essentials in the bag (my essentials being: 2013 MacBook Air, iPad 3, iPad Mini, Samsung Galaxy Camera, iPhone, Samsung Galaxy S 4, Verizon Jetpack, and all of my cords and wires). The side pockets are useful. and the padded interior keeps your technology safe and secure.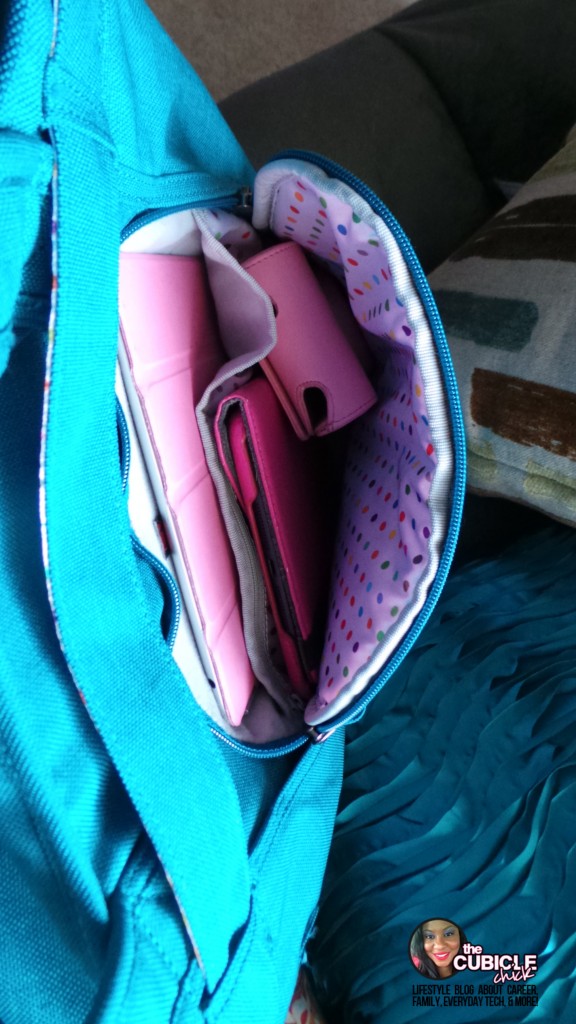 I get so many compliments when I am out and about with my bag, and I like that it is girly, yet durable enough for heavy travel.
The OGIO Hampton's Women's Tote Bag retails for $70 and can be purchased on their site. It is on the pricey side, but I also believe you get what you pay for—and it is well worth the investment.
My only complaint is that it wasn't available in my signature color of "pink", but besides that, it is a perfect bag. And if the Hampton's Women's Tote Bag isn't your speed, OGIO also offers other styles and looks in their Women's Bag Collection (click here to view more).
This is not a sponsored nor paid post. Just sharing a find that I think is fabulous for women on the move. Check out more pictures of the bag and let me know your thoughts.