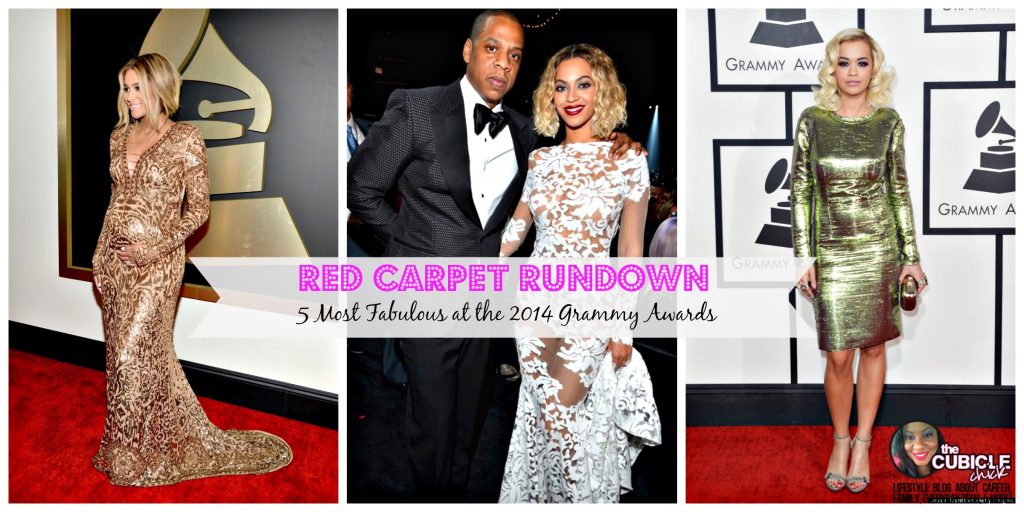 It's official. The 56th Annual Grammy Awards are now in the can, as awards show season chugs along. During the almost 4 hour broadcast, viewers got to see everything from Beyonce and Jay-Z perform Drunk in Love, to "living" Beatles reunion, Daft Punk and their helmets, Pharrell and his Park Ranger hat, Queen Latifah "officiating" a wedding for gay and straight couples, and so much more.
While I am a huge music fan of all genres, I found this year's Grammy Awards to be all over the place. I think it would have been much more enjoyable if it were more cohesive. We were also missing favorites like Justin Timberlake, Rihanna and other notables.
I took the pleasure of curating my favorite five fab looks from the night. We saw a lot of gold and shimmer, reds and blues during the evening, and for the ladies, pantsuits made a comeback.
Check out who I thought were the five most fabulous at the 2014 Grammy Awards and let me know if you agree with my picks.
5. Colbie Caillat
A vision in red, I loved this curve hugging gown by Ezra Santos with high neckline and a one shoulder matador cut. This dress served old school Hollywood glamour, and the updo perfects the look. Gold accessories complete this hauteness, and I was loving it. Colbie, looking good girl!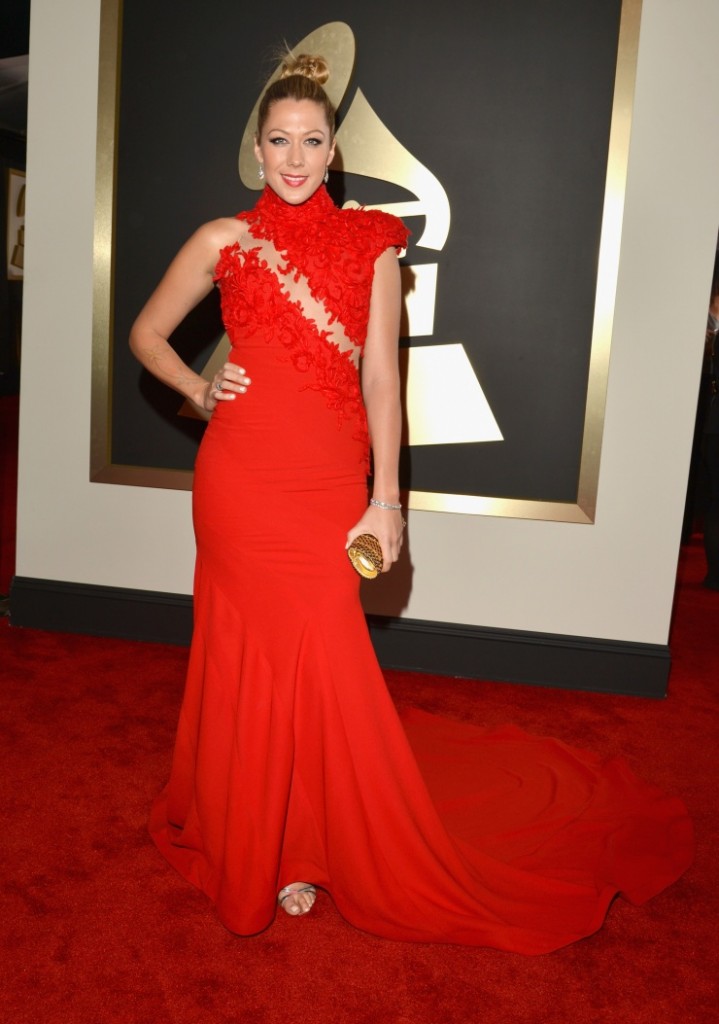 4. Alicia Keys
Oh, to be a gym rat. If I was, perhaps I could have the body of Miss Keys, who was flawless in a midnight blue gown by Armani Prive. The low cut is daring, but Alicia pulled it off. The cut of this dress showed off all of her ass-ets. Not a fan of Alicia's hair, but the dress more than makes up for it.
3. Taylor Swift
I was not a fan of Taylor's dress when I saw it on television, but while going through photos on the Grammy website, I decided that I actually love this look on her. She dazzles in a shimmery golden Gucci dress and red shoes. I could've done without the ponytail (perhaps an updo or a curly long do would've given her look more pizazz) but her dress was effortlessly gorgeous.
2. Ciara
Ciara has really stepped up her style game this recently, and this Pucci gown showcasing her ever growing belly was the business. Ciara opted for gold, which seemed to be the color of the night. Natural hued makeup and a messy udo with stray bangs does this look good and I am here for it!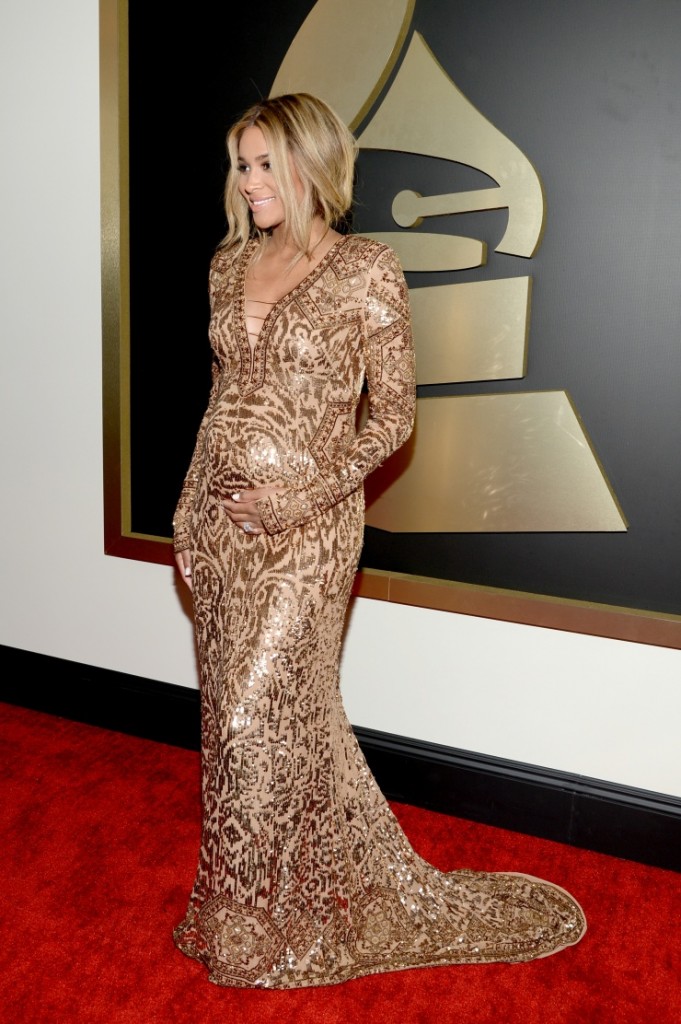 Tie! 2. Chrissy Teigen
Can someone say simmering? Chrissy brought the heat in this strapless Johanna Johnson number that is giving me fabulosity at it's finest. The messy side-swept hair and dewy makeup top off this dream of a look. Love it, love it, love it!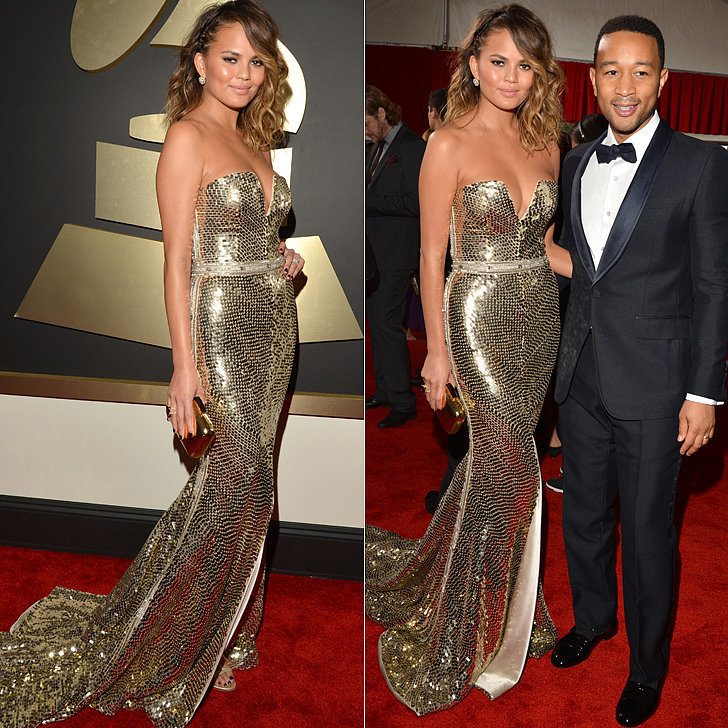 1. Beyonce
Resplendent in a white Michael Costello creation, Queen Bey showed us why she is the hottest chick in the game. Her gown is elegant, curve hugging, and simply gorgeous. I am not a fan of trains, but it works on this look. And I love her wavy bob and dark lippy, which compliments the look. Get it, girl!
Other notables: Rita Ora, Amber Rose, and Queen Latifah.
What did you think of the style stunners at the 56th Annual Grammy Awards?
To see my previous picks from Grammy's past, click here!
Photo credits: GRAMMY website and Pop Sugar.