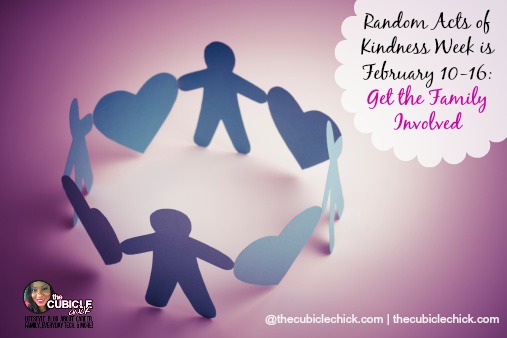 Random Acts of Kindness Week is February 10-16. And while we as parents want our kids to be kind and compassionate at all times, this month is a great time to encourage them to practice random acts of kindness all through the year.
Random acts of kindness are selfless actions that are performed with the sole intention of making another person happy or feel the warm fuzzies inside. They're good, they're easy-to-do and for the most part, don't cost much at all!
5 Random Acts of Kindness Ideas for Families
Here are 5 easy, feel-good, random acts of kindness ideas that you and the kids can practice to spread joy and happiness in the family and community all through February or even, the rest of the year!
Share a Meal: Invite a lonely senior home or take them a warm homecooked meal. Encourage kids to smile, talk and just be their sweet selves.
Say "Thank You" and Mean It:  Let community helpers know that you're grateful for their services. Have the kids draw them a "thank you" card, just because.
Have a Family Kindness Jar: Start a fun kindness ritual where kids write a kind or loving thing about another family member and put it in a jar at the end of every day.
Sharing is Caring: Encourage kids to share their toys or games with friends willingly and with a smile.
Help Teachers at School: Kids, both young ones and older ones, can be kind to their teachers by simply working harder, listening to them or even, volunteering.
3 Tips to Make Being Kind Easy for Kids
1. Set a Good Example
One of the best things you can do to raise kids is to be a role model for kindness and thoughtfulness. Let children see you be respectful towards others, treat them with compassion and be helpful. Let them see how you think of taking over a meal to a family who's not doing too well or shop for an ailing family member or just, surprise a waitress with a generous tip. Yes, children learn best from example, so let's set a good one.
2. Teach Kids to See the Good and Abundant… and then, Share It
Conversations at the dinner table can be powerful change makers. Ask children to talk about what makes them happy, encourage them to see the abundance that fills their lives and then, help them to spread it around and share it.  If you've had a bountiful apple harvest from your trees this year, why not put them in baskets and gift them to the neighbors?
3. Encourage them to Help Out, Pitch In
Finally, encourage them to help out in the community and pitch in where needed. Whether it is running errands for an ailing neighbor or doing a chore for a senior citizen or simply being kind to the mailman or newspaper boy, help them to see how the little things go the longest way.
Finally, remember to be appreciative of their efforts and practice your own random acts of kindness by surprising them, every now and then.