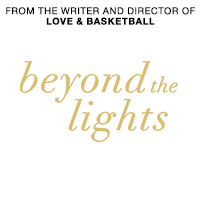 What do you do when your inner voice is telling you something, but you fail to listen? For the most part, you do so because you are scared of the unknown, or perhaps scared of failure or letting down others. So you continue to do what you are used to doing, because starting something new isn't expected.
In the new film Beyond the Lights, this is what the main character, Noni is facing. She's at a crossroads after spending most of her life in the spotlight listening to others. Doing what she's been told, she hasn't been able to truly be herself. That is, until she meets someone who allows her to be just who she is.
I've been at this place, myself. In my early twenties, I found myself at a dead-end job, and not knowing how to change course. I became a mother at eighteen, and knew that I had to support my son. I felt I didn't have many choices. I kept a job, but they didn't pay well and we could never get ahead because I felt stuck. There wasn't anyone in my corner telling me that I was worth more. And even if there was, at that point in time, I don't think I had enough self esteem to believe that I could be more.
My son was young—he was happy. He didn't really know the dire straits we were in. He was fed everyday. He went to a great daycare. He had nice clothing and toys. We had a decent apartment. From his vantage point, he never knew that we were literally living hand to mouth.
One day, I looked at him and he smiled at me and to me that I was his "superhero". It was then that I began thinking about not only saving him, but saving myself. And I couldn't do that continuing to live the way we were.
I began applying to colleges. Before then, a college degree was the farthest thing on my mind. I was thinking about getting through the next day, not four years ahead. But when my son told me I was his superhero, I knew that I had to be just that. It was going to be up to me to change our circumstances. And the only way to do that was to go to college and get my degree so I could earn a better income for the both of us.
I applied to several schools. All but one turned me down. I started attending classes part-time while working full-time. Eventually, I took on a full load of classes and went during the evenings.
With hard work and dedication, I received my degree in two years. And was able to secure a better job that paid well and offered security to the both of us. From that point on, we soared. Things weren't perfect, but we were much better off than we were before. And I realized that I had what I needed that whole time—I had my worth. And I finally was able to live my worth and live with purpose.
Overcoming myself was the biggest obstacle I've ever had. But once I did, there was no stopping me. And today, I am thankful to my son for being the catalyst that I needed to finally realize my potential. He's twenty years old now, and he still thinks I'm amazing.
And you know what? He's right.
The film Beyond the Lights is all about finding the courage to ultimately be the person you want to be. I am looking forward to seeing the film, and I appreciate the themes it presents. With love, you can conquer anything. Including yourself.
View the official Beyond the Lights trailer here:
You can follow Beyond the Lights on their social media channels for updates:
Do you want to see Beyond the Lights? I'm giving away two Fandango passes to see the movie to one of my readers. Easy entry, just leave a comment on how you live Beyond the Lights. Enter with the Rafflecopter below:
Disclosure: Compensation was provided by Relativity Media via Mode Media. The opinions expressed herein are those of the author and are not indicative of the opinions or positions of Relativity Media.
Brand Statement: BEYOND THE LIGHTS is the story of Noni, the music world's latest superstar. But not all is what it seems, and the pressures of fame have Noni on the edge – until she meets Kaz Nicol, a young cop and aspiring politician who's been assigned to her detail. Drawn to each other, Noni and Kaz fall fast and hard, despite the protests of those around them who urge them to put their career ambitions ahead of their romance. But it is ultimately Kaz's love that gives Noni the courage to find her own voice and break free to become the artist she was meant to be. In Theaters November 14, 2014. #BeyondTheLights