Disclaimer: Some of the items listed in TheCubicleChick.com's 2014 Holiday Gift Guide were sent by the brand or company for promotional consideration. This is not a paid nor sponsored post, and all opinions listed within belong to the author and are not indicative or any brands or companies mentioned.
I thought I'd start my 2014 Holiday Gift Guide with Gift Ideas for Coworkers. My focus is on fun yet useful gifts that you can give your colleagues that won't break the bank. You spend a lot of time at work and with your fellow employees, so giving them a token of thoughtfulness is something that shouldn't be overlooked.
These ideas can also double as Secret Santa gifts too. And, because it's the season of giving, I'm giving away a $25 gift card from UncommonGoods. Get more details of them and follow the directions to enter to win below.
Now, without further adieu, here's my 2014 Holiday Gift Guide: Gift Ideas for Coworkers…
Poppin Gift Card
I've been blogging about Poppin for awhile. They are quirky and fun and can make the workspace bright and inviting for everyone. They've got a website full of great office supplies and furniture—I use several of their products on the daily in my office, and they always get a second look when I have visitors. Pick out a Poppin gift card for your coworker and let them splurge on some of their favorite items on the Poppin website. You can get a Poppin gift card in $25, $50, and $100 denominations. And it's totally electronic, and can be sent via email.
UncommonGoods
Known for their unique gift ideas, many which are handmade, UncommonGoods has become a wonderful place to shop for fab gifts. Most of their products are made right here in the USA by artists and creators that use recycled and upcycled materials. You can always find a gift perfect for even that hard to shop for person on UncommonGoods—it is one of my favorite go-to's for holiday shopping.
I've got three UncommonGoods gift ideas for Coworkers that are perfect for most office environments and even make a conversation piece. Check out my picks:
Cubicle Guest Book– Have visitors at your desk "look busy" and entertained with this Cubicle Guest Book, a must for every cube. $15.00
Calligraphy Starter Kit– Learn the art of calligraphy with this Calligraphy Starter Kit which is perfect for correspondence. $35.00
A Year of Gratitude Kit– This kit helps inspire 52 weeks of giving thanks that includes 52 thank you cards/envelopes, a guided journal to chronicle your year of gratitude, & tips on writing a good thank you note. $30.00
I am giving away a $25 gift card to UncommonGoods to one (1) reader who enters via Rafflecopter (at the end of the post). You can gift the card to a coworker of keep it for yourself—the choice is yours. And for more holiday gift ideas from UncommonGoods, make sure to visit their website. For gifts under $25 and for gifts under $50.
Mini Koo Non Electric Speaker
It can be hard to find electrical sockets in offices and cubicles. So this Mini Koo Non Electric Speaker is perfect for your coworker. Created for the iPhone (sorry, 5 models and older), it works as a mini-amphitheater for the phone. The wooden material gives great acoustics and does so electrically, without the use of cords or electricity. Pretty neat! $34.99, Red Envelope.
Brookstone Beverage Warmer
No one likes their hot coffee to turn cold. So this Brookstone Beverage Warmer is just what the doctor ordered. It can heat up not only coffee, but other drinks too including hot chocolate, apple cider, hot tea, and more. This is a perfect gift for the office, if I don't say so myself. Brookstone, $19.99.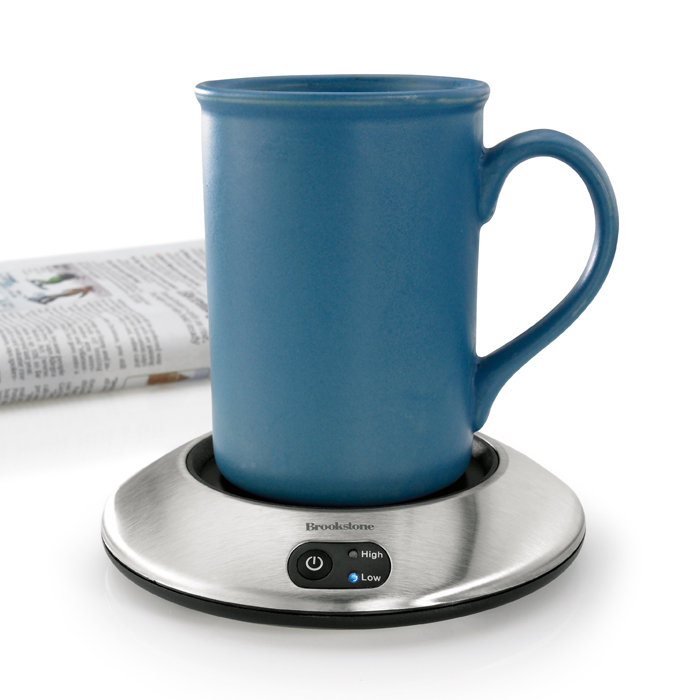 Address Embosser
I am so old school when it comes to correspondence. And if you have an office mate or colleague like me, then this gift is right up their alley. This address embosser is made for those who still believe in writing letters and correspondence, and makes it a little more personal. $30.00, Nieman Marcus.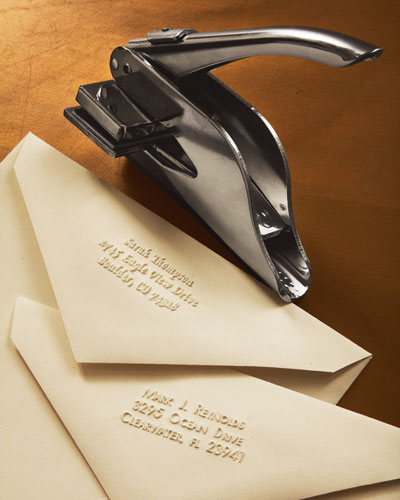 Boss Lady Coffee Cup
Every office has a Boss Lady (or someone who thinks that they are). Why not give her the gift of an 11 oz mug that proclaims her "role"? And if this one's not applicable, there are plenty other mugs that may fit your coworker to a T. Etsy, $18.00.
Chalkboard Vase
I am obsessed with chalkboard, you have no idea. This holiday season, I've been using chalkboard for everything. This chalkboard vase is perfectly cute for the office and is quite creative. Draw pictures and leave messages with chalk on the front. And hold water in flowers just like a traditional vase. This will be the talk of the office.  Pop! Boutique, $40.00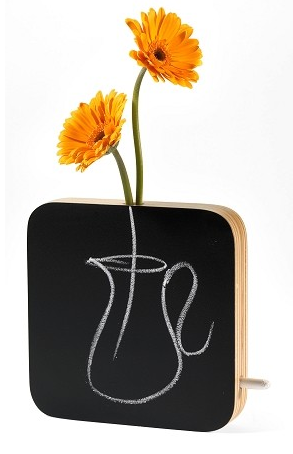 I hope you find these gift ideas helpful! Now, enter to the UncommonGoods gift card below:
a Rafflecopter giveaway
This giveaway ends November 25th at 9am. Winner will be contacted via email or entry method within 48 hours. Winner has 48 to respond or an alternate winner will be selected. Open to USA only. Void where prohibited.
Click for more of my 2014 Holiday Gift Guide