Recently, I was a guest on the local television program Show Me St. Louis for a food demo as a Johnsonville spokesperson. As someone who blogs about juggling work and life and all that in entails, it was a perfect opportunity for me to share a few tips with viewers. During the segment, I recreated the Johnsonville Breakfast Taco Bar Recipe. This is a very simply recipe that can be made in the mornings very quickly, and allows for the kids to get in on the action if they want.
By creating a breakfast taco bar of eggs, Johnsonville sausage, cheese, avocado, salsa, and other fixings, you and your kiddos can have a great breakfast and get out of the door on time.
Many of the toppings can be prepped and sliced the night before to save time. And my daughter enjoys the recipe because she can make her own breakfast taco just the way she likes it.
You can view the segment below (sorry it autoplays):
(Email subscribers and feed readers, click here to view the video if not shown above)
Creating your own Johnsonville Breakfast Taco Bar is easy. Follow the recipe below.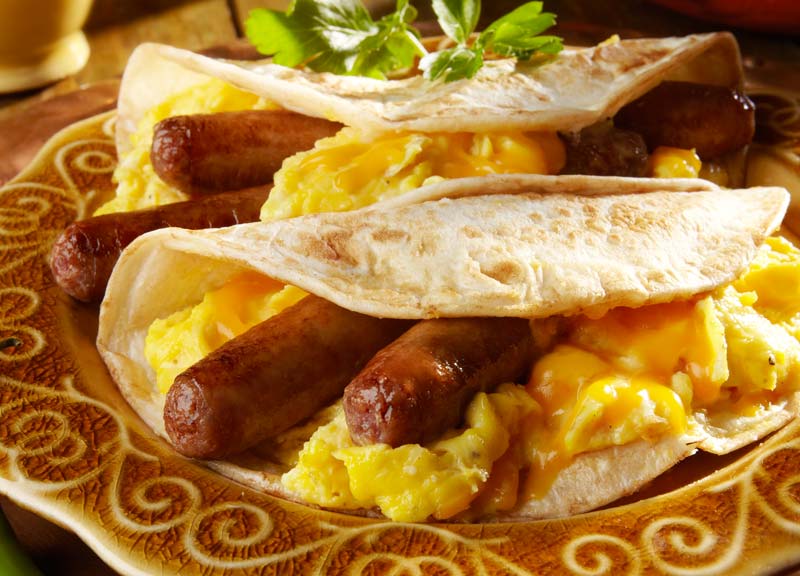 What you will need:
Two (2) packages of Johnsonville Breakfast Sausage Links
14 6-inch tortillas
1 dozen eggs
1/2 tsp salt
1/2 tsp pepper
2 cups shredded cheddar cheese
2 medium tomatoes, chopped
Toppings: sour cream, avocado, salsa, and whatever you prefer
Heat oven to 200
Prepare condiments and toppings and set aside
Wrap tortillas in foil and place in oven
Cook sausage according to directions on package
Whisk eggs in large bowl with salt and pepper
Add oil to skillet with medium hear and scramble the eggs
Take out the torttillas and assemble the tacos
Place on plate to have children who are old enough add toppings to their taco
Try the recipe for yourself—I believe your family will love it as much as mine do!