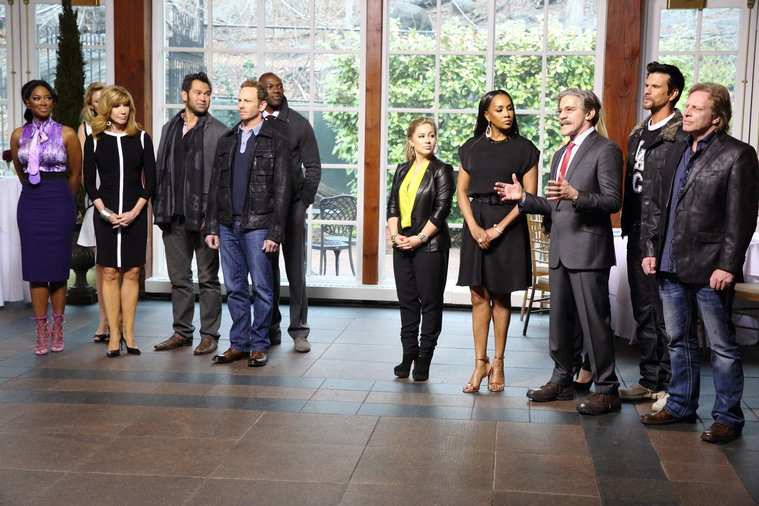 Each week, I will take on the challenge of recapping the 14th season of NBC's Celebrity Apprentice for your pure amusement. Read at your own risk.
Okay, so I really am sucking at recapping The Celebrity Apprentice this season. After my first episode post, I missed the second and third episode due to travel. So now I am back and hoping I can reclaim my seat as an avid Celeb Apprentice recapper.
I'm back!
Okay, so here's what I missed. Kevin Jonas, Terrell Owens, Gilbert Gottfried, and Jamie Anderson are out, and the teams are now all mixed up. No more Men vs. Women.
This week (episode entitled I Wish I Had a Project Manager), Infinity and Vortex are going head to head, competing for money for the perspective charities. The first challenge was to launch and operate a mobile store for Ivanka Trump's Nordstrom shoe line PowerUp, which was created for working women on the go. The teams had to create a mobile space that showcased Ivanka's lifestyle brand that also spotlighted Nordstrom and their store.
Kenya volunteered to be the Project Manager for Infinity, and Vivica also threw her hat in the ring after Shawn (who has never been Project Manager yet) didn't for Vortex. The other woman on the team, Kate Gosselin, was the previous Project Manager and won. And of course the fellas didn't want to lead on a women's shoe challenge.
Almost from the start, Kate and Shawn began having issues with Vivica. After going to the store to purchase items based on the idea of a "women's dressing room", Vivica called the girls to change the plans after they had purchased fabric for the initial idea after seeing that their space wasn't big enough. From that moment on, the two women seemed hesitant to follow Viv's lead, although Viv graciously kept it moving.
On the other team, Kenya led like only Kenya could–obnoxiously and without much diplomacy. She did come up with a wonderful tagline and had some very creative ideas—like chandeliers and pianos, which she got and incorporated into the small mobile showcase boutique they created street-side.
Joan Rivers (may she rest in peace) visited both spaces to take a look around. She loved Vivica's Coffee Shoe Show (complete with a barista and mobile showroom) and she adored Kenya's boutique. Ivanka also perused both spaces as well to get a feel for both spaces. She played no favorites.
In the boardroom, it was announced that Kenya and Infinity won. Even though she had an outdated and "older" feel to her store, she utilized the shoes very well and was creative with the marketing. Vivica and Vortex failed to showcase the shoes outside of the space in the cafe area, which Ivanka and Nordstrom didn't like.
Vivica decided to bring both Shawn and Kate into the boardroom and it was a free for all.
Vivica held her own and took responsibility for the loss. But said she thought that Kate wasn't a team player and Shawn didn't step up to bat to be Project Manager, something Vivica had already been once. After going back and forth, The Don agreed and Shawn was out.
This was a 2 hour episode so the next challenge was to create a viral video for the coffee company Chock Full o' Nuts.
Lorenzo volunteered to be Project Manager for Inifinity and Leeza Gibbons was the PM for Vortex.
Lorenzo and his team wanted to take it from old school to new school by showcasing the evolution of coffee. From a 50's style Kate to a K-Cup and a dancing sequence in a NYC park featuring Geraldo dancing off-beat.
Leeza's team went totally T and A by creating a video which featured (appropriately) both Kenya and Brandi fighting over a cab, while Ian and Johnny Damon daydreamed that the fight was really a lingerie pillow fight.
Leeza almost lost control of her team by allowing Ian to direct the video. He completely ran her over, but the result was an awe-worthy video.
Kate took hours getting her 50's style coif done, which cut into Lorenzo's directorial time, and because of this, other scene ideas had to be cut. Their video ended up being cute, but dull.
The winner in the boardroom?
Leeza and Infinity.
Womp womp.
But, the moment of the night belonged to Kenya, who told Donald Trump that she didn't like Brandi because she tries to push her buttons. She also went on to say that Brandi's husband left her for a much younger and prettier woman.
OUCH. She didn't have to go there. And what's more, beauty's in the eye of the beholder. And Kenya was being plain ugly.
I'm sure we will see how it plays out next week.
Anywho, Lorenzo being the stand up guy, decided he didn't want to bring anyone else in the boardroom with him and therefore, he was fired. I really liked 'Ole Lamas—he was a team player. But, in the end, it's all about those dollar bills, ya'll.
I will be back (hopefully) with a recap of next week's The Celebrity Apprentice. So keep your eyes peeled to my blog.
What did I learn this week?: That low blows only define the blower, not the blowee. And always, always, show off the product. Always.