Disclosure: This post is in partnership with AT&T. All opinions are my own.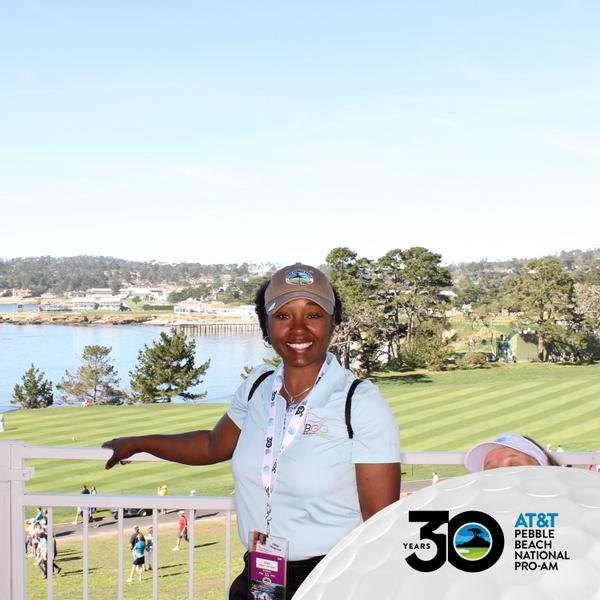 Recently, I was selected as an #ATTBlogger for the AT&T Pebble Beach Pro-Am. I followed the activities of four golf fans (called The Foursome) who were invited to participate in the tournament and share their experiences socially on the AT&T network. If you missed any of the action, you can click here for a full recap of their activities. I especially became fond of Tiffany Fitzgerald, one member of The Foursome, and the creator of Black Girls Golf, a website dedicated to inspiring women of color to get take up golf as a hobby and/or sport. As a Black woman who plays golf sporadically, seeing Tiffany's tweets and social shares got me excited about golfing on a more regular basis.
I was given the opportunity to interview her during the #ATTPROAM, and I am excited about sharing our interview with you.
On how she left corporate to become an entrepreneur with Black Girls Golf:
"I think I'm a serial entrepreneur. But when I was in Corporate America, I was tired of being on the outside looking in. Figuring out doing the right thing and what to do so you were recognized. You can have the best work ethic and be the smartest person on the team, but if the relationships aren't there, that stuff matters, but not really. I recognized that golf was the one common denominator between people who had a great working relationship, and it leveled the playing field. So, anything else you might feel about me and stops you from connecting with me, people don't think about those things on the golf course. And golf is the one thing that connects people, it helps you build relationships, it helps you break down walls and tear down barriers, so golf was the one thing I knew I had to master in order to not be on the outside looking in anymore".
Her most memorable moment so far during the AT&T Pebble Beach Pro Am:
"I met Condoleezza Rice. She was so nice and friendly. People are here because this tournament is about giving back, and she was very, very nice. I saw a Black woman on the practice range and I said to myself, that's got to be Condoleezza Rice, and it was and I got to meet her. I could've gone home after that. I was done".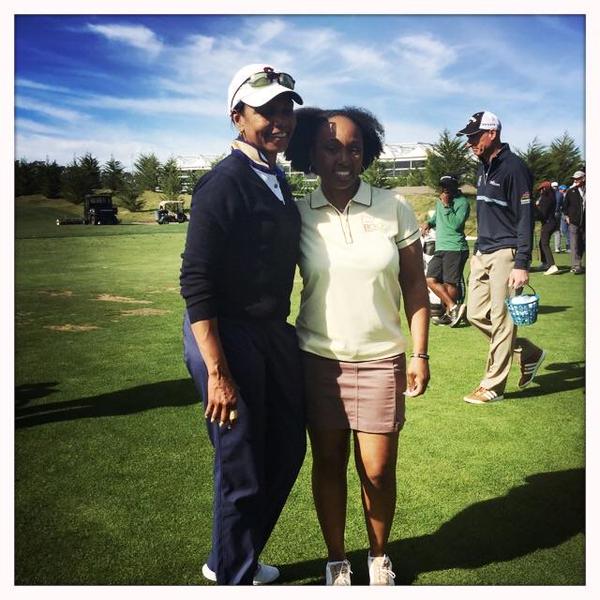 Photos of Tiffany meeting Condoleezza Rice, via Black Girls Golf on Twitter
How Tiffany would describe her experience at the AT&T Pebble Beach Pro Am:
"Right now while I am talking to you, I can hear the waves crashing. The views here are phenomenal and the people are here because they want to be here. I've been inspired by this week and when you think about what it takes to run an event like this and it started with charity and giving back and everyone is here because they want to give back, it just inspires you to go back to your own community and keep working hard to share golf and to help people understand what golf is doing for communities and for people in general".
Why she feels that golfing is an important tool for Black women:
"I want to dispel the myths that Black women have about golf–that it's boring, it takes too long, it's expensive, it's for rich White men. That's only true if you choose not to participate. What Black Girls Golf does is it teaches you the game, shows you that it's fun, you meet other women who look like you who play, and we also teach you how to find great deals and how to buy clubs so it isn't expensive. It's helping to break down the barriers Black women have that keep them from playing, and it's also introducing golf to a segment of the industry that they don't really recognize or cater to. Black women are a very underserved market in the golf industry".
You can learn more about Tiffany Fitzgerald by visiting her website Black Girls Golf. Since following her social shares during #ATTPROM and interviewing her, I am really encouraged me to get out and enjoy the game of golf more.
Below is a video recapping The Foursome's experience at #ATTPROAM and includes Tiffany and the rest of the crew sharing the fun they had during the tournament:
For more info on this year's AT&T Pebble Beach Pro Am, please visit the following social channels:
Website: http://www.attpbgolf.com/
Connect: https://twitter.com/attproam
This post is brought to you by AT&T, celebrating 30 years of the #ATTPROAM