In the Academy Awards of Color, the Academy, AKA Pantone has spoken: 2015's Color of the Year is Marsala. Named after a lovely (and quite delicious, might I add) fortified wine, Marsala is a reddish-brown hue that Pantone Color Institute's experts describe as exuding "confidence and stability while feeding the body, mind, and soul." Here are some ideas on infusing the heartiness of Marsala into your closet and home:
Garments
Even though we typically think of pastels for spring, expect the robust Marsala to be in vogue year-round. The versatile, earthy tone is quiet enough for people with classic taste and loud enough for fashion risk-takers. Perhaps the coolest aspect of Marsala is how well it plays with other colors. The brown undertones make it a natural companion for neutrals like taupe and grey, while it becomes more vibrant around bold colors such as yellow and teal. Give your outfit a sophisticated update with a shirt, dress, or pants. Hint: search for clothes in "burgundy" or "wine" for the closest match to Marsala.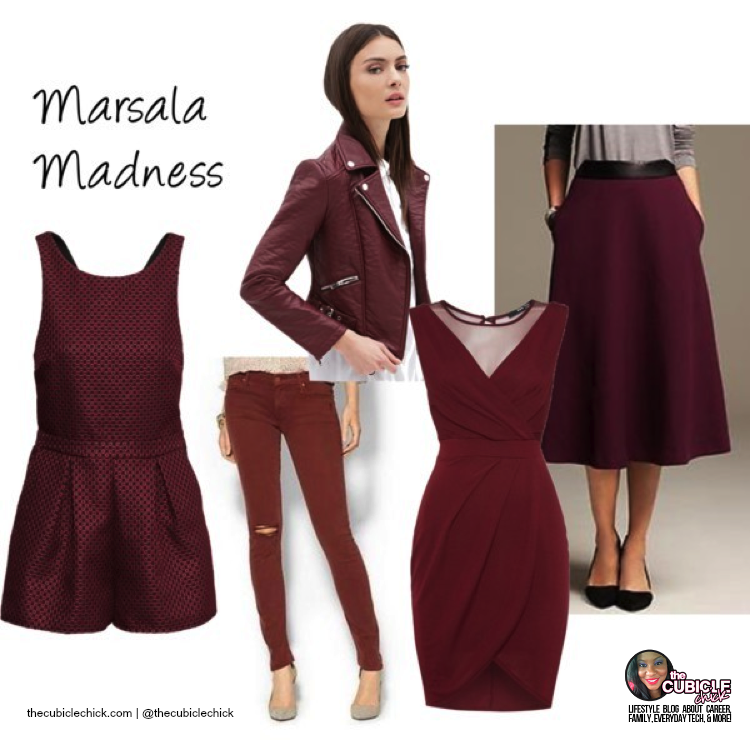 TFNC red cocktail dress/ Forever 21 quilted jacket / Jeans / Banana Republic purple skirt / H&M romper
Beauty Products
Some of Pantone's previous colors of the year have been intimidating as makeup hues (2012's Tangerine Tango was spirited, but not easiest to pull off), but the more understated Marsala is flattering on most skin tones. Not only can it provide cozy warmth to your cheeks, its burgundy tone emits a subtle-but-powerful come-hither vibe when used on lips. Another idea? Add reddish-brown highlights to your hair for a captivating look!
Sephora Collection blush / Zoya Nail Polish in Coco / Vincent Longo Duo Lip Pencil / Clinique stick in Amp'd Up Apple / Feria Auburn Brown
Accessories
Much like wine enhances the taste of a meal, adding an accessory in Marsala can provide a satisfying accompaniment to your overall look. Easily incorporate this elegant hue into your wardrobe with Marsala shoes, jewelry, sunglasses, or handbags.
Monsoon suede booties / Michael kors bracelet / Vince Camuto pave ring / Burberry sunglasses / Forever 21 lightweight scarve / Beautiful Glam Marsala Tote Bag by PLdesign…
Home Décor
The rich, simultaneously striking but refined quality of Marsala make it a hot shade for home décor. It looks especially inviting in your kitchen, dining room, or living room. If painting a wall in terracotta red seems too dramatic, stick to accent pieces in Marsala like pillows or throws. The color is augmented by textures, so another idea is to look for Marsala carpets or upholstered furniture.
Alabaster lamp / Jaipur Rugs rug / Rustic bedding / Storage furniture / Surya Blossom Down Pillow, Maroon, 22″ x 22″
How will you wear Marsala this year?
About Carmen:
Carmen Boeser is a freelance fashion writer, thriftaholic, and vintage lover. She chronicles personal style and love for the St. Louis fashion scene on her blog, The Ruby Zipper. When Carmen is not processing merchandise at a resale boutique, she's learning the joys of new parenthood with her husband and baby daughter.