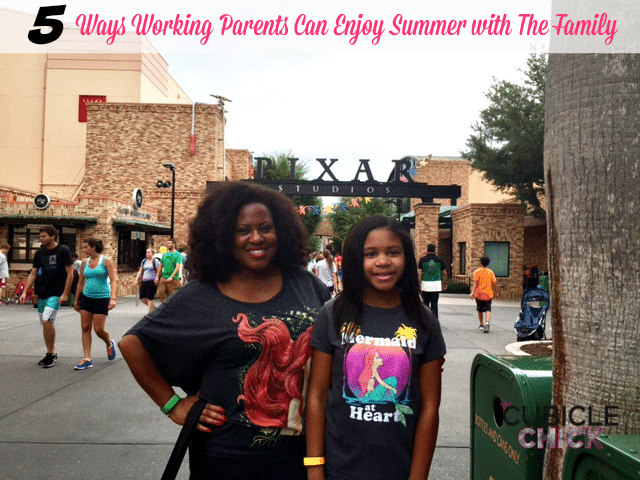 We are smack dab in the middle of summer. Temperatures are soaring, the pool beckons, and yes, you are stuck at work. Being a working parent can be extremely difficult during the summer months when you really want to get out of the office and spend the day in the sun. And while you are busy adulting, it may seem that you are missing out. Nope. It doesn't have to be that way.
I've got 5 ways working parents can enjoy summer and their 9 to 5, and it doesn't have anything to do with balance or an  unrealistic, fairytale lifestyle—it's all about making your highest priorities done deals.
Here we go…
Use Your Vacation Days. It's Okay.
You've been stacking up your vacation days, but for what? Even if you aren't planning a trip out of town or a family vacation getaway, it doesn't mean you still can't take off 2 to 5 days to spend with your brood. Schedule a succession of off days and ask the kids what they'd like to do. Spend each day doing at least one of the activities on their lists, and create more memories in the process. No full days available? Try taking half days.
Work from Home
Negotiate with your employer and work from home a day a week or perhaps, twice a month during the summer season. This will give you time to be at home with your kids and work while having them around. You'll save on sitter and daycare money, too, which you can put towards a family activity or two.
No Working on Weekends
Unless there's an emergency at work, allow your weekends to be work-free. Use this time to do summer activities with the family. Don't check your emails or allow yourself to be tied to your phone. Have a theme for each weekend, and truly live in the moment.
Lunch Surprise
If your child is enrolled in daycare or summer school (or even if they are with a sitter), try to surprise them a few times this summer for lunch. Spend your lunch hour with them at the school or daycare or at home, and enjoy a little break in your everyday routine. Your kids will really appreciate it, and you will love it too.
Explore Your Own City
When we think of summer vacations, we often overlook being a tourist in our own city. Most of us overlook the gems nearby in lieu of traveling to another destination. You can enjoy a staycation with your family on your off days in your very own city. Have a family scavenger hunt and find local points of interest that you haven't visited in a long time. Forget a schedule and just ride around, eat in local dives and restaurants and have a blast while doing so.
Summer is just once a year, but what you do with this time can create memories that last a lifetime. Make sure to get the most out of your summer with your family. You all deserve it.