Disclaimer: I was given a complimentary two night stay at Hampton Inn Madison Square Garden in exchange for an honest review of my hotel experience.
As a Travelista and girl around town, I am always on the go. Since I began blogging almost five years ago, I feel that my life has come full circle. I first visited New York City in 2009 and stayed at the Hampton Madison Square Garden off of 31st Street and 6th Avenue at the suggestion of my then travel agent. I had no idea when I was approached to review the hotel during my recent stay for #BlogHer15 that this was the same hotel I visited almost six years ago. Talk about coincidence!
The hotel is still a quaint, updated gem not too far from Midtown and nestled between the hustle and bustle of Penn Station, MSG, and Herald Square. I enjoyed my stay back in 2009 and I had a nice time during my recent trip as well. Hampton has made a few changes—the lobby has been redesigned and the eating/gathering area is larger than I remember. The property is only about 8 years old, so it is still a shiny location amongst a mass of older buildings, but the new changes added an extra edge that I'm sure was welcomed.
The room I stayed in was a nice size (for New York City) with a Queen bed and a work station area that I loved. It also sported a bevy of power outlets and connections all over the room, so I was able to charge my various electronic devices without any issues. I wish other hotels would take note of the need for more outlets for power tech users like me.
The bathroom was a sight for sore eyes, as it was a bigger size than others I've experienced in like-hotels in the area. That's a winner!
Now let's talk location. The hotel is within a 15 minute walk to Times Square. And it is also within a few blocks of Herald Square and the iconic 34th Street Macy's, Fashion Avenue/District, Madison Square Garden, and other notable locations. It is also near 5th Avenue and all of the upper echelon shops and haunts (including Radio City Music Hall and Rockefeller Center) that is it known for. It is pretty much at the center of everything if you are looking to be close to many of the city's jewels.
What made my stay extra special was the staff. The VIP treatment I received was not only top notch, but fun and festive. When they weren't indulging me in taking various pictures of me on property (per my request), they were offering me fresh baked cookies and other goodies afforded to all of the guest staying at Hampton MSG. When it came to giving me dining suggestions, or where to catch the train, I could always count on them to never lead my astray. It was like having my own personal assistants at my beck and call.
When you are traveling, you want to make sure your stay is as stress free is possible. New York City is The Big Apple, but the peeps at Hampton gave me small town personalized attention that I will remember. I would recommend this location to those traveling to The Big City who want to be close to everything.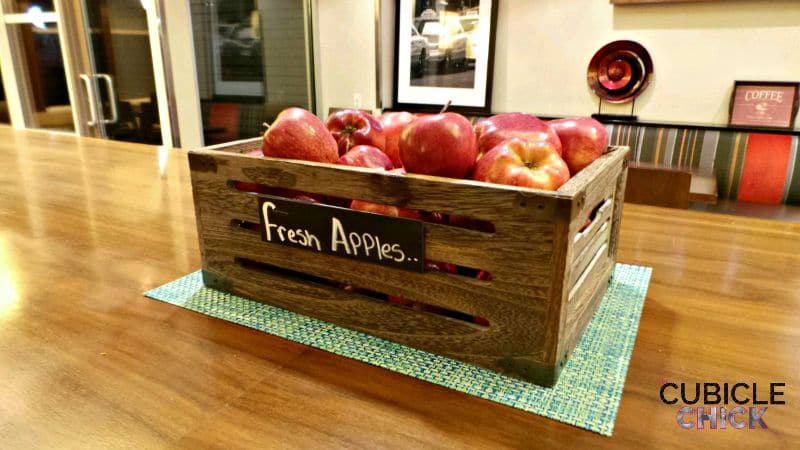 The only con I can point out is the elevators. During peak hours (check in and check out time), it can take awhile to for the elevator to get to you. I must note that during the last night of my stay, Hampton was booked full, so with all of the travelers coming and going, I am sure the elevator was being used heavily.
The Hampton by Hilton Madison Square Garden Area hotel is located at 116 W 31st St, New York, NY. You can get more information about this location by clicking here. It has a 4 out of 5 star rating and offers free hot breakfast each morning, a multi-lingual staff, modern rooms, and free high speed internet for all guests.
Breakfast is served. Complimentary of course 🙂 #WeGoTogether #partner @Hampton pic.twitter.com/bIIlBk2SyH

— Danyelle Little (@TheCubicleChick) July 18, 2015