From the moment I walked through the door until the time I exited that very same door, I felt like I was immersed in an electronic candy land.
The only thing missing were the ascending sounds of a magical harp and wind chimes in an angelic like crescendo greeting me upon entering. That would have been epic!
As a retail consumer, you already know that the design, people, atmosphere, and vibe all contribute to a better customer experience (and the spending of more money right!).
For example, the reason I gas up and shop at QuikTrip – even if they are more expensive – is because they are always clean, have lots of pumps which means I'm never waiting, and their employees are always ever so cool and converse with me with a smile.
Come to think of it, all of the places I enjoy physically shopping in are for that very reason – the store's atmosphere and employees are conducive to a great shopping experience and I'm all about experiences!
So when I was invited to check out the Grand Opening of the new Verizon Wireless Smart Store (appropriate name by the way) in Fairview Heights, IL (the first of its kind in the St. Louis metro area), I was totally interested. And I must say, they did NOT disappoint.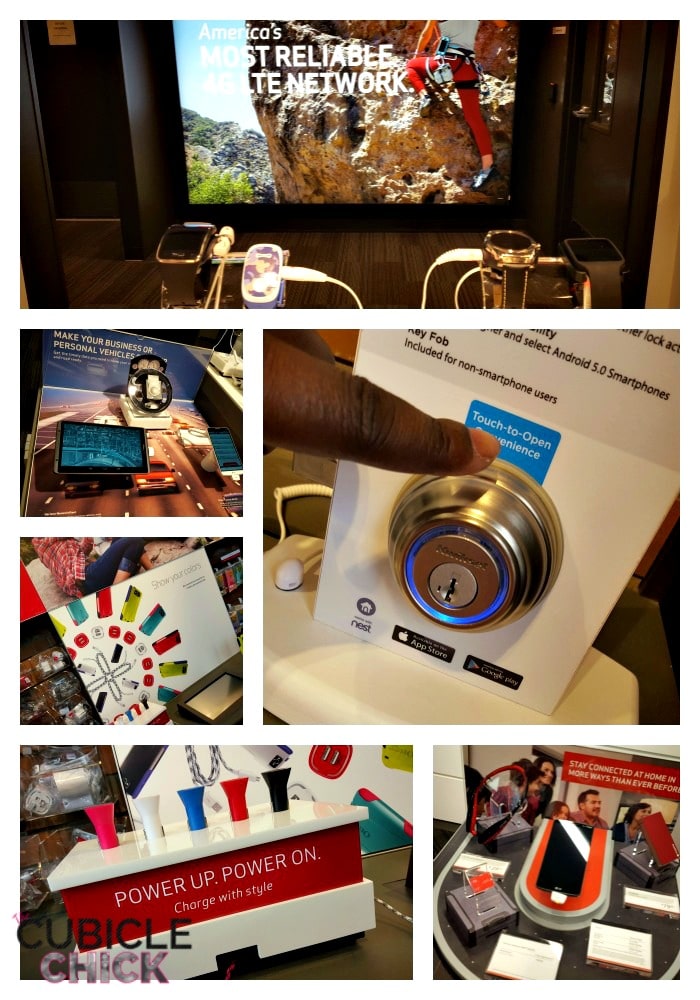 Keep your hands in your pockets folks because the doors open automajically. Okay, maybe it's not really magic but simply one of their lovingly named Operations, Solutions, or Experience Specialists who greets you upon walking in.
From the entrance, your eyes are drawn to the huge monolith where big digital screens live and serve as the central attraction of the store.
Looking around, I am in awe. There are displays all over, separated into different interactive Lifestyle Zones with digital screens showing products in action, totally inviting you into the experience of the product.
Get Fit – This area is for fitness and active folks who love their tech gear and personalized wearables to create and maintain a healthy lifestyle.
Have Fun – Ahhh, gotta have fun right?! Here you'll find games, wireless gaming accessories, and other smart toys for the whole family.
Amplify It – Listen to music much? Get a Bluetooth speaker, try new headphones and much more in this area for the music aficionado.
Home and On the Go – This was my favorite section! I wanted to take home all of the products in this section from home monitoring systems (mainly to see what my cat does when I'm not home!), keyless deadbolts, and energy management devices.
One of the best things about each of the Lifestyle Zones is that you get to play with and experience products on the spot. No more wondering how loud a speaker gets or how the home security system works. Experience it live!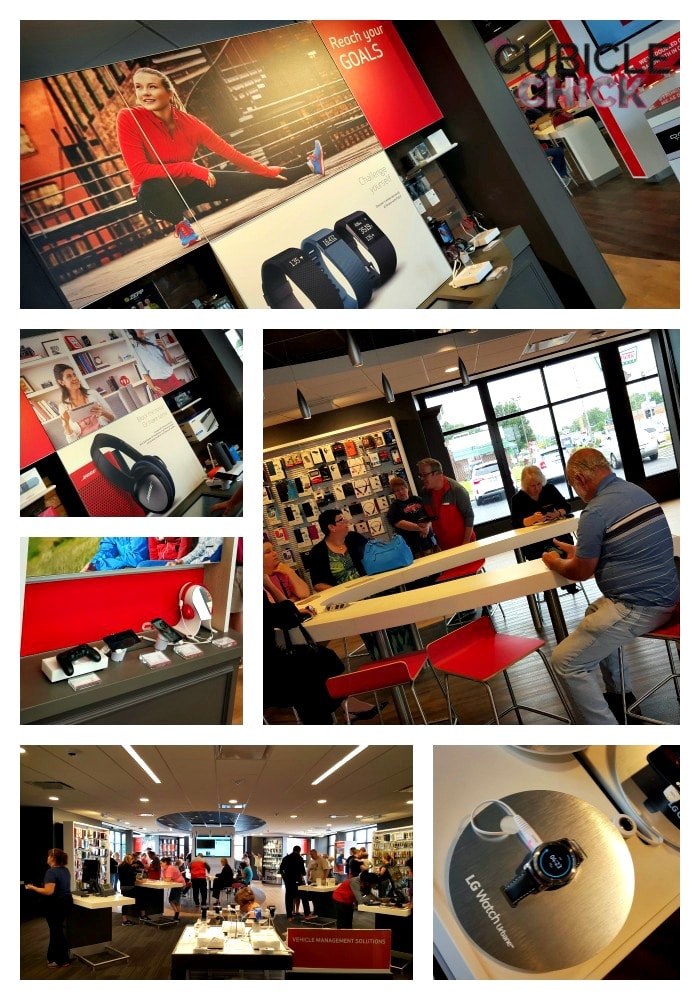 Near the monolith in the center of the store is a semi-circle table with ample outlets to charge devices and chairs to sit in while you wait. This is also where they hold free Wireless Workshops for hands on training on a multitude of their products.
They also got rid of sales counters and cash registers (which makes the store look even bigger and feel more spacious) and replaced them with tablets for Experience Specialists to handle customers' sales and service needs. In addition, they have a few strategically placed kiosk-styled desks that can be used if needed.
Towards the back of the store are phones, tablets, and more wearables and oh, I can't forget the Delphi Connect, a vehicle troubleshooting and monitoring device. With a new teen driver in my household, I am tempted to get this one!
Honestly, I kinda didn't want to leave! I can tell that other customers in the store were enjoying the experience just as much as I was as there were smiles all around, even the folks who were paying bills at the payment station were smiling. When was the last time you saw someone smiling while paying bills? J
"Verizon is no longer just your cell phone company," said Kristy Kluge, Solutions Manager at this location. "We aim to be your next level lifestyle technology company with an outstanding customer experience and innovative products from home to health to fun."
Over the next few years, Verizon is transforming all 1700+ of its existing retail stores into Smart Stores and I, for one, am excited that Verizon had the vision to reinvent the customer experience infused with creativity. As a happy Verizon customer, I'm sure I'll be browsing around the more modern and aesthetically pleasing store more often to play with new gadgets and gear!
Do you have a Verizon Smart Store near you? What do you think about the newly enhanced stores?
About Kesha
Kesha Brown is a self-proclaimed Mediocrity Escapologist, Rebel Business Coach, Digital Strategist and Head Chick at UncommonChick.com. She is wildly passionate about helping women pursue a life journey on their own terms, ultimately co-creating fantabulous relationships, experiencing juicytastic lives, and enjoying authentically inspired personal and professional lives.
http://Instagram.com/uncommonchick
Http://Twitter.com/uncommonchick
Http://Facebook.com/uncommonchick