Meal kit delivery programs and subscription boxes are all the rage these days. So many of us are living busy lifestyles, but want to offer healthy, home cooked meals to our families. Meal kit delivery services offer the best of both worlds—meals that are prepped and ready for you to cook that take 30 minutes or less, and your family gets a chance to eat a well-balanced meal instead of opting for takeout.
With my travel schedule (and my loathing of grocery shopping), meal kits had me at hello. I've been wanting to try them for the longest, and finally settled on Blue Apron. They offer fresh ingredients and recipes that are new to us but not too crazy for my family to try. The promise of new recipes and no repeats also piqued my interest because we tend to get bored easily when it comes to food.
Once I received my first shipment of two dinners complete with pre-portioned ingredients and step-by-step instructions, my daughter and I decided on the BBQ Roast Pork with Corn on the Cob, Potato Salad, and Quick Pickles. Everything was pre-measured and ready for me to get to cooking, and I wasted no time preparing our feast.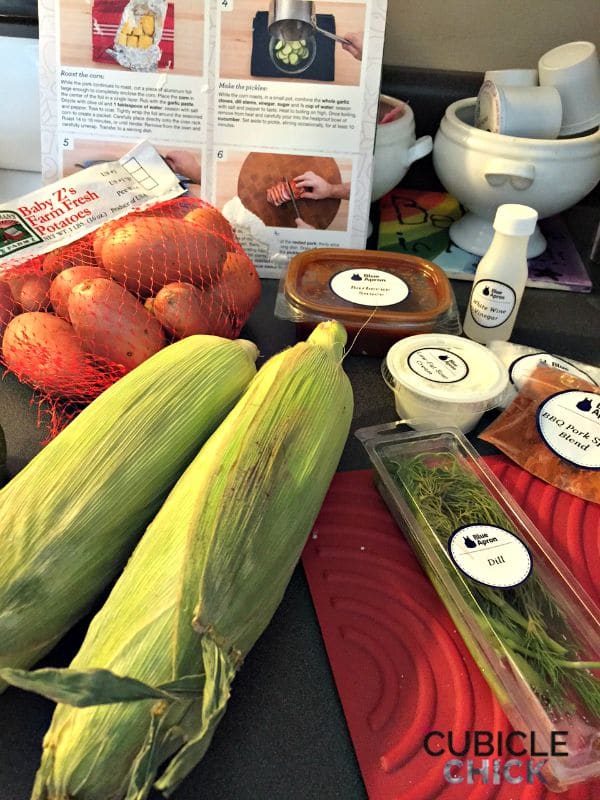 Out of the box, I noticed that the ingredients were quality and featured organic items. That made me happy.
I began following the instructions with the roasted pork and prepared it first.
The fresh ears of corn had me smiling, as I removed the husks and washed them, then cut them in thirds as instructed. Then it was onto the oven for them alongside the roast pork. So far, so good.
Then it was onto the pickles. Unfortunately, the cucumber I was sent was very small—not like what had been pictured, and not enough for a family meal. One strike.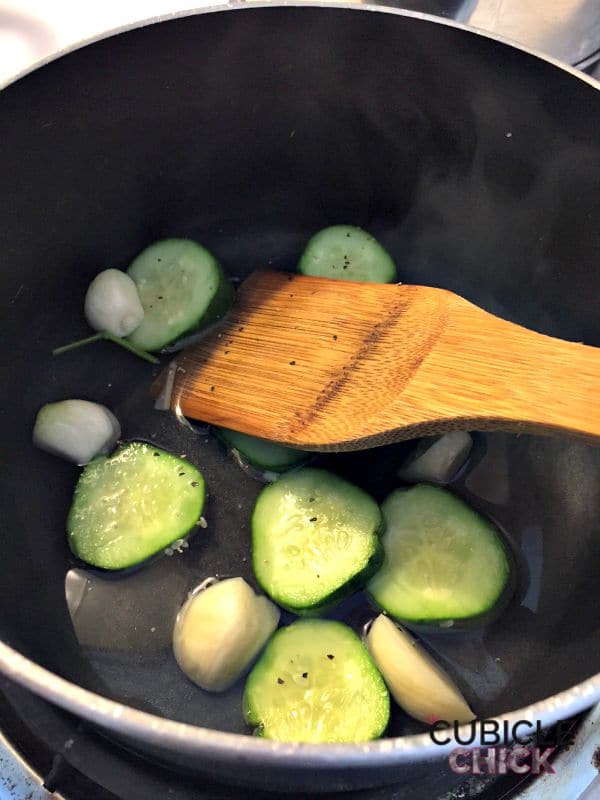 Once I began the pickling process for the cucumbers, I focused on the potato salad. In this instance, there were plenty of potatoes, but not enough sour cream for the "sauce". It was hard to coat all of them, and my potatoes didn't end up like the ones in the photo.
The meal itself took about 45 minutes from start to finish and came out rather well. My daughter didn't care for the pork too much, but enjoyed the veggies.
I like the concept of having a meal kit and taking the guess work out of what to cook every night, but I feel as though there wasn't enough of some of the items to make it a full meal for a family. So I am on the fence about continuing with another week because at $69.92 for two meals, not having enough to go around isn't worth it.
So, in terms of my overall thoughts about Blue Apron, here it goes:
Pros: Convenient, fresh organic ingredients, interesting recipes that are simple to follow.
Cons: Pricey, and short of some of the items included in the "family" plan. Some of the recipes may not be likable for developing palates.
Also, because Blue Apron is delivered to your home and has fresh ingredients and meats, if you aren't home all day, this could cause a problem since everything needs to be refrigerated (for the most part).
What happened when I tried Blue Apron Meal Kit Delivery? The verdict is still out on this one, and since I have another meal waiting, I will give it another shot.