I am all about organization, especially when it comes to my family. I find when you spend more time implementing systems to help your life run smoothly, you spend less time trying to keep up. My daughter complained last year that she had a hard time keeping track of me and her dad's schedules, since we both travel often for work. I bought a erasable wall calendar, but oftentimes it was hard to fit all of our schedules in the box on the calendar. After fooling with that method for awhile, I came up with a makeshift DIY Office Wall Schedule Calendar for my family. I made it on my office wall so that everyone would have access to it and could update it.
And because it is comprised of Post-It notes, it can easily be changed and adjusted. We are all assigned different colors so we know whose schedule is whose. I also made it a week long calendar because having a full month one was overwhelming for my daughter. So now she has a weekly snapshot of all of our appointments, activities, family events, and more.
The DIY Family Wall Schedule Calendar is super easy to make and only takes about 30 minutes. Here's what I used:
ribbon
Post-It notes
medium sized chalkboard
seven mini chalkboards
pushpins
thumbtacks
chalkboard pen
Cut seven strips of ribbon and make them all the same length. Then affix them to you wall with about an inch or two between them with thumbtacks. Then put the days of the week on the mini chalkboards, and hang them above the ribbon in sequential order. Once you have the base of your wall calendar in tact, title your wall calendar on the medium sized chalkboard, and hang it a little above your calendar base.
Once you are done, choose colors for each family member and begin writing down your activities and events and place them on the applicable day of the week.
Now you have a fully functional DIY Family Wall Schedule Calendar for your home.
My 11 year old loves this because she can add her own activities and appointments to it, and she likes being able to see what the family is up to for the week.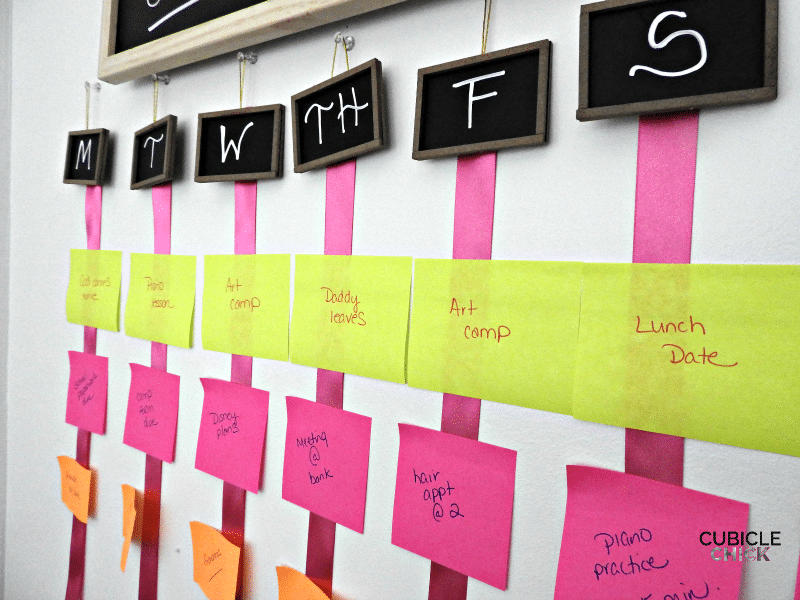 I have our DIY Family Wall Schedule Calendar in my home office, but you can place it just about anywhere in your living space. The kitchen is another great room to add the calendar too, along with a foyer or mudroom area.
This is a DIY that the kids can get involved with too—the more the merrier. 🙂