This post is sponsored by Cafe Mom.
My daughter, son, and I in 2008. They were 4 and 14 years old.
Because saying thank you mom makes our heart happy.
I've often said that I have been a mother longer than I've been anything else, and this is very true. After becoming a first-time mother at the age of eighteen, and then a mother again when I was twenty-eight, motherhood has been my main job, focus, and goal. With twenty-two years as a mom, and thirty-four years cumulative between both my son and daughter, I feel that I am not only a case study of motherhood despite the odds, but also a story of resiliency and reinvention.
And it's the story that so many other moms have faced alongside their journey as well.
The first time out as a mom, I struggled with balance as I had to find out how to be myself and a mom, and so many other different titles. So many people told me that I wouldn't amount to anything as a teenage parent, it was going to be a long road of difficulty. There were many problems financially as well as logistically as childcare was a major hurdle. I needed to provide for my son as a single mom, but it was most difficult doing so while keeping him in childcare. The first six years of my son's life, I was stressed out and barely had two pennies to rub together. But no matter our situation, we rose against adversity, and it was those stripes I earned in battle that made me the mom that I am today.
Ten years after giving birth to my son, I now had a daughter whom me and my husband were so excited about. This time, I could do it right—I could provide better and be there more and truly allow my motherhood to flourish with these two. And even though I didn't have the same financial hardships as I did before, I had to learn to reinvent myself professionally so that I could spread my wings and be the woman I was intended to be.
My two kiddos in 2008.
I learned that in order to be a better mom, I also had to be a better me. Which meant pouring into myself just as I had poured into my children. I went to college and got my degree and I began to climb the ranks for the working elite. But when I lost my job after many years, I had to climb back into battle and do what I learned naturally—I had to rebound.
Starting my website and imprint was a way that I could do that while helping others and earning an income. And after almost six years of blogging professionally, the lessons I've learned and have been able to share with my kids have been worth it all.
Winning gold isn't always about being the best; it's about being the best you can be. When you strive for excellence, you can't help but achieve it.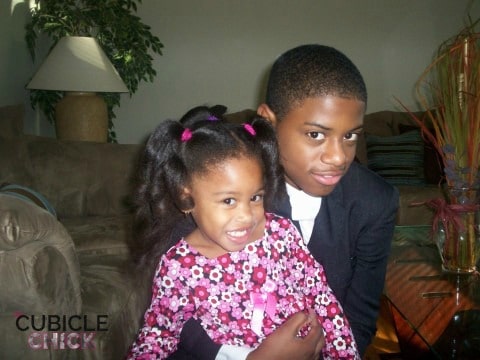 Before a wedding in 2007.
P&G understands mothers who are working hard to raise their child while making sure they give them the tools necessary to succeed. They've also done the research and have found that while we work so hard at being strong and loving mothers, many of us feel that we are failing.
In their study, nearly all moms (98%) admitted that they did not anticipate the demands of motherhood with nearly two thirds agreeing that they needed to develop greater emotional strength once they became a mom.
P&G Brands will once again partner with Olympians, Olympic hopefuls and their moms on the journey to this year's Rio 2016 Olympic Games, as they support their daughter's ultimate dream.
Here's the rundown of Olympic competitors and their moms:
Tide Pods athlete, Simone Biles (Gymnast) and mom Nellie Biles
Pampers athlete, Dana Vollmer (Swimmer) and mom Cathy Vollmer
Bounty athlete, Allyson Felix (Track & Field) and mom Marlean Felix
Gillette athlete, Ashton Eaton (Track & Field) and mom Roz Eaton
Venus athlete, Gabby Douglas (Gymnast) and mom Natalie Hawkins
Each of these women and their mothers are also a testament to strength, courage, and resiliency.
Join the #ThankYouMom campaign so that we can all uplift and support one another as we journey through parenthood, and make sure to watch the "Strong" video below and share it on your social channels to help keep the conversation (and encouragement) moving.
Learn more by following P&G on Facebook, Twitter, & Instagram.
My hearts, summer of 2013.