I was invited to experience the new 2017 Kia Cadenza during the #DiscoverCadenza National Press Introduction in Middleburg, Virginia. I am sharing my thoughts and opinions about this vehicle below.
If you are in the market for a luxury vehicle that is modern yet classic at the same time, you need to get to know the 2017 Kia Cadenza.
Imagine that you are summoned to a lush and robust enclave hidden in the blue mountain hills of Middleburg, Virginia. Complete with trails, a golf course, stables, and lovely horses that look too beautiful to be real, this is the scene I recently witnessed during the National Press Introduction of the all new 2017 Kia Cadenza.
Showcasing its luxury vehicle in a rather posh way, the folks at Kia Motors wanted to play up the Salamander Resort and Spa purposefully. With a dynamic design, lots of horsepower (try 290 w/ a V6), and every bell and whistle you can imagine, this scape was the perfect scenery to debut their second generation Cadenza incarnation. As writers and content creators, it was our job to not only get the details but to also take her out on a spin so we could really get to know her.
That is exactly what we did.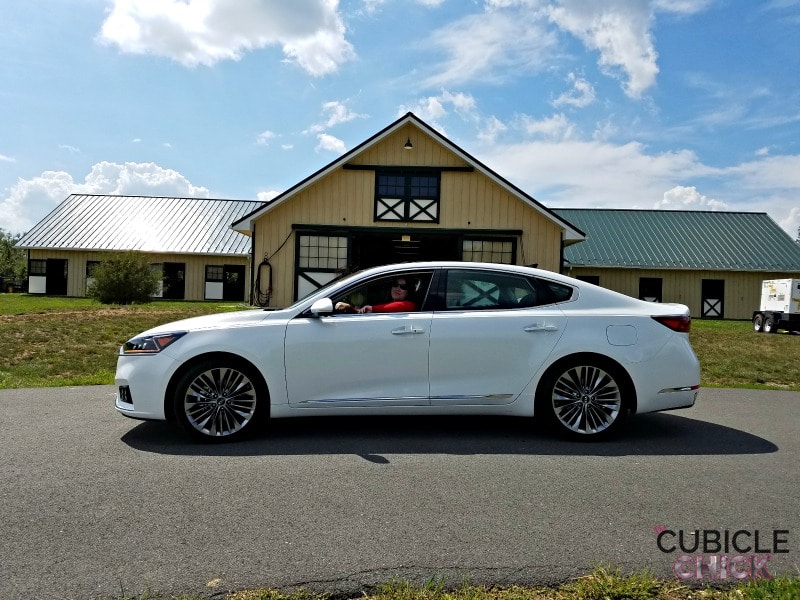 Designed as a car-meets-tailored athlete aesthetic, the 2017 Kia Cadenza is a showstopper. She's full-bodied and sexy with her tiger nose grille, bold lines, and curves that go on for days. When you are in her presence, the automobile is awe-worthy. Breathtakingly gorgeous, she can rival any other luxury car on the market, foreign or domestic. During our Ride and Drive through the Virginia vistas, there were several instances where people literally stopped us to ooh and ahh at her.
The 2017 Kia Cadenza is a stunner, for sure.
On the inside, this car is a marvel. The version we drove was the Cadenza SX Limited, which encompassed everything the car manufacturer has to offer. Heated and cooling seats, rear view cameras, blind spot detection, navigation, Apple CarPlay, Android Auto, wireless charging station—just to name a few!
This model also comes with Harman Kardon 12-speaker stereo with Quantum Surround Sound. Me and my partner Anne of Midlife Boulevard tested it out ourselves during the Ride and Drive and the audio thumps. I was impressed!
Taking in the scenery w/ Missy Elliott blasting from these @harmankardon speakers #discovercadenza #harmankardon pic.twitter.com/7WJDqMS0tC

— Danyelle Little (@TheCubicleChick) August 18, 2016
This is a suitable automobile for professionals who want a luxury vehicle at a lower price point than some of the other well-known manufacturers. And because the 2017 Kia Cadenza has more interior space than the Charger, Avalon, and Impala, it's a shoe-in for working parent families.
Here are a few photos of my favorite features:
The infamous Tiger Nose Grille Kia has become known for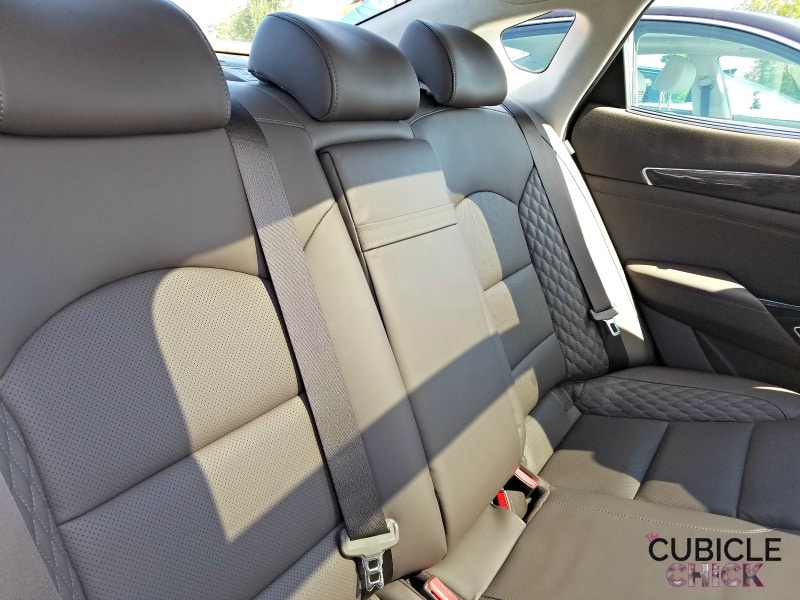 Well appointed leather seats with premium stitching
Panoramic sunroof and plenty of room
Apple CarPlay in action
What I liked most about the 2017 Kia Cadenza is that it drives effortlessly. Despite its size, it is very smooth, yet can take the curves of the road like a beast. It's the type of car that gives you the best of both worlds—performance with style, yet it doesn't roar, it purrs.
As a new Kia owner myself, I liken it a lot to my 2016 Kia Optima (more on that soon). The Cadenza is like the Optima's wiser, upper echelon big brother. A well-built machine that you enjoy driving.
What are the cons? For those old schoolers out there who may not be used to Kia delivering such a premium vehicle, the all new 2017 Kia Cadenza could get slept on. Names and stature brings bragging rights to the elite, so there could be a huge segment of the population who could pass the Cadenza by.
But for the consumer who wants performance over the "establishment", and longing for a larger sedan, this car is everything.
Visit Kia for more information. The vehicle shown has an MSRP of $44,000, and will be available in October.