I was invited to experience the new 2017 Kia Sportage during #TheNewKia event in San Diego. I am sharing my thoughts and opinions about this vehicle below.
As a Travelista and avid car chick, I love test driving new automobiles in new and different scapes. When I was invited on a press trip to fabulous San Diego to get to know #TheNewKia and some of their most popular vehicles, I couldn't pass it up. I was most looking forward to getting more familiar with cars that I have not had the chance to drive yet. One such car is the 2017 Kia Sportage. I've driven many of Kia's offerings, but the Sportage is one that has alluded me thus far. It was a treat to see that it was available for us to take out on the open road.
Kia began making automobiles for the U.S. market in 1994 and launched here with two car model—the Sephia and the Sportage. Currently, it now the oldest make in their fleet of vehicles, and it is also one of their most popular.
The 2017 Kia Sportage is a smaller SUV compared to the robust Sorento, and would be considered a crossover vehicle. What I first noticed about it visually was that it has a very sleek design. Unlike its older predecessors, the stylish curves of this newest model is pretty dope.
This is something that I would drive.
During my stint in the 2017 Kia Sportage, fellow blogger and new homie Joël Leoj (of 3J's and 1 S) was at the wheel as we came, saw, and conquered San Diego. He had this to say about his Ride and Drive experience:
The 2017 Kia Sportage was agile on the road, and handled many of the winding roads with ease. The response of the steering was smooth and sporty and the same time. The instrumentation of the dashboard was sinuous—definitely an easy car to handle. If it is a first time driving any one is able to quickly adapt and connect their smartphone with no hassles. It definitely is a get in and drive kind of car. For a compact SUV it packs a lot of punch!
If you are a busy working parent who is looking for a vehicle with some room and cargo space, this car is a gem (and the gas mileage isn't bad either)!
As you can see, we had a blast riding in the Kia Sportage, and its left a memorable impression on both of us.
Here are a few additional specs for the 2017 Kia Sportage:
Daytime running lights
Windshield deicer
Rear wiper/washer
Smart power liftgate
Harman/Kardon Surround Sound Audio
Rear camera display
UVO eServices
Blind Spot Detection
The 2017 Kia Sportage SX starts at 22,990 MSRP.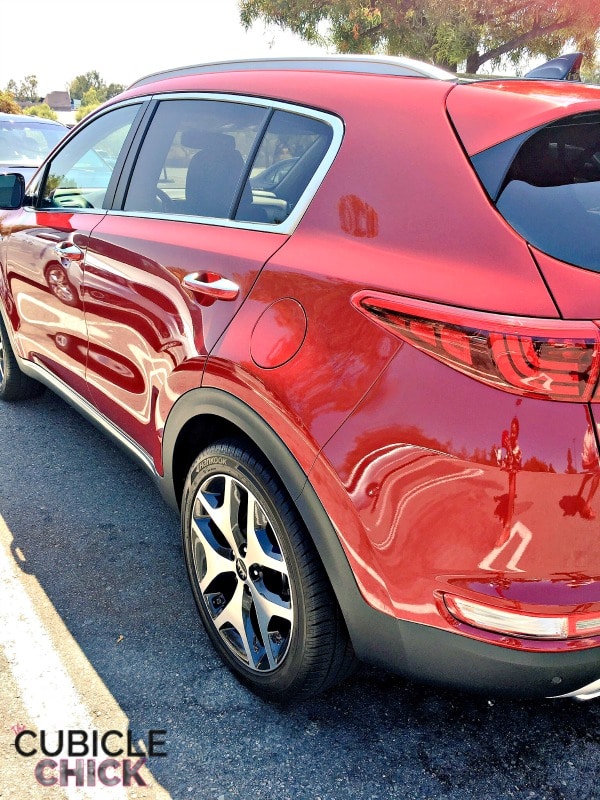 Stay plugged in to my blog, as I will be sharing more about #TheNewKia event, and giving you a "booming" view of the 2017 Kia Optima in a future post.