Thank you to Anjolee, The Art of Jewelry for sponsoring this post.
Diamonds are a girl's best friend, yes this is true. There are few women on this planet that would say no to diamonds, and I for one enjoy having something shiny and bright on my ring finger. I have been looking for a ring that is gorgeously stunning, but doesn't cost a mint, and I believe I have found it.
Enter Anjolee.
Anjolee reached out to me to collaborate on a post, and they had me at hello. Known as The Art of Jewelry, their rings and other accessories shine brilliantly and look amazing.
When my shipment arrived, it was experience to open. Each jewelry item is carefully packaged in a special wooden box with leatherette interior and an LED that lights up the diamonts. It made a statement as soon as I opened the box.
The ring I selected is called the Delightful Diamond Anniversary Ring, and is simply stunning when worn. I can't tell you how many compliments I've been receiving since wearing the ring, and it makes me feel beautiful. It is 14k white gold and can be worn dressed up or down. If you are looking for a ring that fits an active working mom lifestyle, this ring is it!
Presentation
I've never had a ring before that was presented so grandly. As soon as I opened the shipping box, I was impressed with how well thought out everything was. From the lovely box to the LED lights that show off the ring just so, it is a real experience.
Sizing
I am a size 7 and have ordered rings before that were not sized correctly. My Diamond Anniversary Ring fit perfectly and I am very pleased.
Look
The ring I selected has a very classic look, which I was going for. it can be worn to the office or out on the town without skipping a beat, and I am simply adore it.
What I love most about Anjolee is that you get fabulous quality without sacrificing your budget. Most rings come with a Anjolee Certificate of Authenticity, and a 30-day return policy.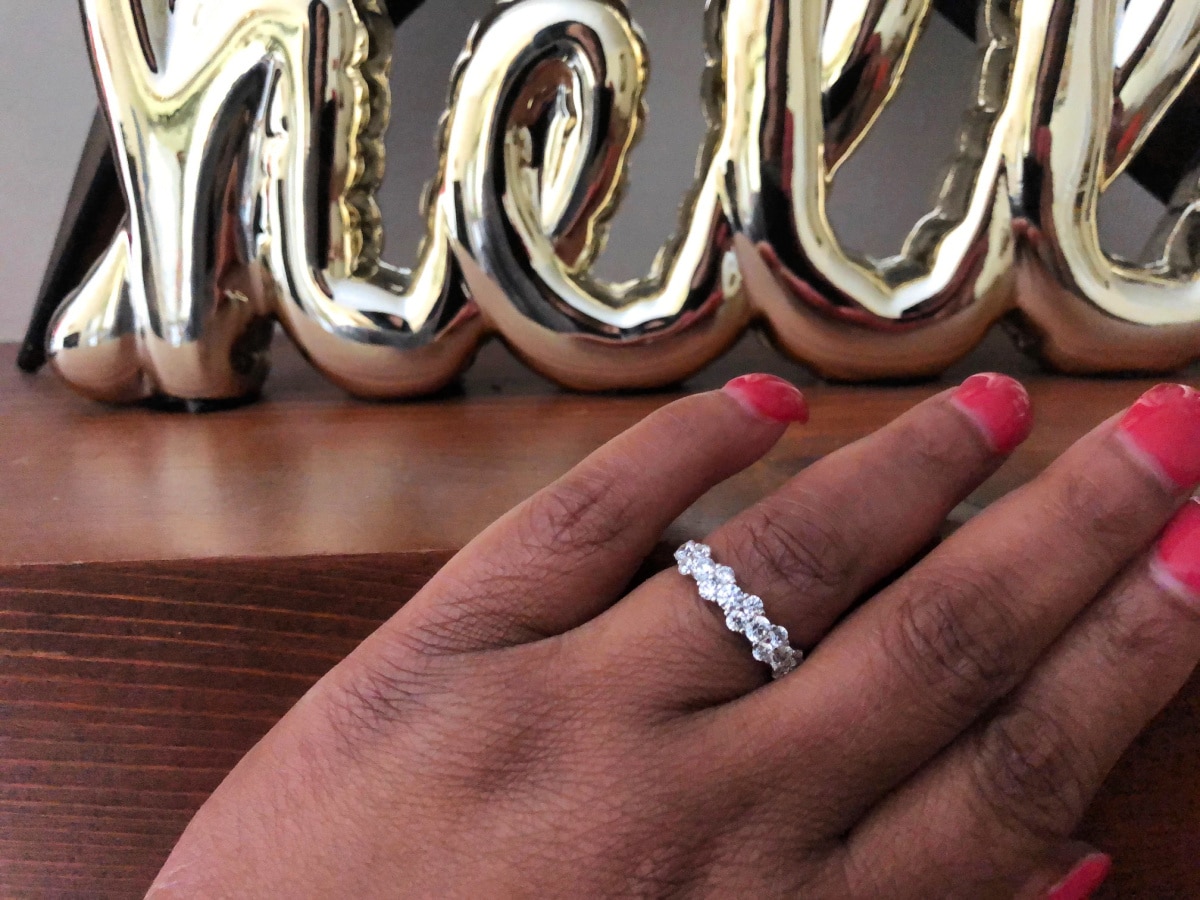 Anjolee has been in the game since 1977, and are known for their fine jewelry. You can also call or Live Chat with a specialist from Anjolee, which takes the worry out of ordering online.
All of their pieces can be customized on Anjolee.com according to preference of metal type, diamond size, diamond/gemstone quality, and length/size. You are also welcome to write about how you styled the jewelry item, or your experience navigating and customizing on their website.