With the New Year here, you might have made a vow to eat healthier. Luckily, eating healthier doesn't mean you have to cut out flavor. These Protein Packed Tuna Avocado Cups are full of flavor, filling, and packed with the protein, nutrients, and even healthy fats you need to get through the day. Perfect for lunch or even a late breakfast, these tuna cups can be prepared ahead of time so when you get hungry, you just need to assemble them. Here is how you can make your own protein packed tuna cups so you can get the year off to a healthy AND tasty start.
Here is what you will need to make these Tuna Avocado Cups:
– 1 2-3 oz. package of light tuna (buy the drained packets, not those in oil)
– ¼ cup of light mayonnaise
– 1 stalk of celery, rinsed and chopped
– 1 small hard boiled egg
– salt and pepper to taste, optional garlic salt
– 1 fresh avocado
Let's chat tuna for a moment. Be sure you are buying tuna packed in water and not oil as the oil will add unnecessary fat and calories. You can use a flavored tuna if you wish, as there are some smoky and lemon pepper varieties on the market that will work nicely for this recipe. The choice is up to you!
Directions:
1. Begin by mixing the tuna and mayonnaise in a bowl.
2. Rinse and chop your celery as fine as you wish. Add it to the tuna and mayonnaise mixture.
3. Take a small hard boiled egg and chop it. Add it to the mixture.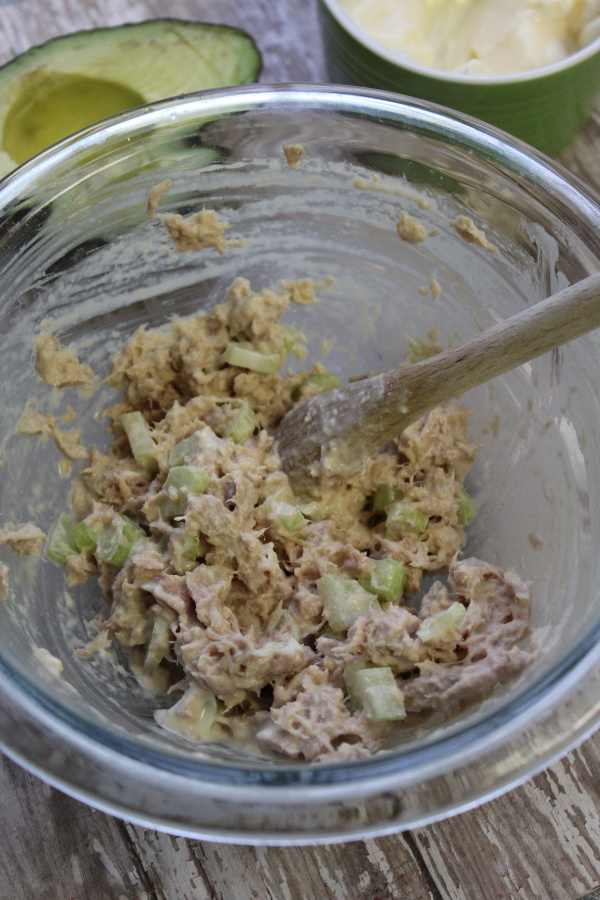 4. Now is a great time to sample the mixture. You can add salt and pepper or even a little garlic salt if you wish at this point. Season as needed and mix again.
5. Cut your avocado in half and remove the pit. DO NOT spoon any of the avocado out. You want to keep it in the "cup."
6. Spoon some of the tuna mixture into the hole of the avocado. Go ahead and let it overflow over the top of the avocado.
Your protein packed tuna cup can now be enjoyed. You can eat the tuna right out of the avocado, enjoying the avocado with it as you do. The egg and tuna lend protein to the meal while the avocado is chock full of healthy fats and vitamins. Pair your tuna cup with fresh vegetables or even low fat/high fiber crackers if you want a little crunch. For convenience sake, you can make the tuna mixture ahead of time and store it in the fridge for up to 3 days. This way when you are ready to eat, all you need to do is cut open the fresh avocado and assemble.
Eating healthy doesn't have to be boring.  As you can see with these tuna cups, it can be colorful and tasty. Give this recipe a try and see how yummy protein can be!
Don't these Protein Packed Tuna Avocado Cups look delish?