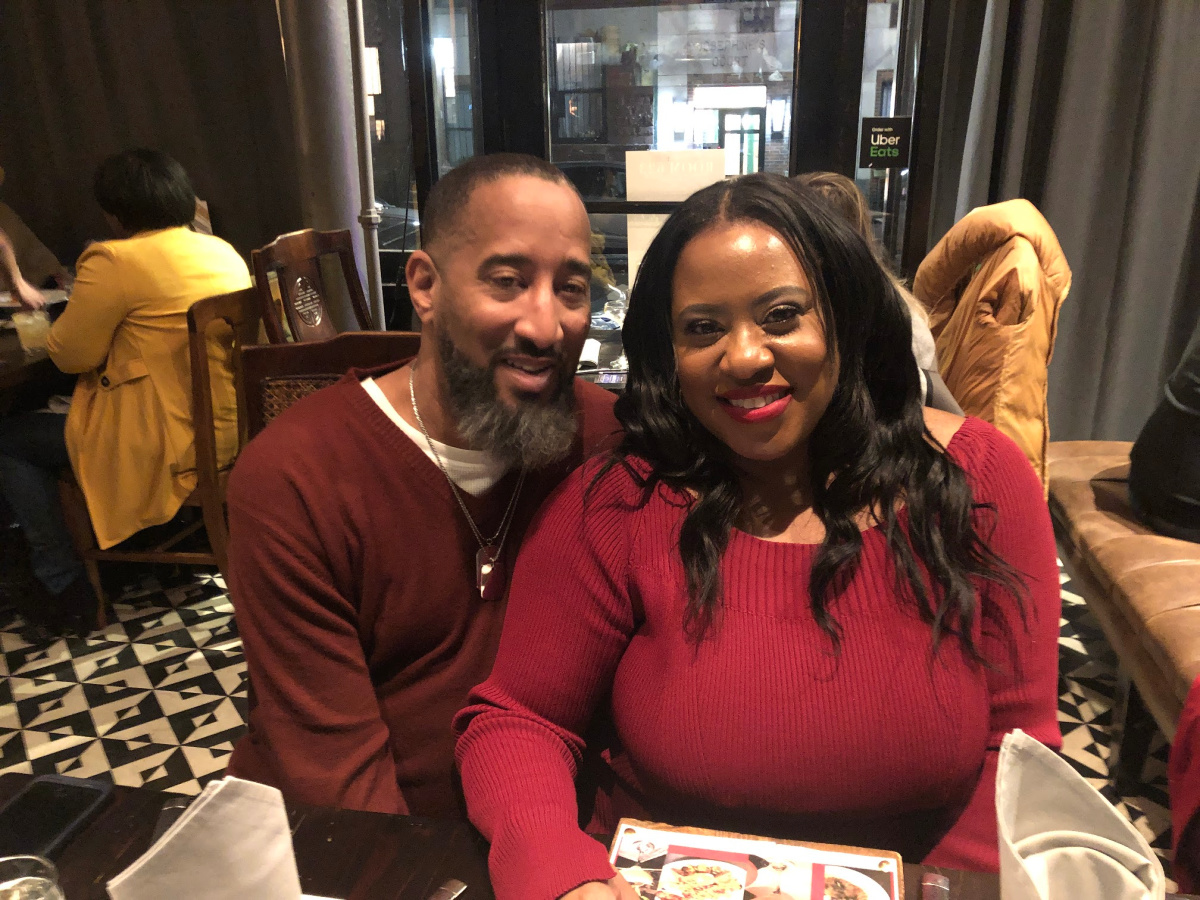 What do you do when it's your first Valentine's Day together as a couple? Why, you go to New York City to celebrate. It's something I've always wanted to do and this was his home turf before he moved to Los Angeles and Charlotte, so he was game. The theme? He was to show me his Big Apple during a fabulous weekend getaway, and as a pure romantic, I couldn't wait to add this to our love story.
I've blogged previously about my divorce and falling in love again, so you can consider this a new chapter to this same story. This will serve as a replay of our weekend and of our coupledom.
May we always remember it like this.
Thursday, Feb. 13th
I didn't arrive in New York City via LaGuardia until 9pm, so Thursday was more of a 'let's get to the hotel and cuddle' type of mood. His childhood friend Kim (who was so welcoming and gave me the biggest hug) picked me up at the airport (he arrived earlier that day) and took us into the city to the Luxe Life Hotel in midtown, which was going to be our home for three nights.
What happened once we got into the room is none of your business. LOL
Friday, Feb. 14th
Valentine's Day in New York is just different. I've never experienced anything like it! It was a brutally cold day, but Will made sure to make it an amazing experience for me, and I think it may have been one of the most romantic and thoughtful things I've ever had done for me.
I started the day getting my makeup done by Lavander Glitz, who had done my makeup before on a previous New York trip. I was wearing red, so of course I needed a smoldering look to go with my dress. She gave me the look I wanted—Danyelle 2.0 with all of the bells and whistles.
It was then time to exchange gifts. I gave him mine, a sterling silver dog tag because he liked them and my favorite jewelry store had one I could order. When it was time for him to give me his gift, he told me it was something that we would have to leave the hotel to see.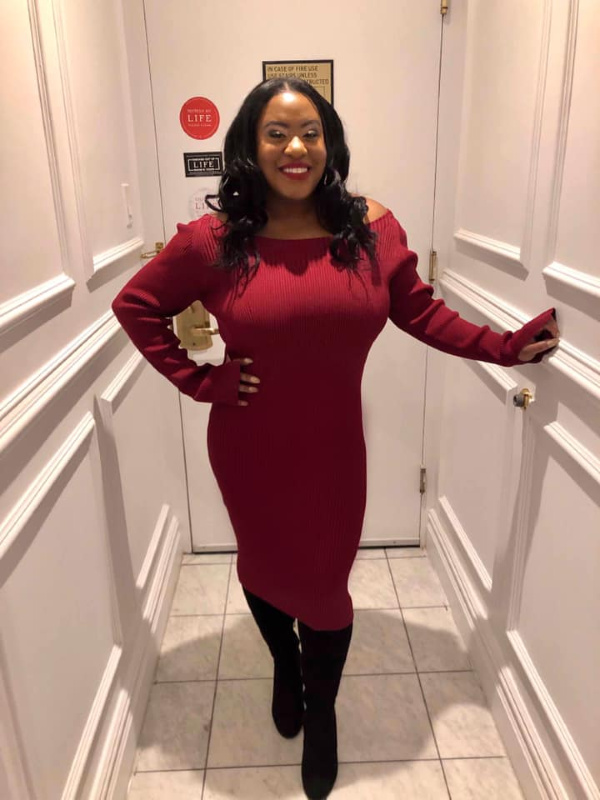 Oh?
So we bundled up and walked a few blocks to a place where I previously told him I wanted to go, but he nixed it saying it was too cold. He bought tickets for us to go to the top of the Empire State Building. Why? Because I told him about my love An Affair to Remember and Sleepless In Seattle and both are classics that revolve around two people meeting at the top of the Empire State Building to start a life together.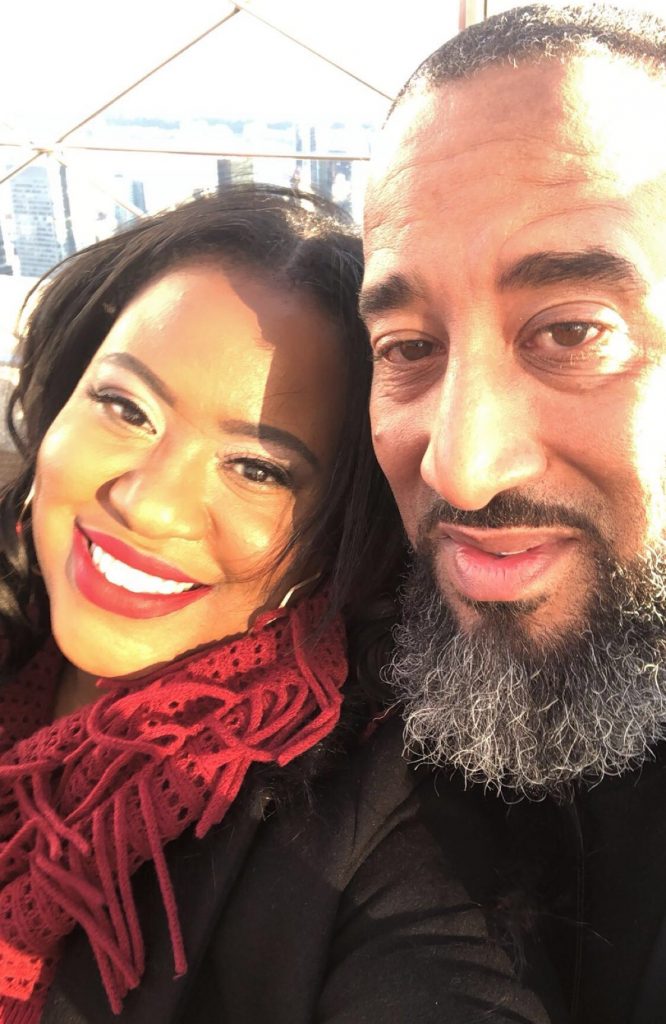 Sentimental much?
We went to the top, and even though it was blustery and cold, we experienced it together and even took a picture to commemorate the occasion.
Next for dinner, we ate at a new restaurant called Marilyn and enjoyed a nice dinner with pretty dope music and low-light atmosphere. It was wonderful.
Afterwards, we made the trek to Harlem where he was born so that I could see it all. The Apollo, Malcolm X Boulevard, the building where some of the Central Park Five lived back in 1988, and Harlem Hospital where Will was born (which happened to be the best highlight of my whole trip). Then we met up with his friend Maisha (who was so very welcoming and generous) and had cocktails. Thanks for the drinks, girl!
We didn't get back to our hotel until around 1am. Exhausting night, but oh so fun and impeccably done.
Saturday, Feb. 15th
I wanted to see a Broadway show, so Will pre-purchased matinee tickets for us to see Ain't Too Proud to Beg, the story of The Temptations. Going to Junior's is a must for me, so we ate lunch there before the show. Please know that eating at Junior's Cheesecake in the heart of Times Square during the weekend matinee rush is insane. Make sure you have patience, as the wait can be 30 minutes to an hour. Plan accordingly.
Oh, and I don't even eat cheesecake when I go to Junior's. I love their Grilled Cheese which is served on challah bread and is so thick and cheesy.
After lunch, we trekked up the street to the Imperial Theater to see Ain't Too Proud to Beg. We had great seats, but what did you expect? My man is the ultimate planner who thinks of everything.
I was whisked away to a surprise location for dinner in the Upper East Side at the Isle of Capri for Italian fare, then some fun at Dylan's Candy Bar, followed by Frozen Hot Chocolate at Serendipity 3, and then to the movies to see The Photograph.
Sunday, Feb. 16th
Sunday was a freestyle day where I got to choose what we did for the day. We love brunch, so the first order of the day was noshing on some good food. A few doors down from our hotel was a restaurant called AYZA Wine and Chocolate Bar, and they had what looked like a pretty good brunch spread per their menu, so we tried it out.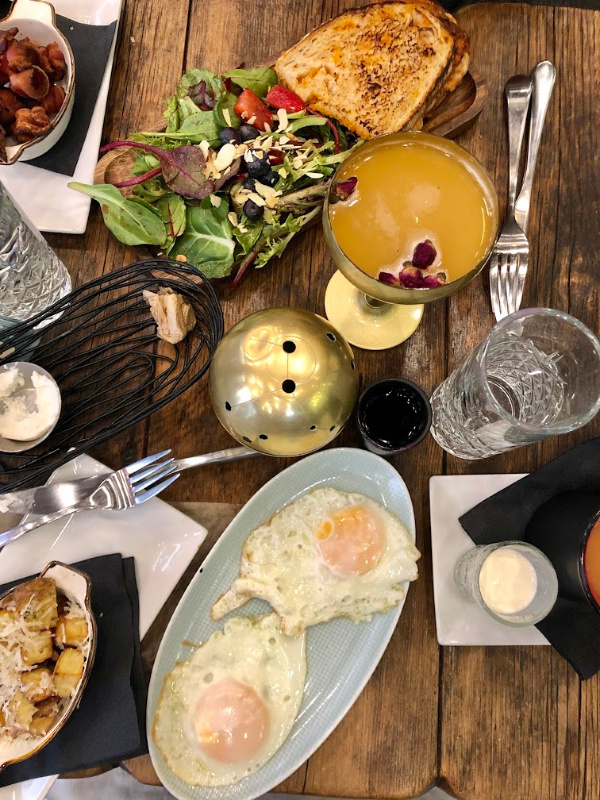 That was a good call, because the food was really good and the ambiance was pretty nice, too. We sat and chatted  leisurely like a lot of New York City couples do every Sunday and I felt so metropolitan.
I decided that I wanted to check out Rockefeller Center, so we made our way there and took in the sights and sounds. One of my bucket list items is to go there to see the huge Christmas tree that they put out every year for the holidays, but I don't think Will would be into that. It was cold enough and busy for the Sunday we went. I couldn't even begin to imagine what it's like during the holiday season.
We hammed it up and witnessed a wedding couple skate and get their ceremony photos taken on ice, then we walked towards Radio City Music Hall and then to Times Square where we tried to hit up Junior's again after partaking in some downtime at Virgil's. Juniors was a no, but I was able to get a bite at Shake Shack, which would serve as dinner before we had to both get on our planes.
Our Valentine's Day Weekend in New York City was all that I dreamed it would be. I am thankful to have a partner who listens to me and goes out of his way to do the things that I like to do, even if its not something he's into. When it comes to curating a perfect Valentine's Day weekend, I say he gets a gold star.
We plan on hitting up The Big Apple once again this Spring or early Summer to take in a Yankees game and to do more Big City stuff when it's warmer. I cannot wait.
You can watch a video replay of our weekend here: (feed readers, click HERE)