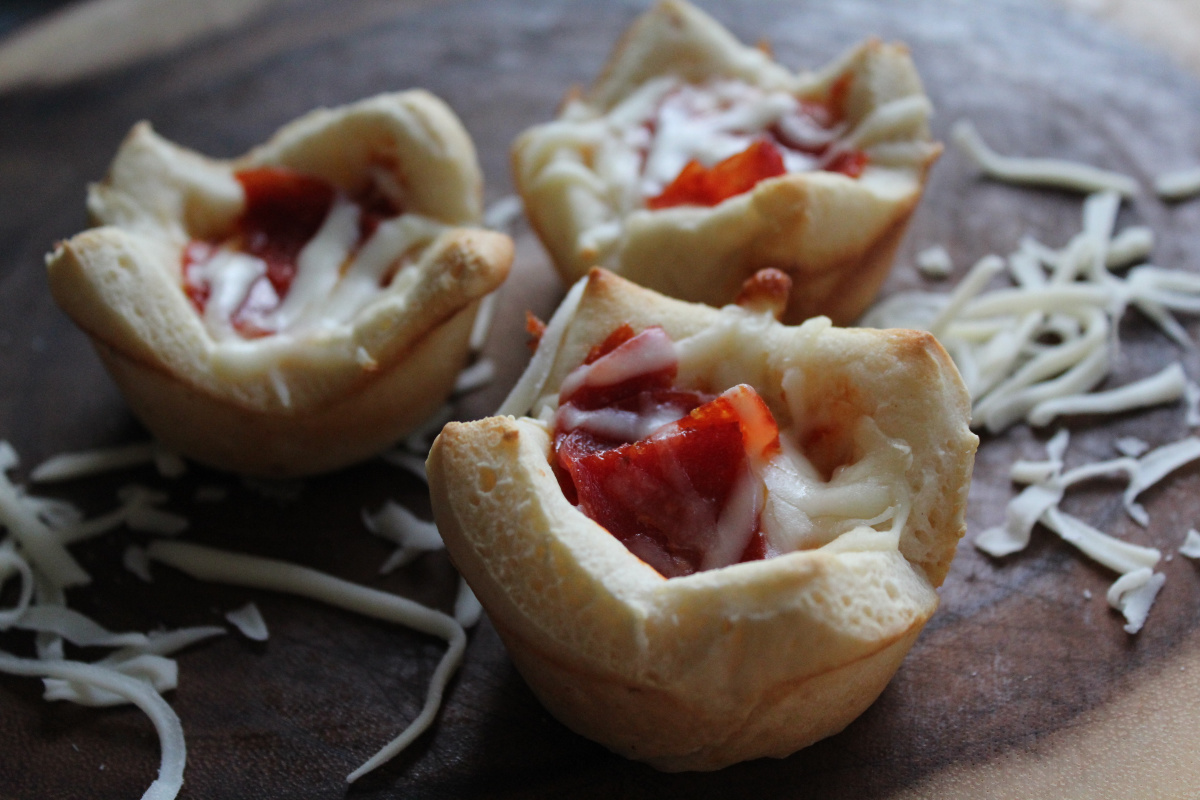 At the end of the day I am tired, but I still love the smell of something cooking in the oven. Let's be honest, pulling dinner out of the oven at the end of a ridiculous day really makes us feel like we have accomplished something, right? That is why I love these Mini Pizza Cups, because they are easy to assemble, bake, and eat. In fact you can make them in under 30 minutes, and in no time have the smell of fresh baked pizza coming from your kitchen.
The best part? No matter how picky your family members are, these can be customized for all tastes. Let kids assemble their own with their favorite ingredients, or create a variety so everyone can experience various tastes. These mini pizza cups offer so much to dinner time, and do it all in under thirty minutes. Are you ready to get started? Here is how to make your own mini pizza cups!
Ingredients:
Refrigerated Pizza Dough (sold by the canned biscuits)
Pizza or marinara sauce of your choice
Toppings of your choice such as shredded mozzarella, pepperoni, crumbled (cooked) sausage, chopped vegetables, even pineapple and ham
Cooking spray
Muffin tin
A few things before we get started: You have TONS of flexibility here. You can find seasoned pizza crust as well as plain. Choose from any variety of pizza/pasta sauce. You can enjoy any kind of shredded cheese you wish, and of course your meat and veggie topping selection is endless. Do what works for you and for the tastes of your family.
Directions:
1. Spray the muffin tin with non stick cooking spray. Preheat the oven to 375 degrees OR the temperature indicated on the dough packaging.
2. Use a knife to cut the dough into squares. The squares should be large enough to fit over the muffin tin circles.
3. Press the dough into the muffin tin cups. Gently pull the dough so it covers as much of the inside of the cup as possible.
4. Bake the dough at the designated temperature for 5-6 minutes. You just want to give it a little head start.
5. Remove the dough from the oven and add your toppings into each cup. Add some sauce, top with the cheese of your choice, then finish with your meat and veggie selection. Don't worry about overfilling the cups, as long as it is all contained into the cup, you will be fine!
6. Return the muffin tin to the oven and bake the mini pizza cups for an additional 7-8 minutes or until the dough is golden brown. Again, this baking time may vary according to package directions.
7. When the crust is golden brown, remove the mini pizza cups from the oven and gently pop them out of the tin with a fork. You will notice how golden gorgeous the sides are and how everything is nicely contained on the inside of the cup. NOTE that the insides of the pizza cups are VERY hot. While you might be tempted to take one straight from the tin and devour it, don't. Allow them a good 5-7 minutes to cool before eating.
I love to add a side salad to these mini pizza cups and call it dinner. In under 30 minutes our kitchen smells like a pizzeria, everyone is happy, and since this is a one pan (or tin!) meal, dishes are a breeze. It really is an ideal midweek meal.
So put your chef's hat on and give these mini pizza cups a try. They are an easy way to enjoy dinner as a family!
Pin for later!