Are you a planner addict? I must admit that I am.
There's something about opening a new planner that really makes me giddy. I love turning the pages and seeing the layout as I think about all of the ways that I can use it. How pretty it will look on my desk, and how my stickers will make the calendar inside POP. A new planner is like a blank canvas, and I am Picasso. I just want to make it pretty.
Of course, the goal of a planner is to help us stay organized, on top of our goals, and looking towards the future. It's a tool to help us excel, no matter if we are working for someone else, or for ourselves. When you have a really good planner, it can totally assist you in the betterment and up-leveling of your whole situation.
The goal is not to look successful, but to actually BE successful.
Which is why I have to make sure when I am looking at all of the beautiful shiny things, aka planners, I have to keep in mind that it's supposed to help me do things better. It's not a showpiece or eye candy. It has to serve its purpose.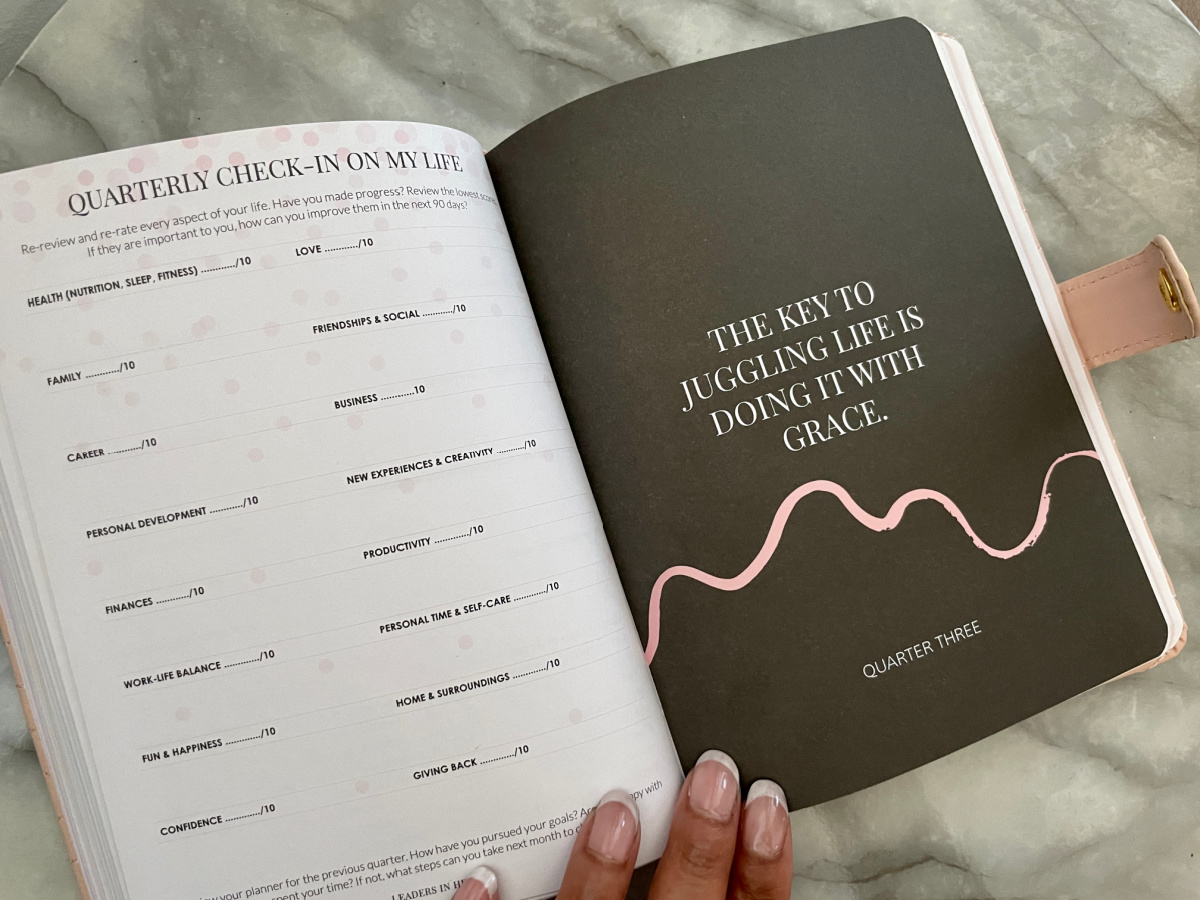 If you're like me and can get caught up in a trendy planner that's sleek and aesthetically pleasing to the eye, then you may have to remind yourself that the looks of it isn't as important as what's inside to help you strategically reach your goals. You also have to use it and make it work for you. I wanted to write a post that can help us all work smarter when it comes to planning.
Here are my 9 Ways to Get the Most Out Of Your Planner!
1. Schedule your planner time
Make it a habit of scheduling planner time. When updating my planner, I always carve out 30 to 45 minutes usually on Saturday afternoons to update my planner. I add my appointments, to-do list, and other items for the week, and I also work ahead for the next month in making sure all of my important dates are added.
Doing this makes it a ritual, and something that you look forward to doing. Add a cup of hot tea and a snack, and it can be a real good time.
2. Look at it daily
When's the last time you've looked at your planner? The purpose of a planner is to help keep you organized and on-time, as well as efficient and focused on your goals and the bigger picture. You can't do this if you are only looking at your planner when you are adding appointments and such. Look at your planner each work day, and make sure it is updated accordingly.
3. Use it with intention
The type of planner you use should depend on your needs. Are you an entrepreneur? Do you have major goals? Do you need help staying on task? Do you need an outlet to journal? Your needs should help you select the planner that's best for you. And once you've selected one that is a good fit, make sure to use it with purpose and intention.
The current planner that I am using from Leaders In Heels was created for the go-getter woman who wants to level up in all ways. It's got pages for me to chart my progress, plot out plans, and more. It's not just a planner, but a tool to help me improve myself professionally in all areas. In order to get the most out of my planner, I have to use it the way it was designed.
4. Don't be afraid to use it
Your planner is not a prop–it is a tool to help you in the areas in which you need. Your planner is not a paperweight or a decor item or something that put in your purse–use it!
5. It's not just bells and whistles
There are so many accessories for your planner. Stickers and inserts and pockets—I can go on and on. While you want your planner to look good and be just as stylish as you are, it's not about all of the extras. The success you can have with your planner depends on you using it to your advantage–not the stickers and extras that make it look good. What's a pretty planner for if it's not used?
6. Make it actionable
Your planner shouldn't just include your appointments and important dates. It also should include prompts/sheets that make it actionable. If you have a goal of starting your side hustle in June, there should be areas in your planner that help you reach this goal. From brainstorming, to writing out your start-up plan, to setting important deadlines, in order for you to get the most out of your planner, it needs to help you create action.
7. It needs to be flexible
Things happen. Life happens. When it comes to your planner, it also needs to be flexible. I prefer planners that are undated, and allows me to fill in the blanks as needed and on my own timeframe. The more flexible your planner is, the better it can evolve with you.
8. Make it fit your style
When it comes to your to-do list, do you like it listed in importance from highest to lowest? Does it matter what order? Do you like a numbered list or a bulleted list? When I selected my planner, I wanted one that allowed me to use my style in the way that I best plan. I like to use bulleted lists, so having blank sheets or ones with graph paper work for me. Your planner should be able to handle your style and needs, not the other way around.
9. Create a system
I have a color-coded system for my goals, and I use different color highlighters to help me sort them. I also use tab-flags and sticky notes for things I may want to add to my planner and for reminders. This is a system that works for me, and keeps me organized through all of my projects. Create a system that helps you work your planner to its fullest potential.
According to All About Planners, the best time to buy a planner is during March or April because they go on sale. The worst time (or when they are more expensive) tends to be December and January as people usually buy them to start their new year.
You don't have to have the priciest, most expensive planner to use it as a tool for success. No matter what kind of planner you have, these tips can help you get the most of it.