Deck the halls with–style. When it comes to festive occasions, it's important to showcase your personal style for the holidays. I like to take something from my closet and add some Razzle Dazzle to turn it into a look that I can rock to shows, events, parties, and out on the town.
I am sharing with you some of my style cues to help you showcase your style for the holidays. Take a look at my ideas.
Make it shine
I'm all about embellishments, and this dress truly symbolizes that. With its uniquely woven design in gold, it makes a statement that can be played up or down depending on the occasion.
With dresses during the cooler months, tights and boots are necessary, and they pair well with pretty much anything.
Make it festive
I love a good LBD–Little Black Dress. I also love one that has definite WOW factor. I bought this dress for a friend's birthday, but found it was a little too much. The accented poofy shoulders made of lace gives it a festive look that is perfect for the holiday season.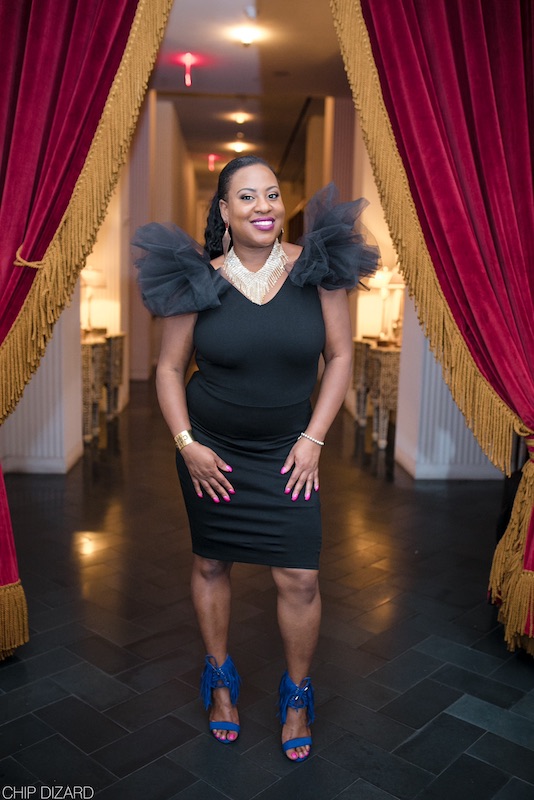 Pair your LBD with some color like shown here with my heels, to add a some dimension. It will make you the life of the party.
Make it trendy
Animal print is my go-to for pretty much everything, and when I score a great dress (with pockets) that fits well and looks amazing, I feel like I won. Animal prints are always on trend and makes for festive attire for pretty much any event.
Add a few accessories and you've got yourself a winning look.
Make it POP
A little color makes everything better. We talked prints, LBD, and embellishments. Now it is time to talk color.
Don't be afraid to go with bold hues, especially during the holidays. There is something about a POP of color that not only adds to your overall look, but makes you standout amongst all of the rest. This magenta off the shoulder number is a staple of mine and I enjoy wearing it for festive events, especially during this time of year.
Make it grand
Don't you just love events that allow you to dress up and be glam? There's something about putting on your best and heading out to the symphony or a show or a play. This navy number that I am wearing is classic and understated yet very contemporary, too.
It's a one night only type of instance and I felt like the Belle of the ball. Making a huge statement without a lot of frills.
Here's to a wonderfully fabulous holiday season full of amazing (and safe) gatherings that we well-dressed.
How do you showcase your style for the holidays?