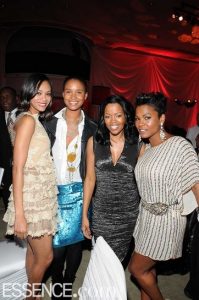 Essence Magazine is always in the forefront of fashion, fabulosity, and celebrity tea! And what better to celebrate their Black Women in Hollywood 2010 Luncheon than to give away free swag for a lucky recipient.
The Black Women in Hollywood event is held every year around Oscar time and is sponsored by Essence Magazine and Lincoln. This year, it's honorees include: actress Cicely Tyson (Legend award), Gabourey Sidibe (Best Breakthrough Performance), Queen Latifah (Power Award), actress Zoe Saldana (Star to Watch award), and songstress Mary J. Blige (Songstress of the Year). The event is took place today in Hollywood!
To enter the Black Women in Hollywood Swag Bag courtesy of Essence and Lincoln, simply click HERE! Good luck you guys! And please remember me if you win!
See what the celebrities had to say about Essence's Black Women In Hollywood event and how Black stars are shining amongst the best of the best during this Oscar season, by viewing the video clip below!
Special thanks to Essence's Patricia Césaire for the info!
More photos of the luncheon, click HERE!
Photos Courtesy of Essence. Follow Essence on Twitter!