As a parent, you probably want to provide the best that you can for your family. For me, being able to prepare homemade meals for her that are healthy and good for my daughter are my top priority. Because of my hectic schedule, it is hard for me at times to get everything that I need to get done. I don't always get to go to the market to get fresh items, and so oftentimes, I've had to rely on takeout and restaurants, which don't always have the best ingredients or healthiness. I'm still working hard in that area to step up my game.
I recently got the opportunity to review Green Bean Delivery, a service that delivers fresh and organic produce and natural groceries to your home. I jumped at the chance to review because I am always looking for things that can shave time out of my schedule and help me and my family out positively.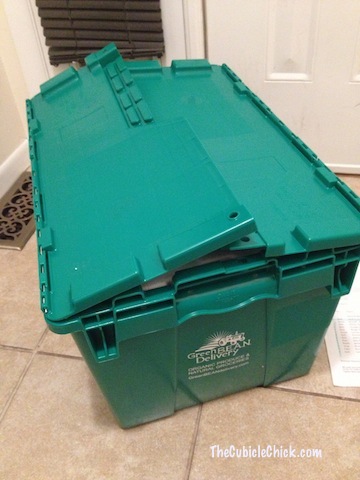 Green Bean Delivery works like this. You select a membership option that is suitable for you and there are 5 bin options: Small Fruit and Vegetable Bin, Medium Fruit and Vegetable Bin, Large Fruit  and Vegetable Bin, Fruit Bin, and Produce and Grocery Bin. Once you select the option best for you, you create what's called a standing order that is delivered to you based on the schedule in your area. You can also add additional things to your order if you'd like.
I received the Small Fruit and Vegetable Bin which is suitable for a family size of 2-3 people. In the bin, I received:
1 bunch of Broccoli
2 Sweet Yellow Onions
5 Blood Oranges
2 Mangoes
1 Pound of Baby Carrots
2 Avacados
5 Fuji Apples
1 Baby Bok Choy
i Bunch Spinach
10 oz. White Button Mushrooms
3 pcs. Bananas
1 Green Leaf Lettuce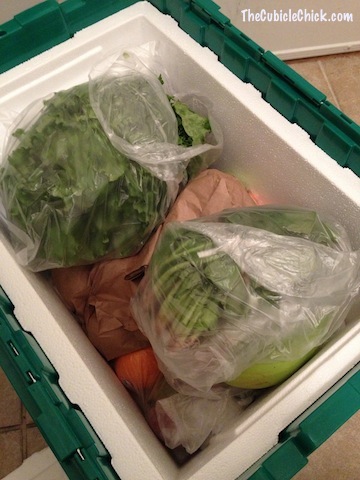 The cost of the Small Fruit and Vegetable Bin is $35.00 per delivery.
When you think of the time and energy saved by having your fruits and veggies delivered directly to your front door, it's a no-brainer. What I liked most about my Green Bean Delivery was how fresh the produce was! As I took out all of the items in my bin (which includes plenty of ice to keep your delivery cold if you aren't at home), I wanted to begin cooking something right away. It's as if I had a entire Farmer's Market within reach, without the need to travel to one.
I was very impressed with Green Bean Delivery's Small Fruit and Vegetable bin. It's not only fresh, but organic too, which means it's more healthy for my daughter and I.
Currently, Green Bean Delivery is offered in Indiana, Ohio, Kentucky, and Missouri.
TheCubicleChick.com can receive a discount off of their first order. Simply type in Promo Code 15TCCml when creating your standing order.
Disclaimer: TheCubicleChick.com received product from the brand/or company mentioned in exchange for promotional consideration and review. This is not a paid or sponsored post, and all opinions listed belong to the author and are not indicative of the brand/or company.
For more information on how you can order your own Green Bean Delivery bin, click HERE.