The Shine Blog Series will feature personal posts by both me and other guest authors and contributors of TheCubicleChick.com. We will discuss personal development, health, and other deeper, more thought provoking topics on this ongoing series of articles.
Guest Post Written By: Lakesha Brown, UncommonChick.com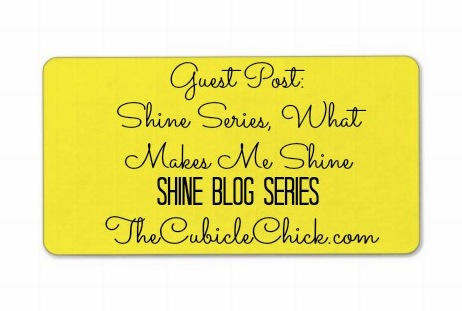 What makes me shine?
I will admit the first image that came to my way mind was of me shining and sparkling like the vampires in the Twilight Saga. Who couldn't mistake my shine then?! LOL
Nevertheless, it's a very interesting and mindful question, one that shouldn't be very difficult to answer, right?
Well, in a society that frowns upon tooting one's own horn, especially women, I can see why I hesitated to answer. Too often we let stress, fear, worry, and anything else that threatens our light, to snuff our flame.
But then I realized if I didn't own up to my brilliance, my light, my awesomeness, how could I purposely and effectively make my mark in the world? How could I positively impact others with my talents and gifts?
So first I asked myself, "Self, what is it that makes me live my truth joyfully and naturally? What gives me a feeling of ultimate happiness? What is it about me that others are attracted to?"
Next, I pulled out my trusty friend – my worn journal – and started writing.
I shine through my bubbling personality
I shine when I help and give to others with no expectations of a returned favor
I shine when I show compassion and kindness
I shine when I help others' light bulbs go off
I shine through my writings
I shine when I express myself creatively and lovingly
I shine when I smile
I shine when I hold my head up high
I shine when I am humble
I shine when YOU shine
I shine when I simply do ME!
Shining IS a selfless act as Danyelle pointed out previously. We're not talking about shining where you overshadow anyone else; we're talking about the type of shine that allows others to see how wonderful, fabulous, and amazing you are in every facet of your life.
We all shine in some fashion and we don't have to go out of our way to do so. It's a natural thang!
So let's own it and do whatever it is that makes us radiate love, light, and laughter again and again and again!
I'll leave you with a few wise words by the brilliant Ms. Marianne Williamson,
"…We ask ourselves, Who am I to be brilliant, gorgeous, talented, and fabulous? Actually, who are you not to be?
…Your playing small does not serve the world. There is nothing enlightened about shrinking so that other people will not feel insecure around you. We are all meant to shine, as children do.
…As we let our own light shine, we unconsciously give others permission to do the same.
Know this: someone needs your light right now today. Are you shining?
Lakesha's Bio:
Kesha is a Lifestyle Designer and Personal Excellence Adviser who believes we should be a Fruit Loop in a world full of Cheerios and life is more interesting when you dare to be YOU. She also writes, speaks, and can easily be bribed with Oreos. Connect with her over at UncommonChick.com or on Twitter.