The Shine Blog Series will feature personal posts by both me and other guest authors and contributors of TheCubicleChick.com. We will discuss personal development, health, and other deeper, more thought provoking topics on this ongoing series of articles.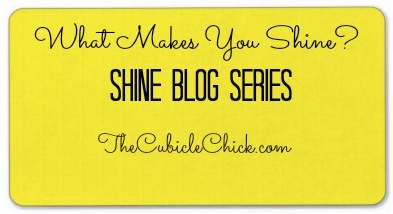 On today's blog post, I am asking the question, what makes you shine? What is it that makes you feel that you are living the life you are intended to live? What gives you the feeling of ultimate happiness?
I ask this because, for years, I couldn't answer any of these questions. I was too busy concentrating on what others were doing. Questioning why wasn't where they were in terms of success and finances, why wasn't I as fortunate as they were? Why was I not living the type of life they lead? Of course, I was in a delusional state. Looking to others and what they are doing did nothing for me. All it caused me to deflect from my own life in lieu of giving others my energy. I lived a jealous and moronic existence for so many years.
It was up until a few years ago that I really began to understand what my purpose was. My purpose is to live my life to the fullest while making solid decisions that aren't based on temporary lapses of judgement. I was put on this earth to be a loving mother, a faithful mate, a giving daughter, a dutiful granddaughter, so on and so forth. I was put on this earth to be the best that I can be, and doing so with zeal and gratefulness.
Shining bright is something you do, not because you are trying, but because you are being the genuine you. No pretenses, no fronting, and no putting on airs. Being honest and true to ourselves is when we shine the most.
I shine as a woman because I help others not expecting something in return. I congratulate people when they do well without thinking of why I didn't benefit.
Shining is when it becomes about others and not about yourself. Shining is a selfless act.
When I think of someone shining brightly, I think of my grandmother, the matriarch of our family and one of the greatest loves of my life. She lives her life bestowing upon us unconditional love, and when I am around her, I feel like a better person. The adage, when I shine, you shine is most appropriate when I think about my grandmother because we all benefit from her wisdom.
Many times, we may be afraid to shine because it seems as if we are showing off or being boastful. But shining bright has nothing to do with that. It's about emitting an energy that is positive, explosive, and contagious.
Those of you reading this, I hope you are able to answer the question what makes you shine? And if you aren't able to answer, then I hope by continuing to read this blog series will help you learn that you are a person worthy of gifts—a good life, a happy existence, and minimal drama.
It's shame, I think, that I didn't know I could shine until I was well into my thirties. If I only knew then what I know now, there's no telling where I would be. But I also believe that I am where I am supposed to be, and I am very grateful to be the person I have grown to become.
Experience is often the best teacher…
What makes YOU shine? Are you living your purpose with purpose? Speak on it!