Wearing the proper business attire complete with the right accessories is essential to your success. Investing in a few good accessories that you can change with several pieces of your professional wardrobe will give you the best results, as they will compliment your ensemble and complete your look for the office.
If your office has a dress code you should always follow it. If you have questions, read your employee handbook or speak to a manager about what is acceptable in your office environment. You would be surprised in some offices what is looked down upon. Be sure to watch out for the unwritten rules because you can be judged based on what you wear.
You may pick your accessories based on how they look but they will also need to be practical. I have one pair of earrings that I absolutely love but they cling when I make the slightest movement. This can be distracting to those I am interacting with on a daily basis. Purchase accessories that look stylish but do not interfere with your work.
Here are three fabulous tips on how to accessorize professionally yet stylishly for work. These are Fashion Accessory Tips for the Career Woman:
Please note that all accessories pictured can be found here.
Jewelry
Costume jewelry is fine for some offices but beware—be conscious of large clunky pieces or noisy jewelry such as bangles (or noisy earrings). Avoid necklaces, or any jewelry, that rest between your cleavage because you may garner unwanted attention. You can also try a broach instead of a necklace. In conservative environments, earrings should be small and classy. In other environments, dangling earrings are okay but opt for shorter versions that hang within half an inch of the earlobes. If you choose to wear a bracelet, go for a thin style. Feminine watches are always acceptable. Anklets should be avoided altogether for a professional look. Limit yourself to wearing one or two rings. One ring per hand is plenty without doing too much. Simple bands, single stones, wedding rings, mother's rings or diamond anniversary rings are always appropriate.
Other Accessories
Women can use colorful silk scarves to dress up any basic outfit. Investing in a variety of good scarves will expand any professional wardrobe. Strappy heels or spiked stiletto heels can detract from a professional look. If they aren't right for your work environment for practicality reasons or just because of the office culture, then throw them in your bag for after work. Do not forget the power of a belt. I use them all of the time to cinch a waist and to add a little more depth to my outfit (and to hold up pants, of course). A good belt can help you protect all of your "business" as you are hustling, bustling and bending over throughout your work day.
Bags
Complete your business look by investing in a nice briefcase or portfolio like the one I am carrying here. Choose a case large enough for your needs and avoid those that are way too big for your typical needs and/or your stature. If you carry a laptop back and forth to work, or travel with one often, opt for a laptop case that doubles as a briefcase. I love this bright one by Kate Spade.
Women should invest in a couple of quality handbags to carry to work. Choose bags that match your shoes in neutral colors such as black, navy and various shades of brown or beige. Your work handbags should be simple, elegant and small yet easy to open so the contents are readily accessible. Practicality is also key in a work bag. Check out this post where I talk about the versatility of a good bag.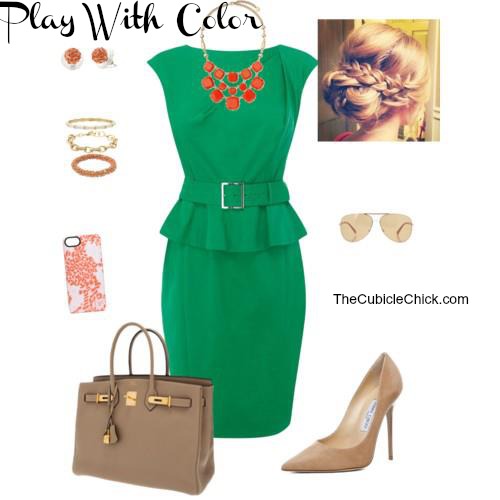 Do not be afraid to let your personality shine through – even with strict dress codes, it is still possible to add some of your unique style to an outfit and show a little of who you are. A patterned scarf or blouse, sparkly brooch or brightly colored handbag for the season are all great style statements that also look professional.
How do you accessorize your career wear?
By Fashion & Style Contributor, Karen Curtis, YourStylistKaren.com