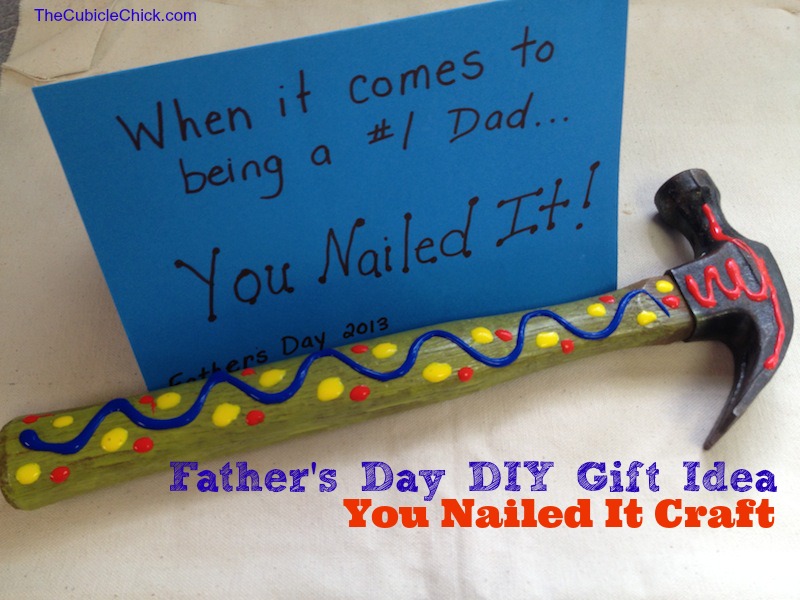 You have to appreciate a dad who goes above and beyond for his children. This Father's Day, nothing will be more remembered or appreciated than a handmade gift from the heart! Children love being able to create something special and giving dad something that tells him how appreciated he is plus is purposeful. So, why not gather the kids and give Dad what every man can use? A hammer! But this won't just be any hammer, this one will have a custom spin on it created by the little hands he has raised, plus it will have a reminder to let Dad know he has nailed it as a parent!
You don't need to spend a lot or invest a great deal of time in this simple project. It is something you can easily create on a budget and in less than thirty minutes.
Father's Day DIY Gift Idea: You Nailed It!

Supplies Needed:
Wooden handled hammer. (You can find simple ones for around $5.00 or less at most hardware stores.) Handle must be wooden!
Assorted craft paints (Available at your local dollar store.)
Paint brushes (Available at your local dollar store.)
Marker
Ribbon
Cardstock or construction paper


Directions:
1. Take a soft, damp cloth and clean the wood handle of your hammer. Dry.
2. Using your craft paints, allow children to decorate the handle. They can add patterns, words, designs, whatever they choose. Allow them to get creative!
3. Set aside. Allow the hammer to dry.
4. Take your cardstock or construction paper and write the words, "When it comes to being a #1 Dad, You NAILED It!"
5. Poke a hole in your paper, string some ribbon through, and attach to your hammer when it is dry.
Afterwards, you can grab a bucket from your local dollar store and place your custom hammer inside. Why not add other dollar store tools such as duct tape, nails, sandpaper, and other small odds and ends to accompany it as well? Whether you give it as a gift basket gift or just on its own, you are sure to impress Dad with a gift he won't be able to use without thinking about you!
For less than $10.00, you can create a Father's Day gift that allows kids to get in on the action which is so important. It is practical and purposeful as well, and still manages be full of whimsy. It really doesn't get any better than that!
So gather your kiddos and your supplies, and get cracking on this Father's Day craft that Dad is sure to love. After all of the money you saved and impressive finished product, you will be the one who feels like you "nailed it!
Written By: Katie Femia, DIY & Craft Contributor