I absolutely love to travel but I detest doing the airport shuffle! Travel can call for a whole lot of walking, rolling around luggage and carrying bags.  Whenever I go to the airport, I usually try to wear something comfortable yet stylish. After all, you never know who you may bump into. So, I have created a few "go to" airport looks that allow you to be comfortable and cute. The key is to wear a look that will be comfortable enough on the flight, presentable enough for your activities outside of the airport, and easy enough that you do not hold up the line at security.
5 Must Have Pieces for Fab Flight Travel (Airport Chic):

Footwear:  Sneakers, flats, or wedges
No need to wear platforms to the airport. Everyone knows that you are going to be rolling around luggage (or at least carrying a bag) and you do not want to fall on your face.
Jessica Biel (Image from worldswildlifewonders/shutterstock.com)
Blazer:
A blazer can instantly make almost any outfit appear polished. It also helps to keep you warm if the plane is cold. If business is the first thing on your plate after landing then your shoes and you are ready to go.
Kim Kardashian (Photo credit newyorkgirlstyle.com)
Scarf:
A large, colorful scarf is the best accessory to carry with you – it is versatile enough to keep you warm as well as make a fashion statement.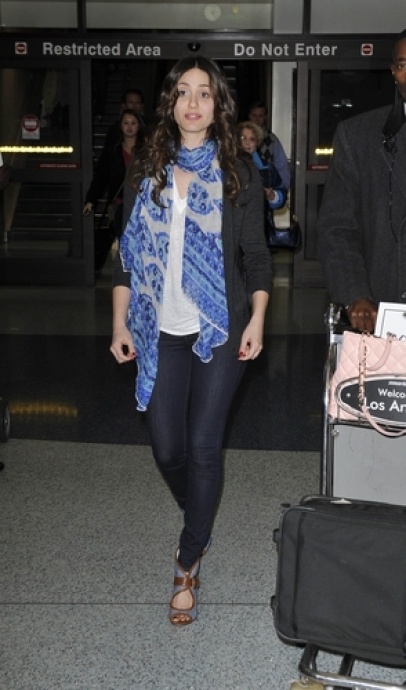 Emmy Rossum (Image from worldswildlifewonders/shutterstock.com)
Maxi Dress or Skirt:
This is a piece that is comfortable and can be dressed up or down. Throw on a tank and cardigan and maybe even a fun scarf to tie this look together.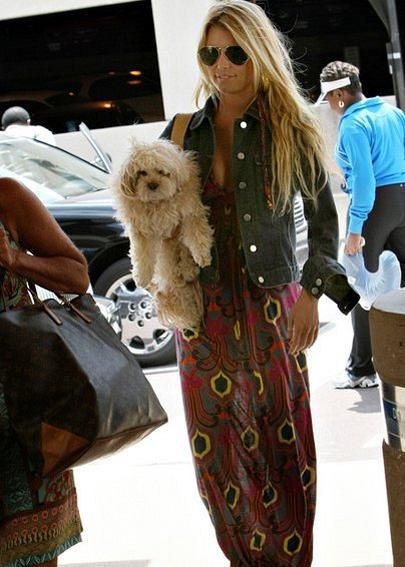 Jessica Simpson (Image from WENN.com)
Button Down Blouse:
You can choose from denim, chambray, men's wear or just a classic white blouse. Wearing a tank or camisole underneath makes it easy to slip it off if your destination is warmer than expected.
Victoria Beckham (Photo Source Pacific Coast News)
My "GO TO" Airport Looks:
::WORD TO THE WISE::
Don't over accessorize — taking off all of the jewelry can be a pain in the security line.
Keep the shoes simple. Wear something you can slip on and off easily.
What are your must wear items when you travel?
By Fashion & Style Contributor, Karen Curtis, yourstylistkaren.com