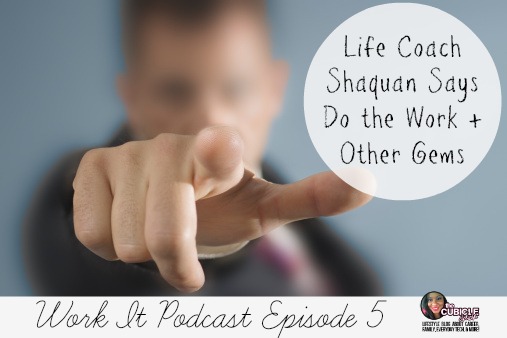 We are back with Episode 5 of our WORK IT Podcast. On this installment, I have yet another in-studio guest! Certified Life Coach Shaquan Grove from PRT Coaching Services helps us get the the nuts and bolts on why we need a Life Coach so we can get our lives right! You may have become acquainted with Shaquan previously on TheCubicleChick.com as she wrote a guest post in June entitled 5 Reasons Why You May Need a Life Coach (click here to read it).
In Work It Podcast Episode 5, we focus on Knowing Your Worth Mentally, Physically, and Financially. Here's a rundown:
How some people undervalue their skills and what they bring to the table
Not knowing how to charge for services
Settling for less than what you deserve
…and more. There are plenty of gems that were dropped during this episode, which is 30+ minutes of some powerful talk. It's important that we are our best selves so we can be our best for others.
My Co-Dude, the ever present Chris Miller (@IdoNotes on everything if you're nasty), chimes in and adds some maleness to the show and some comical moments too. He's the engineer and producer, and I just show up and do my thing. Ha!
To learn more about Shaquan Grove and PRT Coaching, you can visit her on CoachShaquan.com (click here). You can also follow her on her perspective social media sites here and here. She is also the co-founder of A House to Love (click here) so check her out over there too.
Shaquan is also offering a free one (1) hour life coaching session, available in person, or on the phone or via Skype if you are not in the St. Louis area. Details are on her website.
You can stream the episode above, download or simply subscribe in itunes to the WORK IT Podcast. I'm really trying to grow the show, so your subscription on iTunes to WORK IT means a lot!
If you want to be a featured guest on the Work It podcast or have a Career and Work Life Balance questions, please send an email to info@thecubiclechick.com or call (314) 28B-LOG1.
Special thanks to Tony Scott for recording an awesome intro for the podcast. I am forever grateful and honored! (Visit his website here)
Are you a small biz owner or entrepreneur who wants 30,000+ potential blog readers to know about your product or service? Buy an ad that can be broadcast during our podcast. Email me for more information at ads @ thecubiclechick.com and put Podcast in the subject line.