Disclosure: I was loaned this vehicle in exchange for my social influence and honest review. The opinions in this review belong to me and are not indicative of the companies or brands mentioned.
Last weekend, I got the opportunity to review the 2014 Kia Optima SX Limited while visiting my son in Los Angeles. This is the 3rd Kia vehicle I have experienced, and I must say that while all three impressed me, the Optima showed me that Kia is not playing any games. Visually, the Optima SX Limited is a stunning beauty—aerodynamic, smooth, sporty, and sexy, this is a car that turns heads. And when you step in and actually drive it, the Optima does not disappoint.
Previously known as a moderately priced compact car, the 2014 Kia Optima is a vehicle with moxie. It has some get up and go with decent horsepower good enough to navigate the busy L.A. expressways. What I liked most about the car was the handling—it maneuvers well and stops on a dime.
The interior of the 2014 Kia Optima SX Limited is fabulous. Heated leather seats, folding side mirrors for convenience, moon and sunroof, and an awesome Infinity sound system that makes music sound crisp and clear.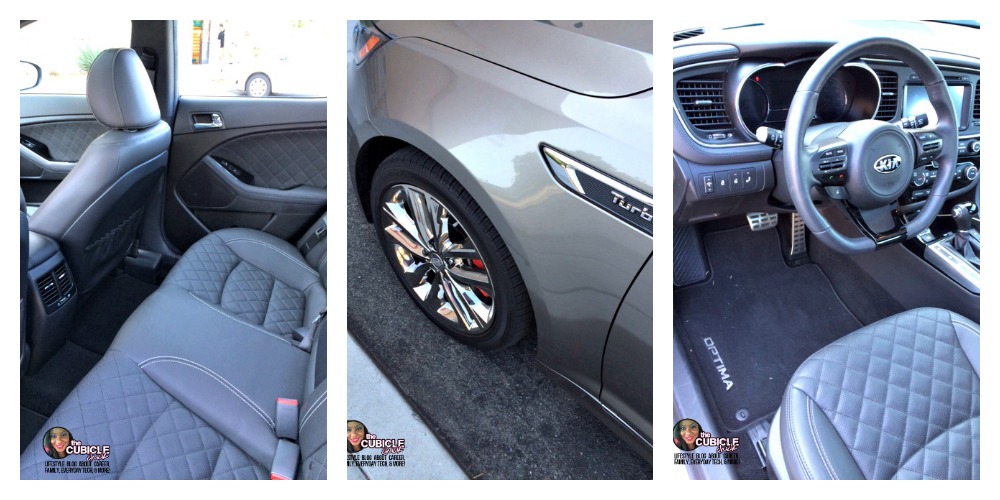 When reviewing, I try to think about drawbacks that would keep me from purchasing the vehicle. I can honestly say that there isn't one (although the price for this fully loaded SX Limited Turbo version is a little steep for my pockets). I did have trouble pairing my iPhone with the Bluetooth in the car, something I've done in other cars I've reviewed, so I am pretty sure this was user error and not the car's fault. LOL.
I really liked this car, and as much as I love my 2012 Nissan Maxima, I would have to say that the Kia Optima is a great alternative to my current vehicle. I got so many compliments on it as I drove to many local destinations.
I would recommend the Kia Optima SX to the fun and fabulous driver who wants a set of wheels that makes a statement. It has all of the options one would need to enjoy their ride—not just drive it.
Check out these additional specs:
Back-up system warning
Blind spot detection
Keyless entry
Bluetooth Hands-free connectivity
UVO eServices Infotainment System
Heated steering wheel
Nappa leather seats
Sirius XM Audio
The 2014 Kia Optima SX Limited gets about 20 city miles and 31 highway miles per gallon. The MSRP for the vehicle is around $35,300 fully loaded and equipped.
For more information, visit Kia's website.
Special thanks to Kia and Josh and the crew at  STI for the loaner wheels. Next, I will be reviewing the Kia Cadenza. Stay tuned!
Click for my past reviews of the 2014 Kia Sorento and the 2014 Kia Forte EX.