Disclaimer: Some of the items listed in TheCubicleChick.com's 2014 Holiday Gift Guide were sent by the brand or company for promotional consideration. This is not a paid nor sponsored post, and all opinions listed within belong to the author and are not indicative or any brands or companies mentioned.
With the holiday season now in full swing, you are sure to be invited to a bevy of holiday parties and soirees. It is customary to bring a gift to the party to give to your holiday hostess to show your appreciation for the time they spent putting the party together. Holiday hostess gifts are usually small tokens of gratitude, and should be personalized for the person throwing the party.
I have seven holiday hostess gift ideas that are delightful. And one of the items, Isotoner SmarTouch Gloves, is an item I am also giving away. More details will be given below.
For now, feast your eyes on my 2014 Holiday Gift Guide: Holiday Hostess Gift Ideas:
Hickory Farms Signature Party Planner
With a gift from Hickory Farms, you can't go wrong. Their Signature Party Planner comes with everything a hostess wants to enjoy after a long day planning and prepping. I've been featuring Hickory Farms in my gift guides for some time now because their items are always of the highest quality and value. When it comes to making holiday traditions, it's Hickory Farms that is always a part of my holiday season. $45.00, Hickory Farms. Click here to order. For every Party Planner box sold, Hickory Farms will donate $5 to No Kid Hungry.
Garrett Popcorn Holiday Mix
There's no better popcorn made on earth than Garrett. It's a Chicago staple that everyone loves and enjoys. You can give your hostess a seasonal tin of their Holiday Mix popcorn, which is a combination of Garrett's white chocolate covered CaramelCrisp and Gingerbread CaramelCrisp. They are available in one and two gallon tins. Starts at $47.00, Garrett Popcorn. Click here to order.
Junior's Strawberry Swirl Designer Christmas Cheesecake
Who doesn't like cheesecake? And when it's the best, it's Junior's. Known for their Brooklyn restaurant and super duper cheesecake, you can now give the gift of Junior's Cheesecake no matter where you are. Their Strawberry Swirl Designer Christmas Cheesecake is heavenly and decadent, and perfect for your holiday hostess. Order one here. $33.95 (on sale).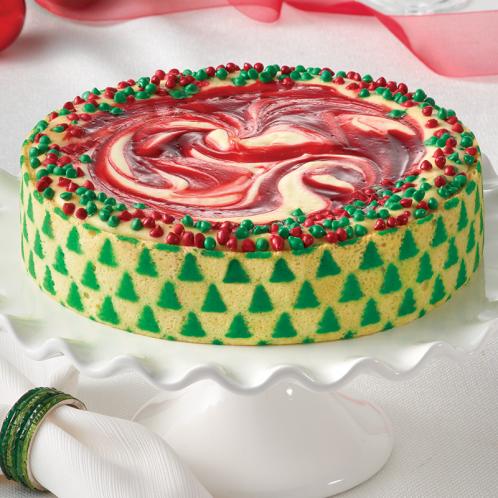 Crate and Barrel Ornament-Photo Chandelier
If you want a gift your holiday hostess can use year after year, gift her this fabulous Ornament-Photo Chandelier. Perfect for displaying holiday cards in a creatively visual way, it's an awesome gift that will be appreciated and loved. $39.95, Crate and Barrel. Order here.
Isotoner SmarTouch Gloves
Your hostess is probably a girl on the go. Which is why giving her the gift of comfy and warm gloves that also allow her to text and use a smartphone without taking them off. The SmarTouch technology allows for utilization of today's devices without the hassle of removing the gloves. And the come in many styles and colors which make for an awesome gift. Click here to order. The Isotoner SmarTouch Gloves start at $48.00 a pair and are made for both women and men. I am giving away a pair of Isotoner SmarTouch Gloves for her in pink. See the Rafflecopter at the end of this post to enter.
Williams-Sonoma Smoky BBQ Sauce Gift Set
BBQ sauce. 'Nuff said. Give your hostess a set of three smoky sauces that are sure to get plenty of use on the grill. Bourbon Black Pepper, Sweet Onion Applewood, and Maple Mesquite make this a legendary gift full of flavor.$29.95, Williams-Sonoma. Click here to order.
Harry and David Holiday Hot Chocolate Duo Box
Hot chocolate is the drink of choice for most of us during this time of year. Give the gift of a wonderful hot chocolate set complete with Chocolate Cocoa Mix, Peppermint Cocoa Mix, and S'mores Candy Stir Sticks. A nice and thoughtful gift for your holiday hostess. Harry and David, $29.95.
To enter to win the Isotoner SmarTouch Women's Gloves in PINK, enter via the Rafflecopter below. This giveaway ends Wed., Dec. 24th at 8:00 am CST. Open to U.S. and Canada only, void where prohibited. Winner will be contacted via email or entry method within 48 hours. Winner has 48 to respond or an alternate winner will be selected.
Click for more of my 2014 Holiday Gift Guide. Gifts for your coworkers, Gifts for your bestie, Gifts for your Mate, & Gifts Ideas for Girls. More giveaways, too!
Want to create your own DIY gift for the holiday hostess? Check out my post, DIY Mason Jar Holiday Hostess Gifts.