Yes, we know it's still coats-and-scarves weather outside. The best cure for the winter doldrums is dreaming of brighter, warmer times – like spring! We turn to the runway for clues on the hottest trends for Spring 2015. Here's a rundown of our favorites in our 2015 Spring Fashion Preview:
Gingham Style
Classic? Check. Cute? Check. One of spring's hottest patterns? Check! Gingham prints popped up in the Spring 2015 collections for several designers at New York Fashion Week, including Oscar de la Renta and Diane Von Furstenberg. Expect to see this retro, feminine print in all types of silhouettes and colors. Sweeten up your wardrobe in a gingham shirt or go all-out gingham style in an A-line dress. Who's ready for a picnic?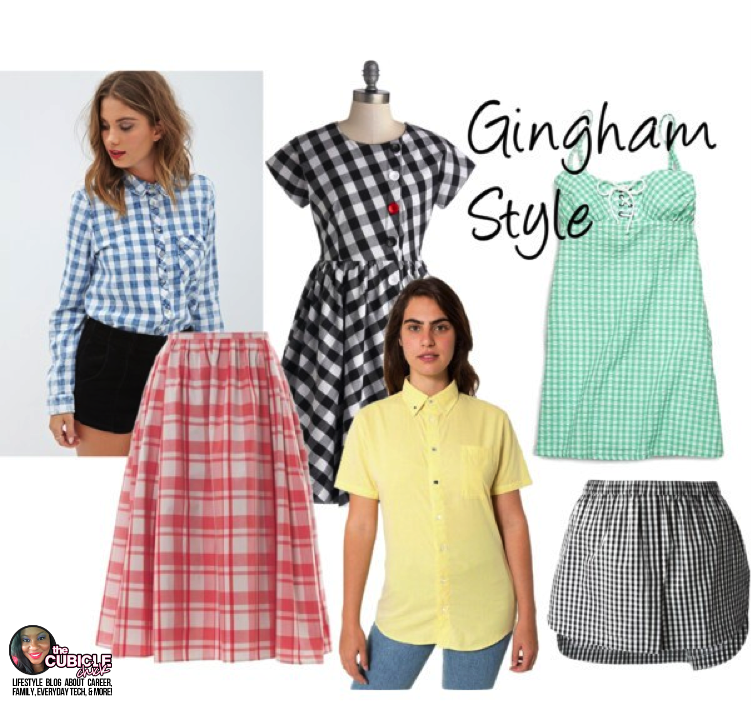 Bea Dot short sleeve a line dress / Sperry Top Sider mixed print dress / Forever 21 evening top / Thierry Colson red camisole / N 21 mini skirt / Unisex Gingham Shirt | American Apparel
Denim Days
Remember the matching denim disasters on Britney Spears and Justin Timberlake at the 2001 MTV Music Awards (later spoofed by Katy Perry in 2014)? We're not saying that's what you will (or should) be wearing this spring, but industry experts predict a massive denim takeover in 2015. If the runways are any indication, daring jean queens will be decked out in embellished denim. Anna Sui, Tommy Hilfiger, and Dolce & Gabbana featured denim adorned with patches and jewels. Minimalists need not fear, though, as clean, unmarred denim washes also strutted down the runways for Michael Kors and Stella McCartney. And, if you're so over skinny jeans, spring should offer a refreshing alternative: cropped, wide-leg jeans.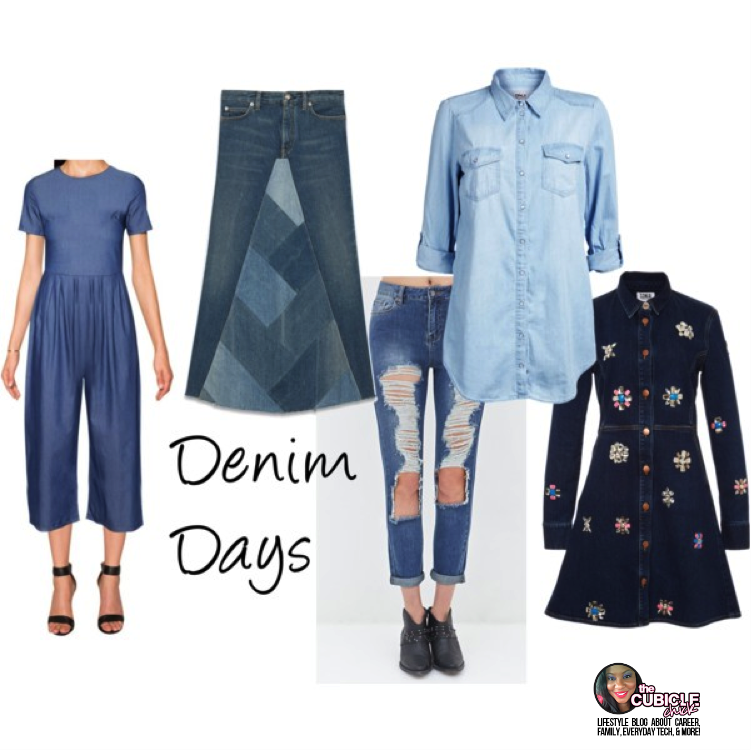 Sonia Rykiel blue dress / ONLY denim shirt/ Jumpsuits romper / Jeans / Yves Saint Laurent a line skirt
Cold Shoulder
By March (or January), most of us are ready to give winter the cold shoulder. Luckily, spring will have us baring our shoulders with the season's must-have neckline: off-the-shoulder. Providing more modesty than a strapless garment, off-shoulder tops and dresses are subtly sexy. Whether you favor a classic, boho, or edgy style, there is something both timeless and modern about this cool neckline. (Tip: as awesome as this trend is, it is not as easy for women with larger busts to wear, as a "normal" bra is out of the question. The proper strapless undergarments should help. Another option? One-shoulder tops that allow for a convertible bra are also on-trend!)
Forever 21 white body con dress / Prom dress / Clover Canyon graphic print dress / Milly polka dot crop top / Glamorous cropped blouse / Oversized sweat shirt
Flower Power
As Miranda (in)famously snarls in The Devil Wears Prada, "Florals for spring? Groundbreaking." It's true that floral prints for spring fashion are a given. But, there's a reason for that: floral prints are just so pretty! This year's crop is peppered with bold, abstract, and dark flowers. Rather than small allover patterns, J. Crew and Elie Saab's collections showcased big, accent flowers amidst solid backgrounds. After winter's blustery days, I think we'll all be eager to stop and smell the roses.
Elie Saab open back short dress / Boden vintage sweater / Chicwish midi skirt / J Crew floral print jumpsuit / Madden Girl pink boots/ MARC BY MARC JACOBS pattern purse / Betsey johnson earrings
What do you think about these 2015 Spring trends?

About Carmen:
Carmen Boeser is a freelance fashion writer, thriftaholic, and vintage lover. She chronicles personal style and love for the St. Louis fashion scene on her blog, The Ruby Zipper. When Carmen is not processing merchandise at a resale boutique, she's learning the joys of new parenthood with her husband and baby daughter.