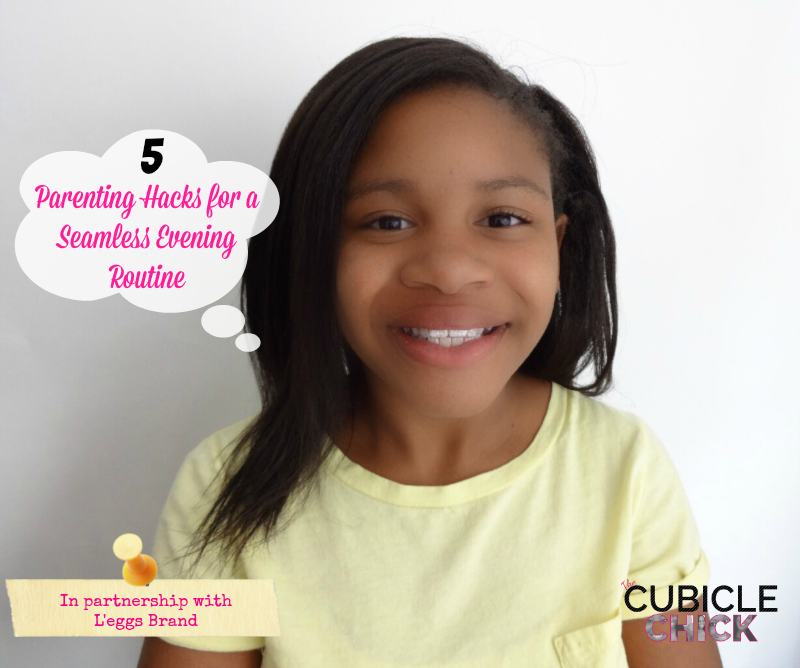 Disclaimer: In partnership with L'eggs, I am sharing some of my parenting tips. I have not been paid for this post, but I have been sent some goodies in exchange for sharing these helpful hacks.
Mother's Day is just around the corner, but throughout the year, most of us moms can use helpful tips that can cut down on the chaos and hectic activity in our households. I've partnered with the L'eggs brand to share some of my favorite top five parenting hacks for a seamless evening routine.
The evening time can be a stressful event, but with these hacks in place, you and your family are sure to cutdown on the busy-ness of things so you can all enjoy a more peaceful environment as you transition to nighttime. And, because most of the prep is done at night, your mornings will be a cinch.
These hacks have worked for me over the years, and as a proud mom of a 21 year old son and an 11 year old daughter, I think it's safe to say I've got some experience in nighttime prep.
Check them out below:
Weekly Menu Planning in One Sitting
You can eliminate some of the stressfulness of your evenings by taking an hour or two during the weekend to do your menu planning for the week. This can help with grocery shopping and meal prep since you've already compiled the menu. I sit down on Saturday mornings and do my meal prep for the following week which allows me to do the grocery shopping for the week and create the menu. My family knows what we will be eating during the week so there are no surprises, and I am not scurrying to find something to make for dinner each night. A little planning goes a long way.
Homework and Papers Signed and Checked Before Bed
I have an in and out box schoolwork system what works well for us. Each day after school, my daughter puts the papers that need to be signed in an inbox on my desk. I then sign them and put them in the outbox, which she is responsible for checking and retrieving to put in her backpack. This makes our evenings smooth as silk and in the morning, there's no scurrying to find papers and things. Plus, it teaches her responsibly, as my rule of thumb is: if it doesn't get signed at night, then it doesn't get signed.
Bathtime, Funtime
My daughter takes her baths/showers at night before bed. So when she wakes up in the AM, she just has to wash up and get ready for school. This makes it a little more organized for us and also helps settles her down before bed since she seems to sleep better at night after a nice warm bath. Preparing at night makes for an easy breezy morning.
Outfit Coordination
Also at night, me and my daughter pick out the clothes she will wear for the next day. Everything is selected on down to the shoes, socks, hair accessories. Doing so makes our mornings so easy and simple. Make sure to check the weather for the next day so the outfit is climate appropriate.
Chore Checklist Printable
Help make your evenings a well-oiled machine with my Kids' Daily Checklist Printable. Perfect for kids six and up, it allows them to be accountable to their chores and responsibilities with an easy to use checklist that helps them stay on task and get the job done. Once they complete one for each day of the week, you can choose to give them a special treat for their good work.
Make the evenings more enjoyable for your entire family with these parenting hacks for an easy, breezy night, and a well-organized and efficient morning.
You can also be sure to go sheer with L'eggs. Whether you are going out for work or for play, L'eggs was created for the busy woman in mind.
Special thanks to L'eggs for partnering with me so I could share these tips with my readers (and the Mother's Day pampering kit they sent me will come in handy for sure)!
Thank you @LeggsBrand for the wonderful Mother's Day kit full of goodies. 🙂 #partner #ad pic.twitter.com/M5jV7KRgIU

— Danyelle Little (@TheCubicleChick) April 20, 2015
For more information about L'eggs, visit their social channels:
Twitter: @leggsbrand
Facebook: LeggsBrand
Instagram: @leggsbrand