If you're anything like me, hearing the words "business casual" is enough to make you want to call in sick. I pride myself on having an eclectic wardrobe that isn't afraid to take risks, making the task of creating professional looks feel suspiciously like. . .work. I forced myself to wear sensible pants and button-up shirts for years until I'd finally had enough. I even staged a mini-rebellion and tried to convince myself that a way-too-high-in-the-front high-low dress looked professional. (It didn't, but I was too frustrated to care. And technically, I didn't violate any dress codes.) Sound familiar?
If so, weekdays may feel like a constant tug-of-war between your personal style (be that edgy, vintage, sporty, boho, or all of the above) and a work-appropriate style. While most offices have relaxed their dress codes from pants or skirt suits (hence, the term "business casual"), there is still an expectation about what constitutes business attire – and rarely do shredded denim shorts make the cut. For lots of us, it takes finesse to find things to wear at work that look and feel like true to our tastes. Here are 3 tips on how to curate a professional wardrobe without sacrificing personal style.
Tip #1: Incorporate Professionalism Into Your Personal Style
The biggest thing that helped me turn my polished-but-just-not-me work attire into a fresh, 9-5 friendly wardrobe was a shift in my attitude. I tried hard to insert my personal style into a cookie-cutter picture of how I thought people in my career were "supposed" to dress. It led to money wasted on clothes I rarely wore and a sour expression as I drove to work. So, I tried a radical shift in my mindset: I began incorporating professionalism into my personal style, rather than the other way around. And it worked for me.
Case in point: I hate wearing cotton button-up shirts. My original mindset had my closet filled with bright colored button-up shirts. Business appropriate? Absolutely. Something I would wear off-duty? Never. During the experiment phase of my mindset, I happily donated of all of them. I bought chiffon blouses with daring accents like tiny studs and paired them with dressy bottoms. See? My style, with a dash of sophistication. If there's an item of clothing you really, really can't stand, even with statement jewelry or fun colors, stop buying it! Find ways to make the clothing you actually like look more professional. Which approach do you prefer?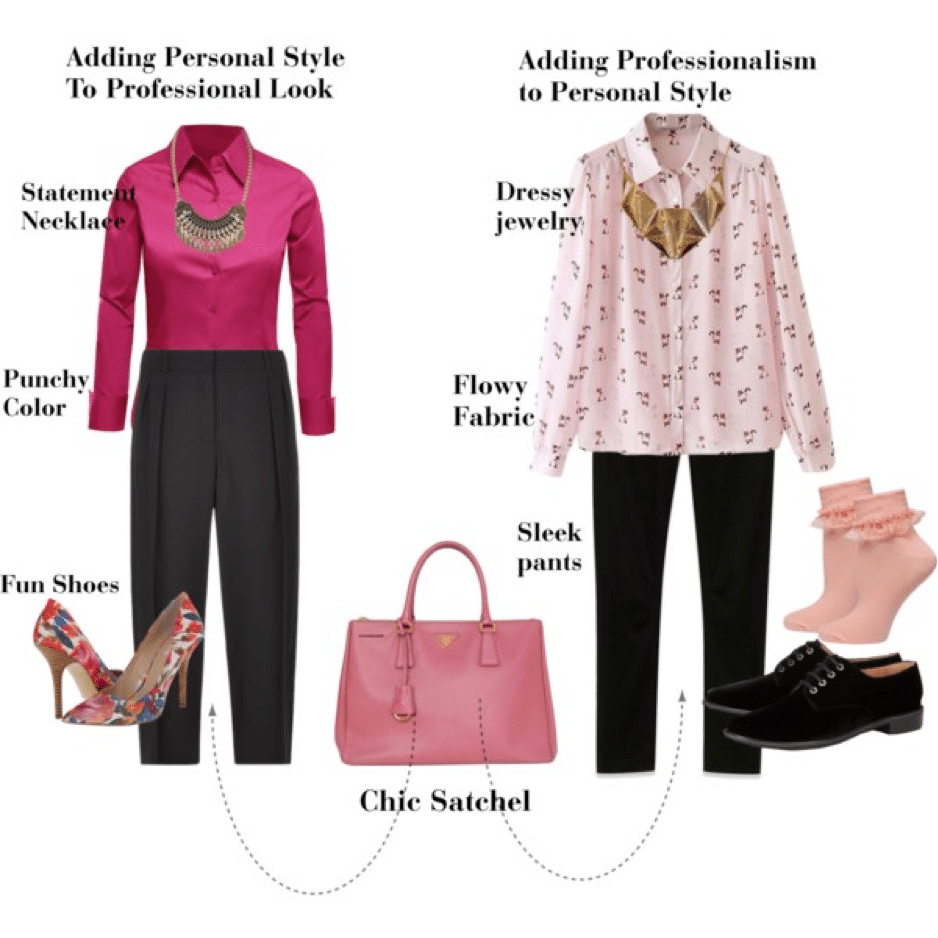 Look 1: Pink button up shirt / Weekend Max Mara black crop pants / GUESS high heel pumps / Prada handbag / Adjustable chain necklace Look 2: Cat print blouse / Helmut Lang denim skinny jeans / Dorothy Perkins socks / Robert Clergerie black shoes / Gypsy Soul gold jewelry
Tip #2: Acquire Edgy Gal Work Staples
You've heard that anything can look professional if you stick a blazer over it, right? That's generally true. A zany pattern, strapless dress, or even vintage concert tee looks far more office-worthy beneath a blazer. (The shredded denim cutoffs still won't look professional even with a blazer, sorry.) If you share my aversion to khaki pants and "slacks," dresses are your new best friend. With silhouettes and lengths to satisfy any style palette, I dare you not to find at least a few dresses that are "you" and won't upset HR. Opaque tights provide coverage if you're concerned a skirt or dress may be too short. Menswear-inspired oxfords are not only cool and comfortable, they are an edgy alternative to pumps. When in doubt? Dab on bold or dramatic nail polish.
Skater dress / Yves Saint Laurent black jacket / Blue tight / Accessorize oxford shoes / Nars cosmetic
Tip #3: Build Your Work Wardrobe From Stores You Like
When assembling workwear, where you shop is almost as important as what you buy. I used to purchase most of my work clothes from stores I didn't like. As nuts as it sounds, I thought if I spent enough money on pencil skirts and classic pants, that would somehow increase my desire to wear them. (Nope, didn't work.) It's kind of like going to the gym – simply shelling out bucks for an expensive membership isn't likely to get you in the door. If you stick to stores you already shop in, your professional wear is more likely to feel like "you." Think of your favorite stores. Is there a section that has dressier or more conservative items? Start there. On a budget? Try resale and thrift stores.
Of course, with any work wardrobe, you have to keep your environment and best judgment in mind. You may want to hold onto some safe garments while you test the waters with an edgier look. What do you think of these tips -risky business or right on target? How do you showcase your personal style at the office?
About Carmen:
Carmen Boeser is a freelance fashion writer, thriftaholic, and vintage lover. She chronicles personal style and love for the St. Louis fashion scene on her blog, The Ruby Zipper. When Carmen is not processing merchandise at a resale boutique, she's learning the joys of new parenthood with her husband and baby daughter.