Disclosure: I was invited by Monsanto to go on a trip to Woodland, California (they covered my travel expenses) to learn about veggies and to tour their field facility. This is a recap of my experience during the two-day trip and contains my opinions which belong to me, and have not in any way been compromised by my relationship with the brand.
If you aren't a stranger to my blog, then you may know that I am a little taken when it comes to farming and farm life. I have had the opportunity to visit many farms in and around the Missouri and Illinois area via various programs and campaigns, and I always have a ball. I think in a former life, I may have been a farmer in the dell, as I totally feel such a connection when I visit farms and ranches. Since I have begun cooking more for my family and creating my own recipes during the last four years or so, I've really become connected with trying to get to know food better. I am very interested in where our veggies comes from and how it goes from seed, to plant, to harvest, to the store, to our tables. And during a recent trip to the Woodland area of California, a vibrant and farming area known for their vast amounts of fruits and veggies, I made it my mission to learn more about the entire process.
And we wasted no time getting into the groove of things. Immediately after I got off of the plane, we went to visit a farm in the Woodlands, and watched how the processing tomatoes were machine harvested right off of the field.
Machine harvesting of tomatoes here in #sacramento#meetveggiespic.twitter.com/7ITULkkws6

— Danyelle Little (@TheCubicleChick) August 10, 2015
The tomatoes we saw were going to be processed to use in sauces and ketchup. Heinz was mentioned as just one of the companies that the this particular farm sends their tomatoes to.
The next day was a full day in Woodland, and we trekked to the Monsanto field headquarters to get the lowdown on veggies that were being grown onsite. We got to take a look (and even pick) some veggies including hot peppers, squash, watermelon, and more.
There has been a lot said about Monsanto, but first and foremost, they are a company that offers seed to farmers. Monsanto may be most known for GMO's (genetically modified organisms) that help produce certain crops in challenging weather and land conditions. GMO's are not chemicals, but are seeds that have identified traits that can better withstand the environment. Not all fruits and veggies are available for commercial GMO production, and there are two (2) veggies that are commercially GMO produced— sweet corn and squash. Papaya is the only commercial GMO fruit crop currently available. All fruits and veggies are not GMO produced, and that is something I was educated about during this trip.
While we played in the field and picked some of our veggies, we also learned some tips about the fruits and vegetables we eat.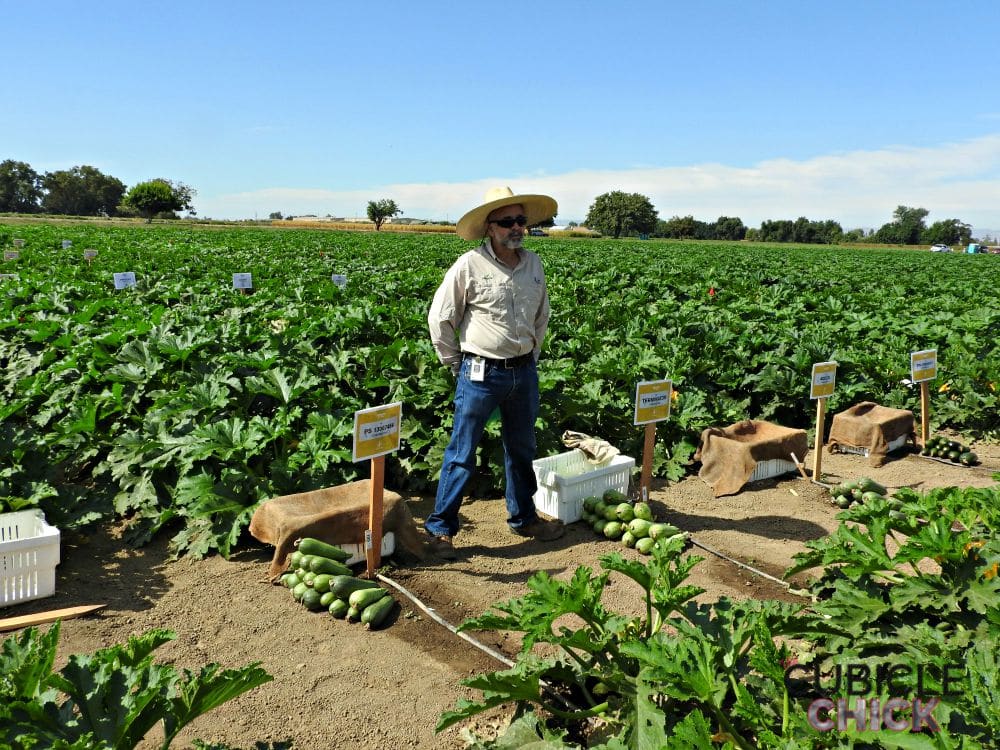 For instance, did you know that during the flu season, peppers can help boost immunity? Orange peppers have just as much Vitamin C as an orange.
And when picking sweet corn, the overall girth or size of the cob matters. The more girth it has, the sweeter it will be since it has had enough time to mature and the sugars in the kernel have developed.
Also, when storing your tomatoes, never put them in the fridge. The coldness of the refrigerator causes the fruit to go through a chemical change which causes them to ripen (or go bad) faster. I personally did not know this.
I learned so much on this trip about food that I feel even more confident about the nutritional choices that I make when preparing meals and feeding my family.
In addition to being out in the field in Woodland, we also got to partake in Melon Sensory and Tasting Experience with Sensory Science Lead, Chow-Ming Lee, PhD. I had no idea what goes into how and what we are offered from farm to market to table. When you truly utilize your senses and forget about name brand recognition or prices or any other marketing characteristics, you may be surprised at what you actually prefer versus what your mind tells you to "like".
I left this experience feeling more tuned in to the fruits and veggies that I eat, and how to not only select them at the market, but also how to store them the right way to get the most benefit out of them. And no more putting my tomatoes in the fridge!
I also feel like I know a lot more about Monsanto as a company. I know there are many of you who wince when their name is mentioned, but it's important for all of us to know the full story from multiple sides. Going to events like these while getting the opportunity to go out in the field and visit farms helps me better understand our food chain and the importance of knowing where our food comes from.
I will be sharing more insight, information, and other points of interest about food and Monsanto in a series of posts in the near future. I hope you will stay tuned (with an open mind) to follow me on that journey.